Easy steps to how Register a Domain Name
How To Buy & Register A Domain Name
If you're planning on getting your website available for the general public then you have to get it to the internet. However to have your website on the internet, you will need to buy a domain name.
Registering a domain can be quite difficult if you haven't done it before however, after finishing this article, you will be able to register domains like a pro.
In summary the steps to buy a domain name is as follows:
Choose a domain registrar
Run a domain name search
Check if the domain is available by using a domain checker
Pick your preferred domain
Complete the domain order process
Verify the ownership of the domain
Set the DNS on the domain
Once you go through these steps, you will have the domain name ready to be deployed on the internet. Throughout this article we will go in depth through the steps mentioned above.
Why are domain names important?
This is a question that even I stumbled upon during the initial stages of my career. The answer is that your business or brand cannot live on without having a website. In order to get a website you need to register a domain name.
Most small scale businesses will start out from Facebook or other platforms. However to build a business and scale it further, you should definitely consider having a website.
This provides credibility and a place for the brand to live on the web. In order to do that, you should buy a domain name. Alright, now you're ready to have your website on the internet.
But before even choosing the web host, you need to consider what your domain name is going to be? This is what your potential clients/visitors will use to come and find you.
How to choose the perfect domain name?
There's no golden rule that can define what a perfect domain name is. There are so many factors to consider before registering a domain.
Even though registering a domain is a relatively easy process, finding a domain name which hasn't been already used is going to be quite challenging.
That being said, let's get to the steps on how to choose a domain name:
1. Have keywords in your domain
Keywords play an extremely important role in ranking higher on Google. Including keywords on your domain name tells the search engine what your site is all about.
The combination of the domain name, quality content and good user experience can help you rank better in Google.
The reality is that, to find a good domain with your target keyword is extremely difficult (too many registered domain names already). However with some of your creative juices mixed with your target keyword, can result in a domain that will stand out.
2. Try to stick to .com or other famous domains
No matter how much the internet has grown, .com is still the best. According to research, more than 22% of the whole internet comprises of the .com extension.
While it can be tempting to come up with clever blog names using new extensions, .com is still the most established and credible domain name extension.
Many users, especially those who aren't as tech-savvy, will automatically type ".com" at the end of every domain without thinking about it.
3. Shorter is better
When it comes to domain names, shorter is always better. It's easier to remember and easy to type.
Try to aim for 6-14 characters long domain names. You might come to a halt as most of the short domains are already taken or sold for thousands of dollars.
However don't give up, if you can't find something short, pick a name that can be brandable.
4. Brandable over generic
Your website should be unique, which will make you stand out in your audience. Before rushing to pick a domain name, do some research in your niche and find out what kind of domain names your competitors are using.
Brandable names are unique, catchy and memorable. For example "Facebook" is a brandable name when compared to "postpictures.com".
Do your research before registering your domain name. Without the research you can accidentally use a trademark name or get accused of copying another business out there.
5. Easy to type and easy to pronounce
Most popular websites in the world are really easy to pronounce and has simple spellings (Google, Yahoo and Facebook). You want your visitors to be able to type your domain without a problem.
It should also roll off the tip of your tongue quite easily. This makes it easier for visitors to share your domain and for you to share the site.
Make it easy to spell and easy to pronounce. You don't want people mistyping your domain and ending up on a different website.
To test your domain name: ask 10 people to spell and say your domain name. If people are having difficulties in doing either of them make it simpler.
6. Long term over short term
Choose a domain mane that is related to your industry because it gives your customers an idea what your service/site is all about.
For example, if you register a domain as comicbooksale.com, your audience will know you as a store which sells comic books. However in the future if you plan to sell other books, it will be difficult to attract people interested in other type of books due to your domain name.
You can always move your site to a new domain, however this is a frustrating process and if not done right, you will lose your search rankings. Therefore it's better to pick a flexible domain name from the start.
7. Avoid numbers and hyphens
Never create domains with hyphens as they are closely associated with spam websites. Hyphenated domains are also prone to typo errors.
If you choose a domain name with hyphens due to your preferred domain being already taken, then most likely your visitors will be at your targets site if they forget to type the hyphen.
Avoid numbers as it will confuse your visitors. Imagine you have a website named as "2sided.com". This can result in your potential visitors going to "twosided.com" due to the typo.
Bottom line is: stick to letters.
8. Make use of domain name generators
Currently there are over 370 million registered domain names in the internet. This means that a lot of good domain names are already taken.
Searching individually for domain names will most likely take a lot of your time. Therefore use any kind of domain name generators from the internet which will find hundreds of unique domain name ideas for free.
Now since you're ready with your domain, let's go ahead and buy the domain:
6 steps on How to Register a Domain
1. Choose a domain registrar
To register a domain name for your website your will need an ICANN accredited registrar like Monovm. We provide multiple TLDs that you can choose from.
Check out our complete list of TLDs from here.
2. Run a domain name search
Check for your domain name by entering it on the search bar. This will display all the possible domain names that you can choose for your dream site.
If the domain name you're looking for is taken, you can try the following:
Try another extension. If .com is already taken you can try .net, .org, .biz, .info and many more.
Try a slightly longer domain name. For example adding "a", "my", "the" to the search query can result in acquiring the domain name
Reach out to the current owner of the domain. In most cases this is an expensive choice due to the fact that you will have to offer a lot of money to get it.
3. Select your preferred domain
Once you did the research, you will come here with your preferred domain name. Click on "Add to cart" and press click on Continue.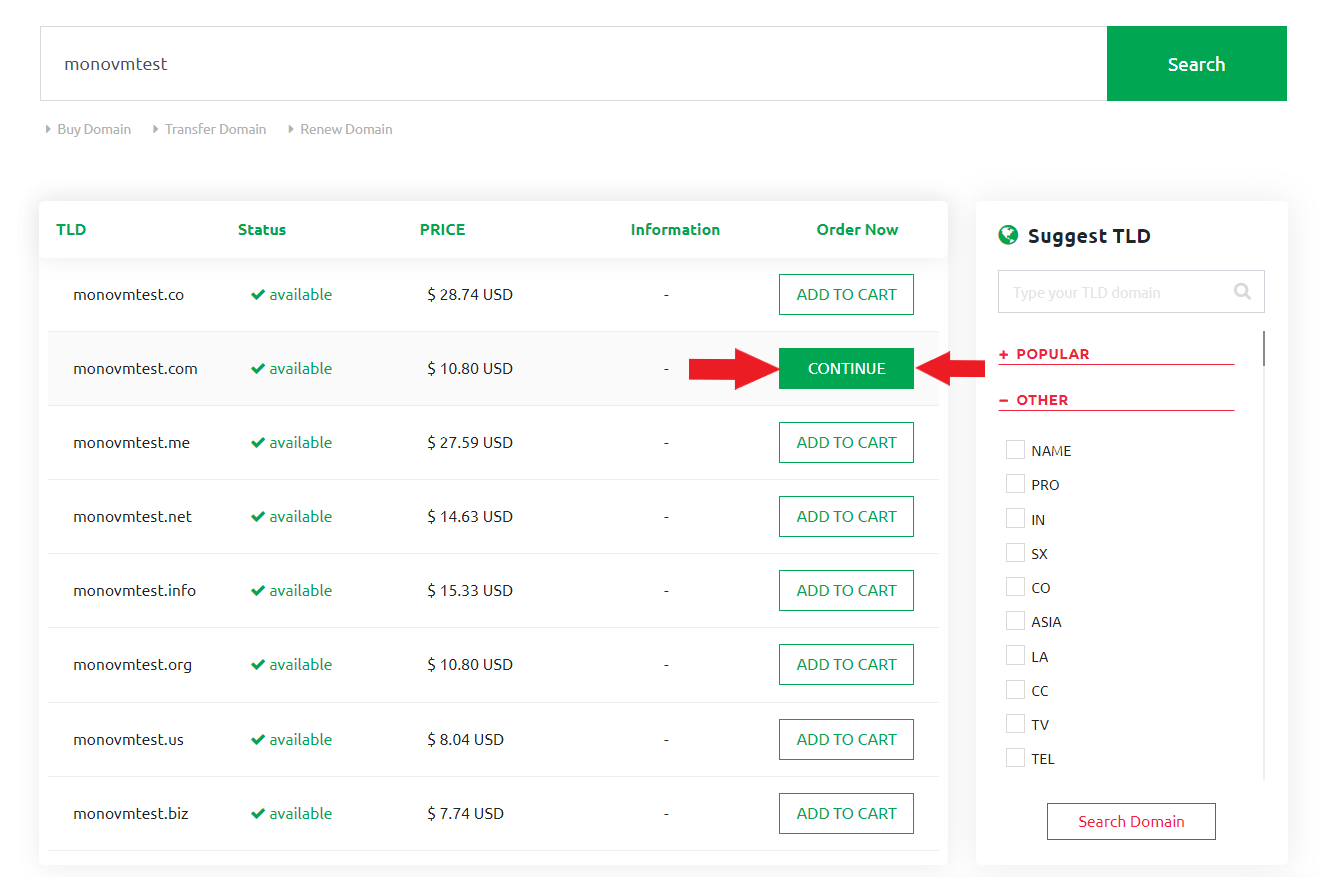 In the opened page you can customize the necessary parts for your domain.
Let me quickly explain what each of these add-ons are and why you should take them:
SSL certificate: Provides security and encrypts all the data going to and from the website.
Whois Protection: This replaces your personal data with Monovm contact information. This helps in preventing identity and information theft
Business emails: With an added fee, you can get business emails. [***]@monovm.com is a business email which comes with the purchase of a domain.
Recommended web hosting plans: You need to have a place to host your domain. Get the hosting together with the domain which will be much easier to manage in the future.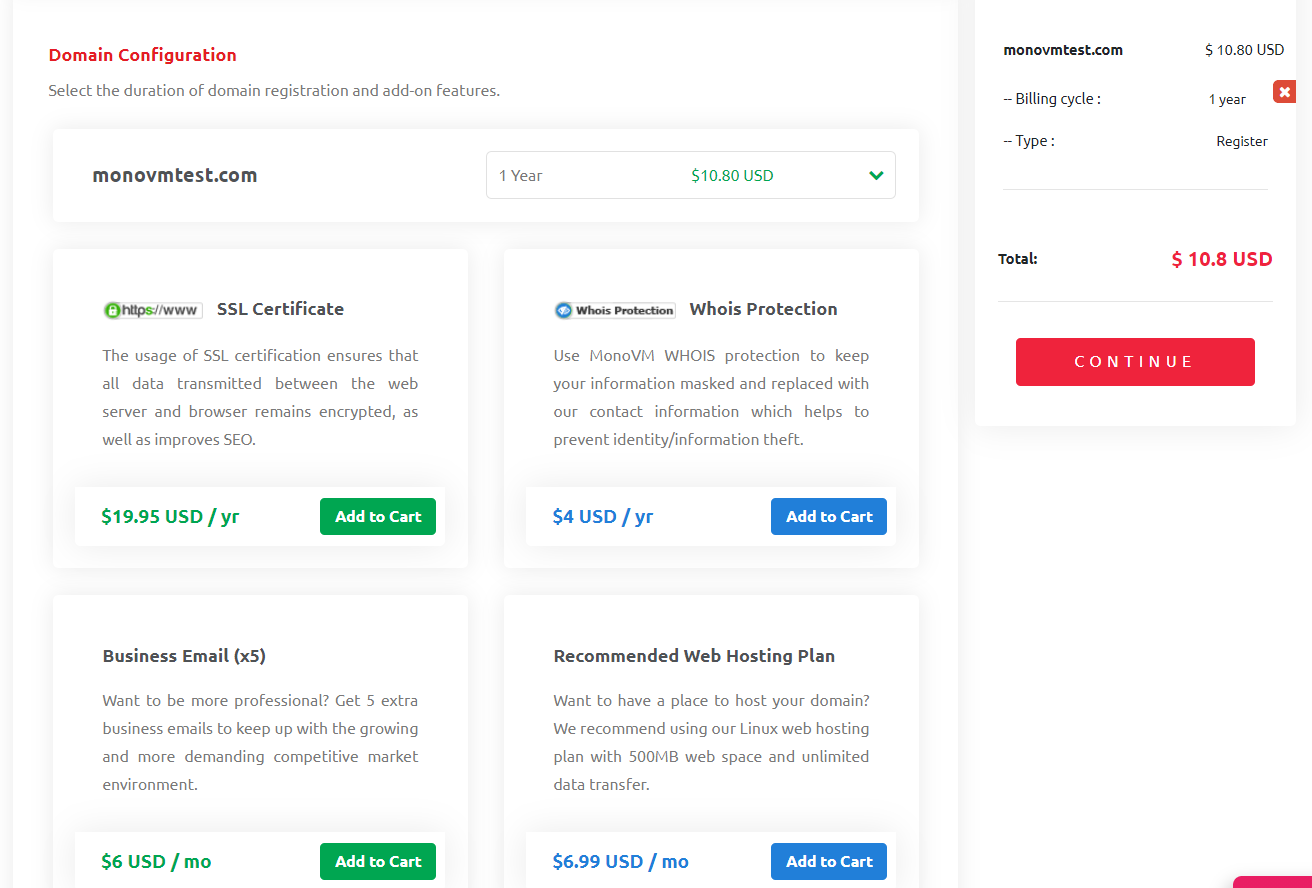 Once the necessities are added, click on Continue.
4. Complete the domain order process
In order to proceed further you will have to sign in or login to your account. If you don't have an account, you can login using Google, Facebook or Twitter.
Now double check your order, and head to the payment part. Select the payment method and click on continue. This will take you to a third party site to complete the payment depending on your choice of payment.
If you have a Monovm discount coupon don't forget to enter it ;)
5. Verify the ownership of the domain
Once the order is placed and the payment is successful, our team will check it and send you an email with the confirmation. Congratulations! You're now officially the owner of the domain.
You can check this information by going to whois.net. This website shows the details of the owner of the domain.
Note that: Sometimes there can be some errors with the information in the registrar. In this case we will ask for additional information in order to resolve the issues. These error can happen when registering some specific TLDs or other reasons.
6. Set the hosting DNS on the domain
Before getting to setting up your domain, you will have to connect to our special Domain control panel. This control panel can be used to set the hosting DNS on the domain and to manage all advanced settings like but not limited to:
Setting privacy protection rules
Setting up theft protection
Creating child name servers
Managing records
Managing the DNS
To access this control panel, you can follow the link from the email (as seen above).
Once you have successfully acquired the domain there's one final step to take into consideration. You need to set the DNS of the web host in the domain through our client area.
Login to our client area > select "view all domains" under Domains
Now in the appeared page, go ahead and click on the settings button that is in front of your domain.
You will be redirected to a page where you will be able to manage the domain name. In order to set the DNS of the hosting provider, click on Nameservers
Once you click on that, remember to select "Use custom nameservers (enter below)". Now enter the domain name servers you got from the web hosting package. Usually it's between 2 to 4 DNS server names.
Conclusions (How To Buy A Domain Name)
In this article we went through the order process of registering a domain from Monovm. Note that for some TLDs there is a substantial waiting time involved due to verification process set by the registrars. So if it takes some time to be approved don't worry.
Usually most TLDs are provisioned within 48 hours and your domain name will be up and running on the web. As you see, to buy a domain is pretty straight forward but to come up with the right name is the tricky part.
Once you cross that hurdle, the other parts relating to the growth of your website awaits. Let us know in the comments below how this helped you and if you have questions, let us know.