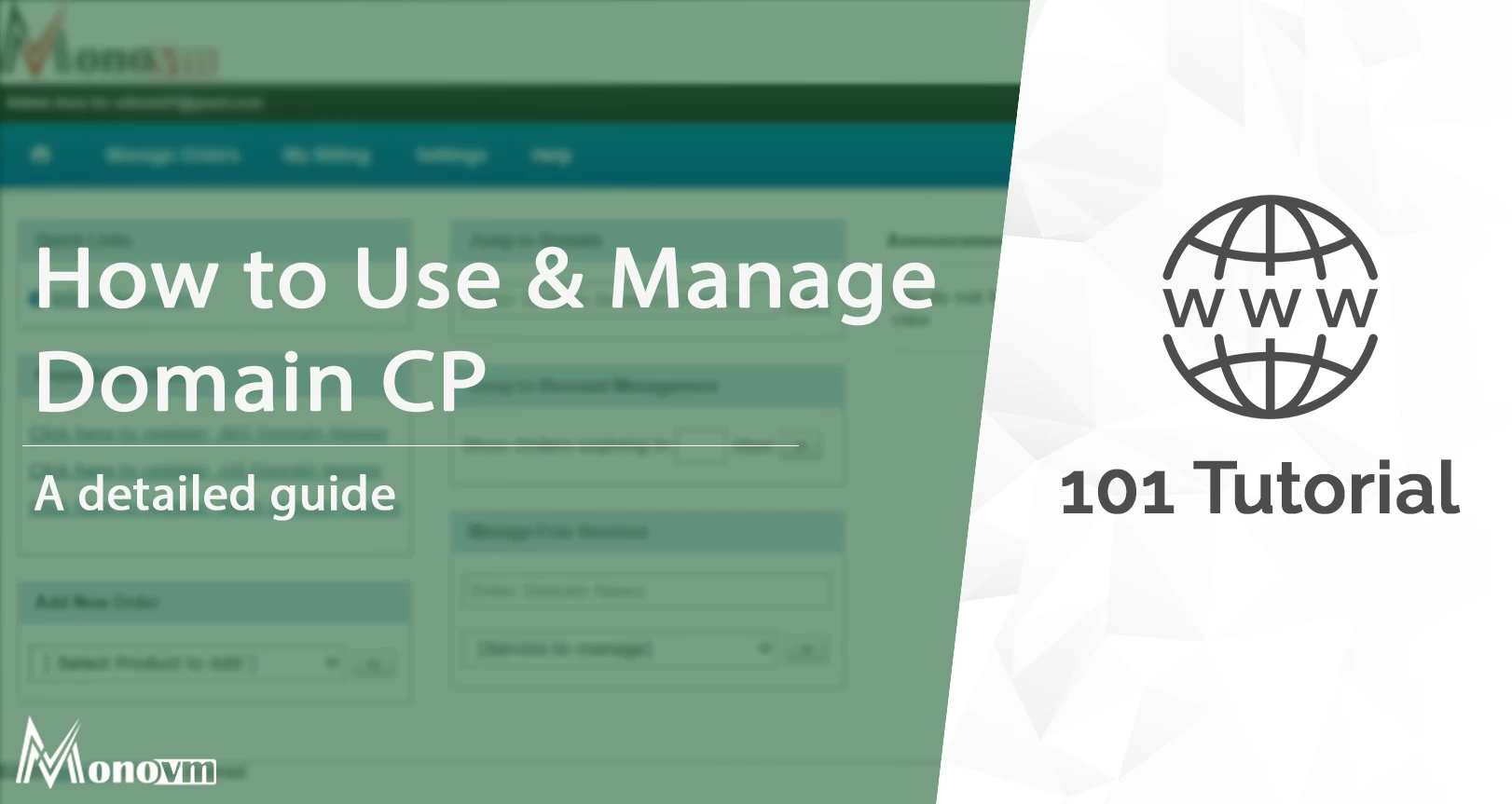 List of content you will read in this article:
The Monovm domain control panel allows you to easily and intuitively manage all your domains that you purchase from us. Today we will show you how to use the different functions the control panel provides.
First of all, you have to go to https://domaincp.monovm.com/customer and enter your credentials to log in. It should look like this: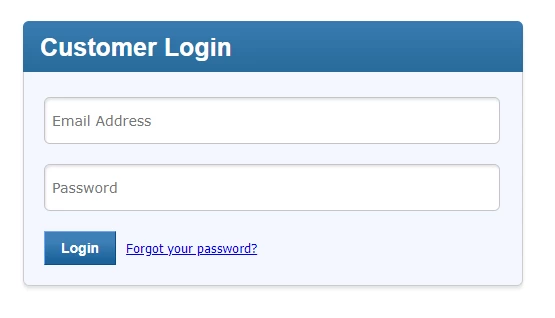 Once you have logged in, you will see the home page as shown below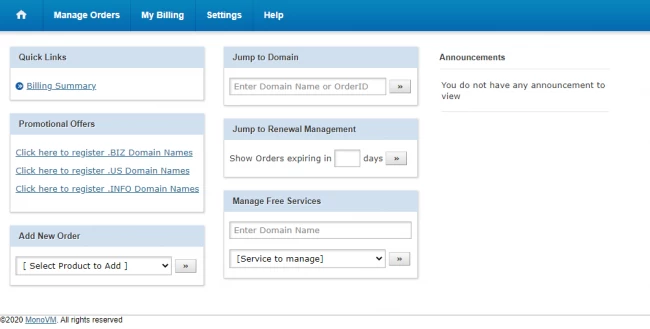 Let us start by going through each drop-down menu.
Manage Orders
List/Search Orders
This option will take you to the entire list of all your domain orders. From here you can Renew a specific domain, enable/disable theft protection for it, and modify name servers. You can use the search and filter option on the left-hand side of the screen to filter through your orders.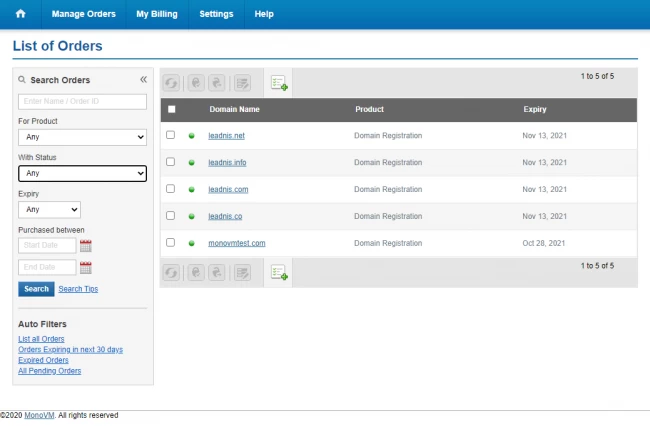 Transfer Domain
From here you can transfer any existing domains you own with other domain registrars to Monovm. Simply enter the domain and the Transfer Auth Code.

Bulk Tools
These tools allow you to manage multiple domains at the same time. You can register, renew, transfer, and much more for many domains at a time.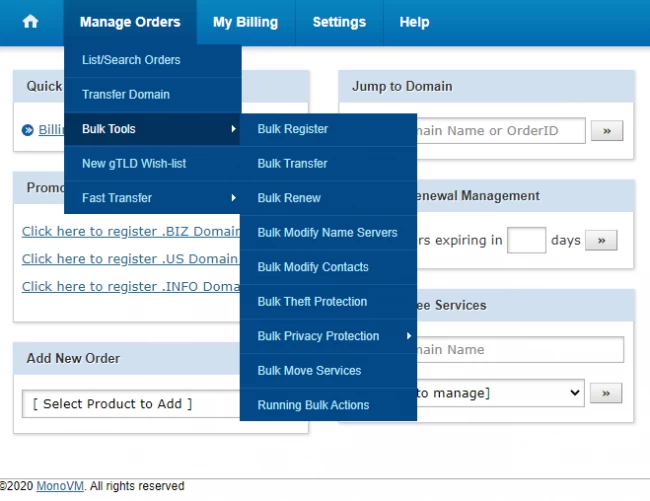 New gTLD Wish List
Here you can check for any newly available gTLDs.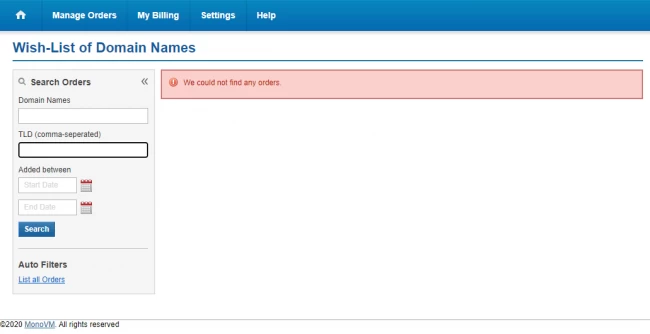 Fast Transfer
Here you can opt-in domains for fast transfer as well as check the listed of your opted-in domains.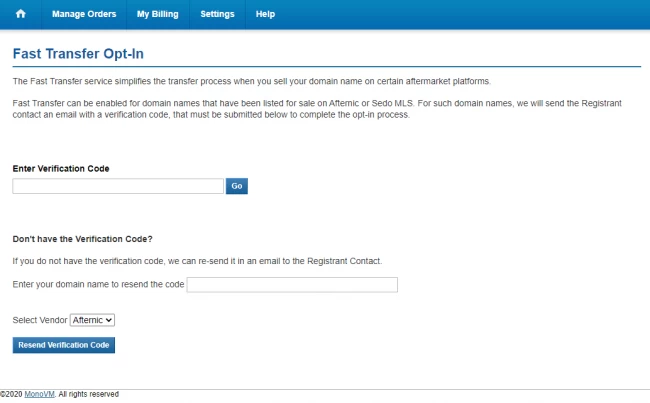 My Billing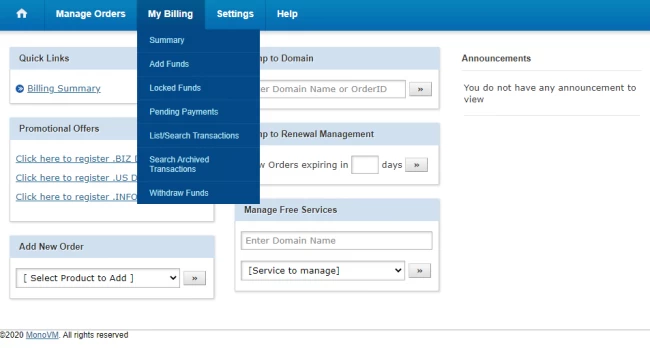 Summary
From here you can see your current balance and your total receipts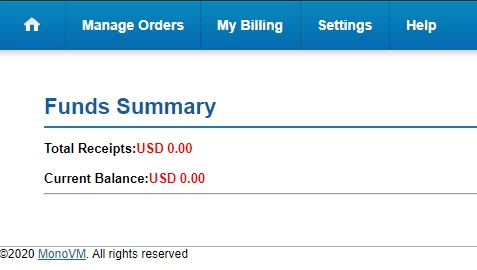 Add Funds
In this menu, you can add funds to your account using available payment gateways
Locked Funds
Here you can see your list of locked funds

Pending Payments
Here you can view your pending payments
List/Search Transactions
From here you can see the list of your transactions
Search Archived Transactions
On this page, you can sort through your archived transactions using different filters
Withdraw Funds
From here you can withdraw the funds form your account
Settings
Interface Settings
From here you can change the number of records listed on each page
Email Preferences
Within this page, you can decide what types of email notifications you want to receive.
Domain Specific
Here you can manage contact information for your domains, default name servers, and default contact ids.
Help
Contact Account Manager
From here you can get the contact information for your account manager.
Request Support
This will open your default mailing up and an email template so that you can contact us for support more easily.
Knowledgebase
This link will take you to our extensive knowledge base where you can search up certain issues you may be having and see tutorial on how to manage your domains.
Announcements
From here you can see all the latest announcements.
Login History
From here you can see the location and IP addresses used to login to your account within a selected period of time.
Legal Agreements
From here you can see all the legal agreements you accept when getting a service from us, including our Privacy Policy.
Now let us move on to the links present on the home page.
Add New Order
From here you can order a new service from us
(add new order)
Jump to Domain
Enter your domain name and go directly to the management settings of this domain. We used monovmtest.com to show as an example. From this page, you can edit the contact details, privacy protection, name servers, child name servers, domain secret, theft protection, GDPR protection, and DNSSEC.
Jump to Renewal Management
Select the domain expiring within a certain time and have the ability to renew them within a click of a button.
Manage Free Services
From here you can manage your free services, including email services, records, and domain forwarding services.