Windows virtual private server
All Windows VPS services are activated with administrator privileges allowing it to accessible by all remote desktop software on Microsoft Windows, Linux and even smartphones. This gives you the ability to completely manage your VPS and install your needed software accessible on any platform, even on the go. MonoVM virtual machines are powered by enterprise-grade hardware from Intel, Supermicro and are using HDDs and SSDs configured in multiple RAID configurations, providing the highest stability, efficiency and security. you can buy windows VPS with multiple payment gateways like: Credit Card, Paypal, Perfect money ,Webmoney, Skrill, Bitcoin(BTC), more...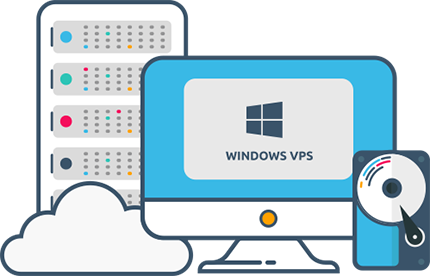 WINDOWS VPS SERVER
A multitude of windows VPS configurations are offered by MonoVM. Choose one of the plans below and set up your VPS up in less than 15 minutes.
Also you can buy windows VPS server from different locations around the world. For more customized Configurations see the complete list.
MonoVM WINDOWS VPS HOSTING
We at MonoVM care about our customers and offer top-of-the-line hosting services. For your satisfaction, we include the following features with all our Windows VPS plans.
Windows Remote Desktop
All windows VPS plans include full administrator remote desktop access with the possibility to install your own software. Our recommended OS are windows server 2008, 2008 R2 and 2012 R2.
Web Based Control Panel
Our VPS servers are managed by Plesk control panel, which is a simple and efficient web based solution, allowing access from nearly any device all around the globe.
Fast Setup
Your Windows VPS server will be activated within the next 15 minutes after your payment confirmation.
Momentary Support
Our team consists of IT professionals in software and hardware related problems allowing us to keep the quality of our support top-notch.
Enterprise-grade Hardware
MonoVM VPS servers run on high-end Intel and Supermicro micro-processors with storage devices that are configured in RAID 10 arrays using enterprise RAID controllers with integrated SSD caching optimized by MonoVM technicians. These servers are equipped with high rpm HDDs, SSDs and even NVME SSD. They are strategically located in first-class data centers around the globe in more than 10 countries which provides you the possibility to pick for your convenience.
GET STARTED
Windows Server Knowledgebase
HAVE QUESTIONS?
It is a virtual machine that runs its own copy of an operating system and shares a powerful server with other VPS. Unlike shared hosting however, each VPS run on a server has its own dedicated resources.
Yes, by default all our Windows VPS plans come with Plesk control panel, however this could be changed upon request.
On a PC, go to your start menu or the search bar type "mstsc" and enter the IP address of the remote computer you want to access.
You cannot reach a bandwidth limit on MonoVM VPS servers because all our VPS services come with unlimited bandwidth.
Of course, download the Microsoft Remote Desktop app from this link: https://itunes.apple.com/us/app/microsoft-remote-desktop/id1295203466?mt=12. Enter the IP address of your service and hit enter to connect.
OPERATING SYSTEM
With all our Windows VPS packages we give you the chance to pick your preferred Windows server OS.
Windows server
We provide the following versions of windows server. Windows Server 2008, Windows Server 2008 R2, Windows Server 2012
FEATURE SERVICES
All our Windows VPS server packages come packed with a multitude of features, all designed exclusively for improved uptime, customer satisfaction and easily managed servers.
FLEXIBLE SOFTWARE OPTIONS
We provide full root or administrative access where you will have total control over your environment allowing you to install applications or host websites on your VPS.
UNMETERED BANDWIDTH
All of our VPS come with an unmetered bandwidth. No more extra fees and server downtime due to passing an allocated bandwidth limit.
FAST PERFORMANCE
Using first class powerful hardware and RAID10 technology on our VPS servers, we assure fast and stable performance.
UPTIME GUARANTEE
We guarantee a 99.9% uptime due to our trustful enterprise network structure and unlimited traffic bandwidth provided within the world-class data centers.
FAST DELIVERY
We guarantee that all VPS services will be up and running within 15 minutes. The details of activation will be sent to your email address.
VMware HYPERVISOR
MonoVM VPS services are based on a stable and powerful VMware ESXi hypervisor. We provide dedicated resources and stable performance to your virtual machine.
LIGHT-SPEED INTERNAL NETWORK
In our data centers, the internal network is based on fiber optic connections which allow for an almost zero latency.
Advanced control panel
All our windows VPS servers are managed by Plesk control panel by default. This is the industry's most widely used and well-supported Windows server control panel.
Our knowledgebase
The latest and in the now news you need to know are a click away. Check out our new articles right here.
OUR TESTIMONIALS
See what our clients have said about us. Want to leave one as well and see it here? You can do so from your client dashboard.
Monovm services have been great
Thanks for services I'm satisfied of the purchase.