List of content you will read in this article:
Windows Web Hosting Control Panels
A control panel (in the web hosting industry) refers to the web interface given by the hosting provider for the administration of the hosted websites, databases, emails, and a lot more. Today, almost all web hosting providers offer control panels on their shared platform, even on VPS or dedicated servers. This set of tools allows a site owner or admin to have full control over all aspects of their website in one place. We've made this detailed guide to help you understand the most popular options available on the market and decide which is the best choice for you.
Plesk 
Plesk is a control panel available on our Windows-based hosting accounts and servers. It lets you easily manage many aspects of your account, including the files, applications, and emails hosted on your account or server. Plesk control panel automates a large number of tasks that allow service providers to reduce operating costs and resources while at the same time increasing profitability, efficiency, and customer satisfaction. There are four login levels in Plesk, with each one having its appropriate roles and responsibilities:
Administrator: The highest individual server level login which allows web hosting admins to set up and manage all system items. Multiple servers can be centrally managed with the master level login of Plesk Expand.
Client/Reseller: Second-tier login account where the users are given domain creation rights from the system administrator. Clients can administer to groups of domains using a single login.
Domain Owner: These are third-tier individual domain owner accounts with predetermined permission sets and interface for single domain administration.
Mail User: This is the fourth tier individual mail account which allows the user to log in to their own private interface and manage passwords, spam filters, anti-virus settings and much more.
Plesk offers simplified and automated workflows for hosters and agencies, as well as provides its own ecosystem with more than 100 third-party extensions. The latest version of Plesk is integrated with Github and Docker. It has multi-server management features and is able to obtain or update SSL certificates automatically using the Let's Encrypt service.
ZPanel
ZPanel is an open-source web hosting control panel written in PHP and is compatible with Microsoft Windows server and POSIX (Linux, UNIX, MacOSX and the BSD's) operating systems. From the easy to use control panel, users can create and manage MySQL databases, email mailboxes, forwarders, and distribution lists as well as set up and host multiple domains on one server.
ZPanel uses several open-source (or freely available) software packages to provide a secure, web hosting system. It has been in development for nearly 10 years.
H-Sphere
H-Sphere is a scalable multiserver web hosting solution for Linux, BSD and Windows platform.
It has some advanced options and a sophisticated billing system to automate and improve your web hosting tasks. H-Sphere was designed to work on multiple machines and can be scaled by adding more webmail, databases and DNS servers without any downtime.
vDeck
vDeck is a popular control panel adopted by hosting companies like iPage, FatCow, PowWeb, StartLogic, and iPower. One of the more popular features of vDock is the ability to control and more easily manage larger and more complex websites. Users of the vDeck can install pre-designed templates as well to make the navigation appear more customized. One of the biggest features that catches the eye of webmasters is the ability to add-on additional control modules. As your website grows, vDeck has the ability to plug in additional controls that you need for a growing online business website.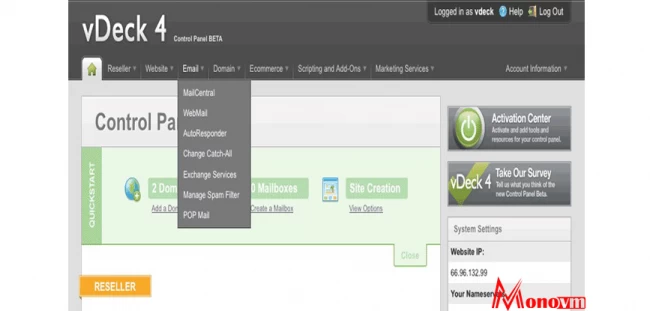 Hosting Controller
Hosting Controller is a complete array of Web hosting automation tools for the Windows VPS server family platform. It is the only multilingual software package you need to put your web hosting business on autopilot.
The HC has its own complete billing solution which is tightly integrated within the control panel and does all the invoicing and billing.
Comparing Hosting Control Panels
Although each panel should, in theory, ensure a similar level of control, the actual situation may vary from panel to panel. Here goes the basic comparison of the most popular hosting control panels for windows and their features:
| | | | | | | | |
| --- | --- | --- | --- | --- | --- | --- | --- |
| Name | Free | Open Source | Last Release | Frontend | Backend | IPv6 | Plugins |
| | No | No | 2017-04-27 | PHP | PHP/MySQL | Yes | Yes |
| | Yes | Yes | 2014-09-17 | PHP | PHP,MySQL/MariaDB | No | Yes |
| | No | No | 2013-12-02 | Java | Java,MySQL/Postgresql | No | Yes |
| | No | No | 2012-01-31 | Java | Java | No | No |
| | No | No | 2018-01-26 | .NET | MSSQL | Yes | Yes |
As can be seen from the table, each CP uses different languages for both frontend and backend, as well as offering different features like plugins, many of which are exclusive to their platforms. Each website has different needs for hosting, so we cannot tell you which control panel will be right for your site, however, we hope that from this blog you have a better idea of what ones available and which one suits your site the most.
We at Monovm provide the hosting control panel of your choice along with all of our Windows Server (and Linux as well) hosting services.