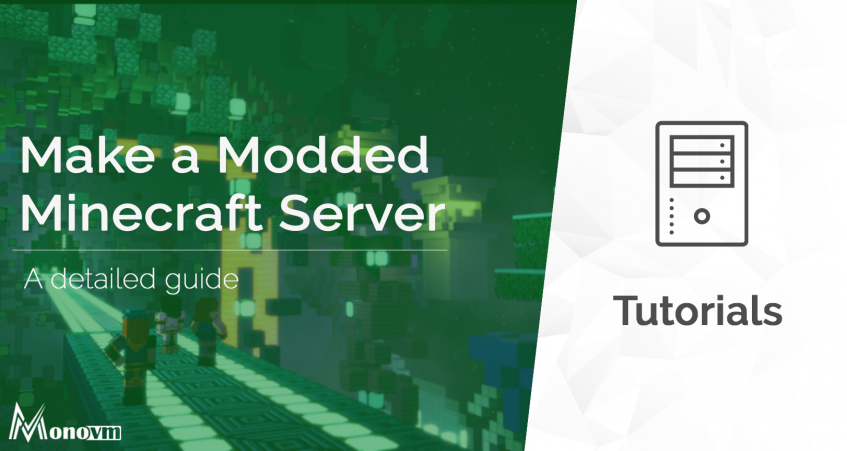 The Minecraft game is extremely popular amongst gamers. It is simple, user-friendly, and fun to play.
This game is about a little man who walks here and there and performs several tasks to build his world. Sounds simple right? Well, this simplicity and ease make it a widely famous and addicting game. Moreover, the game is not limited to just this, there is a lot to discover and explore.
You have the option to play this game in single as well as multiplayer mode. To play a multiplayer game, you require server hosting. There are various options available for you to choose the server from.
Further, if you're not interested in having a separate website host, you can set your own server too! How?
Well, we are here to explain to you the process to set up a modded Minecraft server in a step-by-step fashion.
Let's begin!
Before we start here are some prerequisites that you require to set up your server:
A computer with a RAM of a minimum of 4GB
An internet connection
Minecraft copy
Login information of your router
Step 1: installation of Minecraft
Undoubtedly, the very first step is to install Minecraft on your system.
In order to retrieve all the important files and install them, you have to launch vanilla 1.12.2. To conclude this task,
Go to your installation tab and press click+New. Now, click on the versions option and select 1.12.2 from the drop-down menu. Click on play.
Wait for a few seconds till the files completely load on the menu screen. After it is done, you can exit the game!
Now, let us move to the next step.
Step 2: Add Forge server
You have to download and install Forge on your system. Once you're done with the installation, reopen your Forge installer. Click on the install server option and choose the location to keep this folder.
Your installation is now complete. To launch it, you have to double click on forge-1.12.2-14.23.5.2838-universal.jar. As soon as the launch completes, you can see folders like logs, eula.txt, mods.
Now, open the eula.txt file. Change the false option to true.
Save the file and exit.
The next step is to relaunch the jar file. As soon as you do it you can see a number of files in your server folder along with a window that says Minecraft server.
Well, congratulations you have a local modded Minecraft server now!
But the work is not done yet!
We have to establish a connection so that others can connect to your server.
Step 3: Assemble mods
To set up a modded Minecraft server, it is mandatory to have mods.
You have to download the mods' .jar file first and create its copy.
Now, go to the mods folder of your server, and paste all the mods there. Along with this, you have to move the original mods that you transferred to the .minecraft folder.
To do that, go to the search box, press the Windows key, and type %appdata%. Now, choose .minecraft. Search for a folder titled mods.
If there is no such folder, you have to create one and put all the mod files into this folder.
Now the next step is to reduce lag.
Step 4: Reduce the lag
There are several instances where there is a lag between the server and your computer. To reduce that, here is the solution.
Click right on the server folder and create a text document that says server launcher.
In this file, paste this text as given below:
java -Xmx2048M -Xms2048M -jar forge-1.12.2-14.23.5.2838-universal.jar -o true nogui
You can replace the number 2048 with the amount of RAM that you want to use.
Now that you have pasted the text click File, and then Save as. Change the extension to server launcher.bat.
Whenever you wish to start the server, you have to double click on this .bat file. You can launch the server now, let it completely load, and then exit.
Moving on, as you can see that your server works locally now. Any player who has the same IP as yours can establish a connection with you. In case someone has a different IP you have to put forward your server.
How to do this? Well, the process is simple.
Search what's my IP on Google search engine. Copy the number that is displayed on your screen and paste it into the address bar of your browser.
As soon as you hit enter, you will be redirected to the router's website. Here, you can manage the settings of the router. Here, you can see the Port Range Forwarding Section. You are required to insert the information as stated below:
Application Name: Minecraft server
Start ~ End Port: 25565 - 25565
Protocol: TCP
Device IP: ENTER COMPUTER'S IP HERE
Enabled: True
Now open the command prompt and type ipconfig. Find a line that says IPv4 address. Copy the IP address here.
Voila! Your server is completely set and in running condition. To launch the server, double click on the .bat file and then start Minecraft and then your IP address under the multiplayer menu.
You are ready to connect to the server can enjoy your game.
Conclusion
Minecraft is extremely fun by itself, even without any mods. Nevertheless, there are thousands of mods out there that can spice up your game and give you hundreds of additional hours of playtime. We hope that with the help of this tutorial you were able to successfully create your own modded Minecraft server and have your friends join in on the fun.