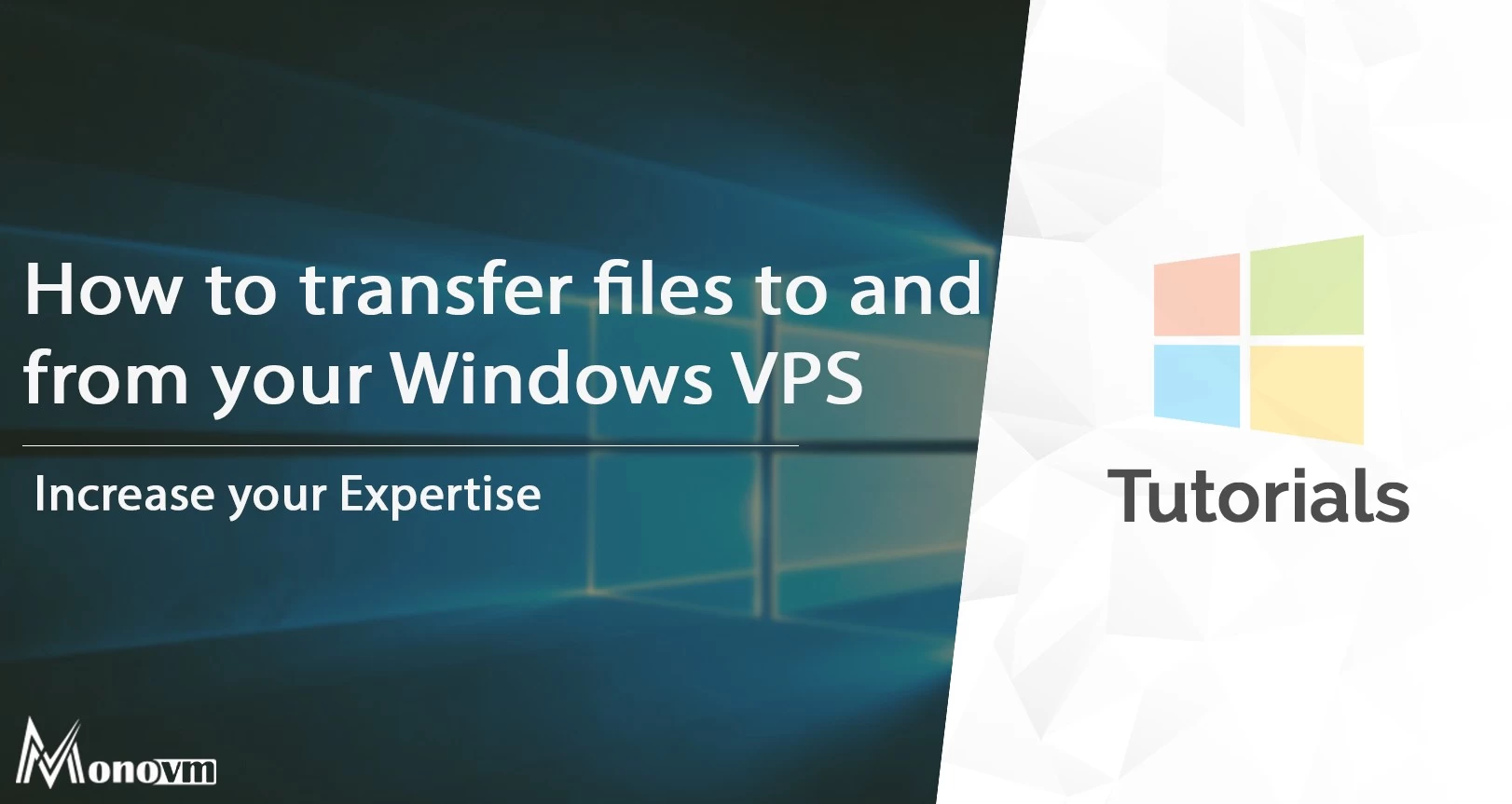 List of content you will read in this article:
So, you got yourself a Windows VPS and want to start using it immediately. Everything's going fine until you run into quite a big problem. You wish to access a file that is stored on your home computer through the Windows VPS, however, no matter where you look inside the virtual server, you just cannot find the option to upload a file. Worry not, there are different ways to transfer files between virtual private servers and computers, or vice versa.
Although the method we will show you today adds the computer as a visible drive to your VPS, the files are still sent through the internet, thus the transfer speed will be affected by your connection speed. It will not be as fast as copying files between drives locally. In this article, we will cover how to upload files from PC to windows server and how you can download files from your Windows VPS. First, however, let us find out what exactly a Windows VPS is and how it works.
What is a Windows VPS?
VPS stands for the virtual private server. It is a service provided by web hosts that splits up a bare-metal server into smaller virtual machines. These VMs are then rented out for a fraction of the price of a dedicated server and each one acts as a standalone server with its own operating system and dedicated resources. If you want to find out more about VPS servers, please check out our in-depth guide about VPS.
A Windows VPS, as you might have already guessed by now, is just a virtual private server that is running a Windows Server operating system such as Windows Server 2012, 2012 R2, 2016, 2019, etc.
The Benefits of Using a Windows VPS
Microsoft has been in business for almost as long as modern consumer PC and thus has a lot of experience behind its belt. The company understands what clients want and what tools users need. That is why Windows OS is so mainstream nowadays.
Windows is a very popular operating system amongst average computer users, in fact, there is quite a high chance that you are reading this article from a Windows OS machine. Therefore, using a Windows VPS should be as simple as using your PC at home.
When compared to an RDP account, which is the most similar service to a Windows VPS, a Windows VPS is definitely the superior service. Not only do you get truly dedicated resources, but you also have full administrative privileges, allowing you to install any software your heart desires and maintain complete control over the virtual server.
What is Remote Desktop?
Of course, no discussion about a Windows VPS is complete without mentioning the remote desktop protocol (i.e., RDP). This is the go-to method to connect to a Windows VPS from another Windows system (although, there are third-party RDP clients for most operating systems and even mobile devices). While it is possible to connect to a Windows VPS via SSH by installing an SSH server on it, it is a less convenient and not widely used method.
Remote Desktop is Microsoft's proprietary protocol that allows you to connect to a remote Windows system and control it from your computer as if you were sitting in front of the remote machine. This can all be done without the need for installation of any software as it is already built-in to the Windows operating system. For more in-depth information about how RDP works, check out our detailed blog about the remote desktop protocol.
How to Transfer Files Using Remote Desktop
There are many different ways to transfer files between your local computer and a Windows VPS. We chose the simplest and most convenient one: transferring files via a Remote Desktop connection. The method shown in this article has many advantages such as:
Files are available in only a few clicks
One-time set up
No server configuration required
No need to install any applications
Follow these simple steps to connect one or multiple local drives to the Windows VPS.
Step 1: Run the Remote Desktop Connection on your PC. You can do so by typing RDP into the Windows search bar.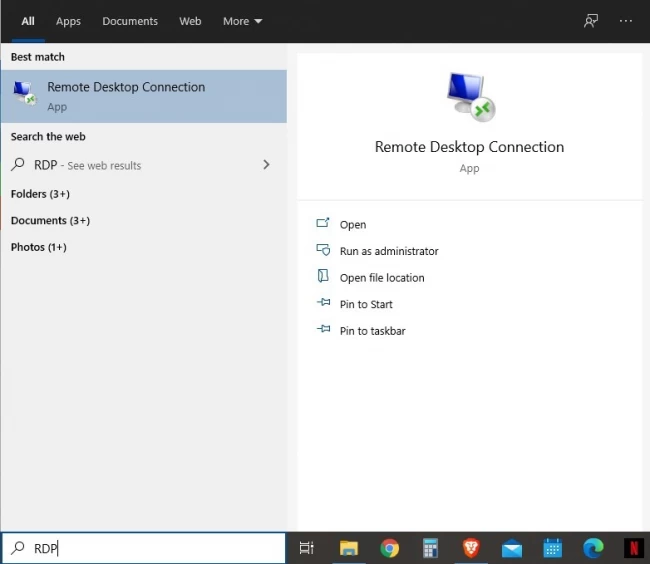 Step 2: Click on Show Options.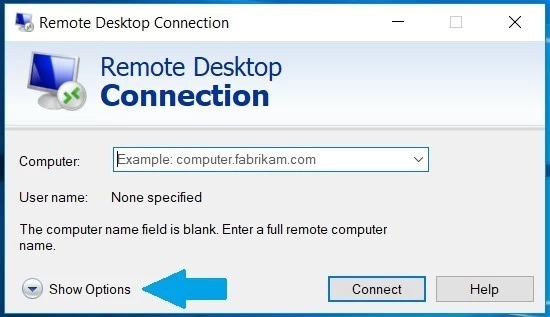 Step 3: Open the Local Resources tab.
Step 4: Press More... button under the Local devices and resources category.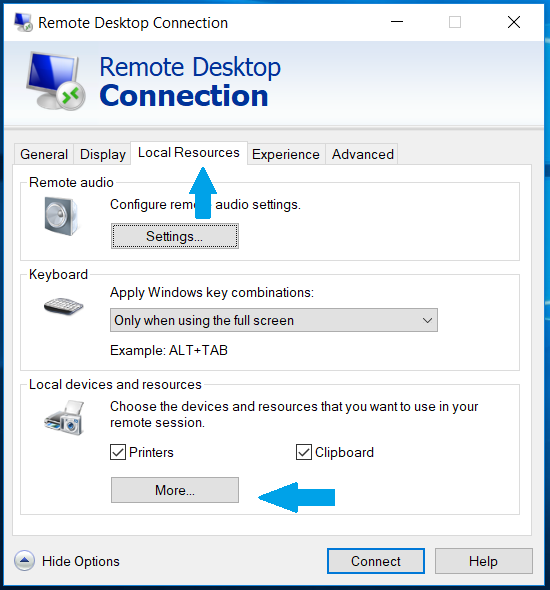 Step 5: Now choose the drives you want to share, click OK, and connect to the VPS.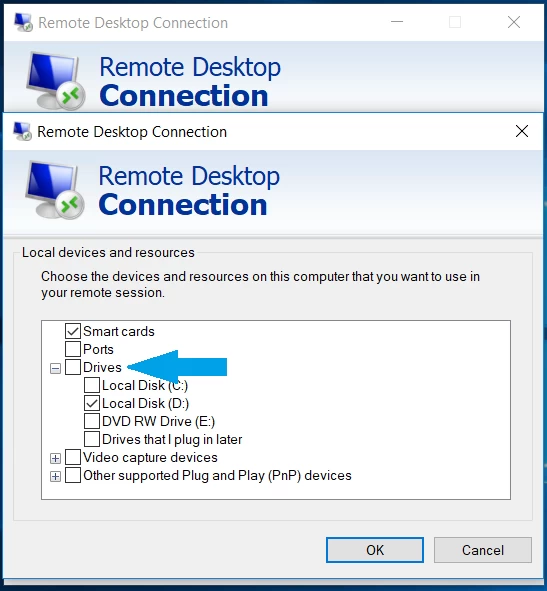 Now you have shared one of your PC's drives with your Windows VPS and have access to it from it. This shared drive shows alongside the other VPS drives.
We also have an article that shows how to upload files to Linux VPS from your desktop PC.
Conclusion
We hope that with the help of this blog you have learned a little about what is a Windows VPS, its advantages, and how to transfer files to and from a local machine to a Windows VPS. If you have any questions or suggestions on how we could improve, please leave a comment down below.