List of content you will read in this article:
In today's online world, numerous active websites wouldn't function or appear as they do without a large pool of skilled and experienced web designers.
A website's components are built or designed by a web designer. They select and design the website's visual elements, including graphics, typography, colors, and layout. They are also in charge of ensuring that websites are not just useful and user-friendly but also aesthetically pleasing.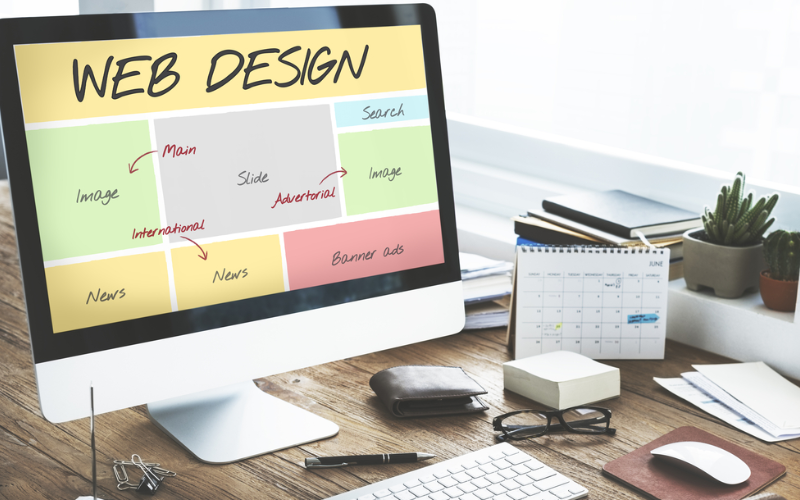 If you want to learn how to become a web designer and start a new job in the web design industry, don't worry; You surely don't need to attend a course from an expensive institution. Enough experience, perseverance, and access to excellent materials can make you a perfect web designer, Even if it's not that hard.
Learning to build a website is a serious endeavor. You'll need to work, learn, become an expert in your field, and establish a strong web design portfolio.
However, the steps you must follow are not difficult, and you may be able to start a career in the web design industry within a year.
In the following article, we have gathered the necessary information and steps to help you become a web designer.
Step 1: Learn the web design theory
The first step for becoming a web designer is learning about web design principles. User experience, website structure, and color theory are fundamental guidelines for building effective websites.
Today, learning web design theory from the comfort of your home is possible. There are a ton of informative tutorials regarding web design theory you can watch for free on YouTube. Additionally, you can sign up for free courses on websites like Coursera or DesignContest.
Since web design is continually evolving, studying web design theory is distinct from studying other types of theoretical learning. Therefore, a great web designer should commit to upskilling and constant learning.
Step 2: Learn the fundamentals of the internet and the web world
The next step of becoming a web designer is understanding how the internet and websites work.
Even though you don't need to be a competent programmer to create websites nowadays, knowing the technological underpinnings of the web will guarantee that your designs can be turned into useful web pages.
Most web designers currently employed in the field are at least familiar with a basic programming language. Three basic languages we recommend learning include:
HTML: It forms the structure of your webpage
CSS: which regulates how a web page's components are styled
JavaScript: which modifies HTML and CSS, allows you to add interactivity to websites
Step 3: Learn how to use web design tools and software
These web design tools will help you to become a web design expert.
Over time, the advancement and introduction of better and more powerful web design software and tools have put web designers in a better position to create beautiful and functional websites.
But since there are many different aspects of web design, not all of these technologies may be required to become a web designer. However, they are still worth understanding a little bit about for a more comprehensive design. Let's get to understand these tools.
1: WordPress
The industry leader in web design that has been around for a while hasn't lost its charm. WordPress powers 27% of all the websites found on the Internet, accounting for a stunning 76% of the content management systems industry worldwide.
WordPress makes it easy to develop, edit, customize, enhance, and optimize websites with over 1,000 integrated themes and plugins.
If you want to use WordPress, you can download it from here
2: Google Web Designer
You can create HTML5 content that is captivating and visually attractive with the help of Google Web Designer.
Google Web Designer lets you employ animation and interactive features to bring your creative idea to life and connects with other Google products, such as Google Ads and Google Drive, without any issues.
3: Sketch
A sketch is a crucial tool for generating interfaces and prototyping, typically used mostly for user interface designs.
Learning Sketch can be very useful when you're on the path to becoming a web designing expert.
4: Adobe XD
This vector-based technology is employed for many web design use cases, including developing interactions, transitions, and other visually appealing and dynamic website features.
This platform performs flawlessly with other Adobe products like Photoshop and Illustrator.
5: InVision Studio
While WordPress remains the most widely used platform overall, many web designers believe InVision Studio is the best tool for creating websites. This is due to its variety of features and capacity for quick prototyping.
It enables you to design unique animations and transitions using interactions and movements like clicking, swiping, and hovering.
Step 4: Develop the necessary hard and soft skills
The next step is developing the necessary skills. Many businesses now demand hybrid talents from web engineers or a mix of hard and soft skills. You must put a lot of effort into improving both to remain competitive in the web design industry.
Hard skills are essential for any web development job and are required to properly complete your work's technical requirements. They are the technical skills learned through education and training, and depending on whether you're a full-stack, backend, or front-end developer, they may differ slightly. They are particular to the job and are easily quantified.
The following hard skills are the most critical for web designers to have:
UX
Visual design
Responsive design
Wireframing
Prototyping
Testing and debugging
Search engine optimization
People skills, often known as soft skills, are universal but difficult to describe and quantify. They are the innate skills or character qualities that determine how you connect with your coworkers, deal with upper management, handle pressure, or conquer challenges.
Soft skills distinguish great applicants from adequate ones and can make or break your employment application. The top soft skills you need to become a web designer and succeed in the web design industry are:
Creativity
Adaptability and flexibility
Critical thinking
Management of time
Problem-solving
Communication
Step 5: Get different certifications
Getting relevant certifications is one of the most important steps to become a certified web designer.
It can help you learn new skills, improve your career, make more money, and demonstrate your expertise to potential clients.
A few of the popular web design certifications are listed below:
1: Google Mobile Web Specialist
This Google certification proves your expertise in web development for mobile applications.
Exam topics include progressive online apps, mobile web forms, performance optimization, and accessibility. You can take the test three times, and Google offers a free study guide to aid in your preparation.
2: Adobe Certified Expert
Since Adobe produces many web design tools, this certification is necessary for web designer experts. An ACE can be attained through a variety of programs.
3: General Assembly Bootcamp
Digital marketing, website development, mobile app user experience development, and JavaScript are just a few topics covered in the variety of Bootcamp courses offered by General Assembly.
Each course is offered both in-person and online and is instructed by professionals in the field.
Step 6: Create your portfolio
Most clients and companies are not particularly interested in your academic background. Many people won't even be interested in how long you've been designing websites. They are more interested in your portfolio and what you can bring to the table.
In this step of learning how to become a web designer, you must create a quality portfolio. It should also be concise, showcasing only the designs you think are your best work instead of being filled with links to unimpressive websites.
An online portfolio for a freelance website designer is extremely important because it offers examples of your design aesthetic and job samples.
You must, however, show that you have designed various websites with dramatically different aesthetics. When you go for an interview, ensure the work you have included in your portfolio adheres to the company's aesthetic.
To develop a successful portfolio as a web designer, you must be aware of your unique selling proposition. Select a project that will highlight these abilities. Also, take into account the presentation of your portfolio.
Step 7: Apply to relevant jobs in the web design industry
There are numerous roles and job positions available in the web design industry. A person with proficiency in web design and the ideal combination of training and work experience may be competent for different positions.
Make a list of the characteristics you care about before you start applying. This will enable you to select the appropriate platforms and reduce the number of jobs or gigs you apply for.
Learning how to become a web designer is neither simple nor quick, but it's also not all that challenging. There will be kinks to learning the requisite web design abilities. But as soon as you learn, you'll be able to start your job and make money.
Step 8: Keep updated
Becoming a web designer is not the end of the road. As technology changes, new design techniques are developed, and customer needs shift, the web design industry never stops evolving.
Stay current in your field and demonstrate to clients that you have the information and abilities required to create websites that meet their demands, and keep learning, practicing, and expanding your talents.
In addition, joining an online network for web designers has a lot of advantages. It's a great way to network, learn about current UX trends, see what other people are working on, be inspired, and occasionally make friends.
SitePoint, UX Mastery, and Designer News are among web designers' most well-liked online groups.
It also wouldn't hurt to build your own Twitter account if you want to keep up with what's happening in web design. You can use this platform to follow the biggest names in web design and marketing.
Conclusion
There's never been a better opportunity to work in the web design industry, with many firms establishing websites for reputation, effectiveness, and quick growth. Studies show that between now and 2030, demand for this job will increase by 13%.
Websites are built and maintained by web designers. They are responsible for creating websites and testing them to ensure they are aesthetically pleasing, responsive, and have user-friendly interfaces.
If you're asking yourself how to become a web designer, the first question that comes to your mind is what you need to know to get started. Although becoming a successful web designer requires a lot of effort, the process isn't as difficult as you would imagine.
To succeed in their position, web designers must have creativity, analytical thinking, and technical abilities. If they are freelancers, they also need business management abilities to draw in and handle clients.
We hope you find our guide that helps you how to become a web designer helpful and start your career in the web design industry.
People are also reading: