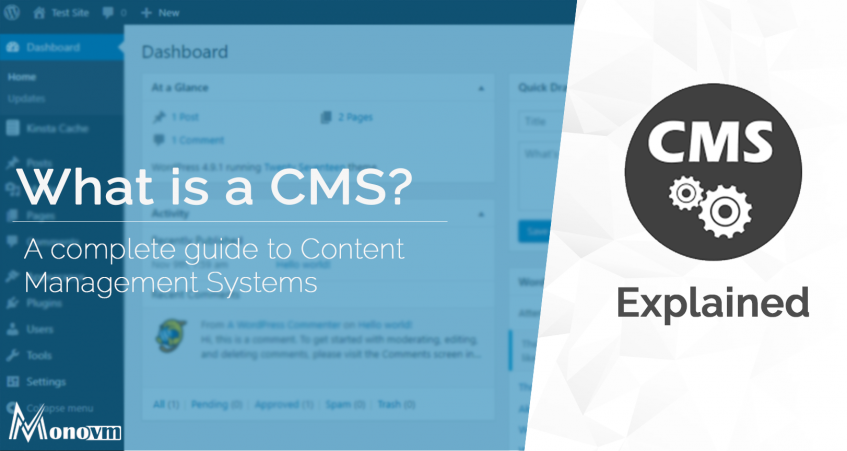 Since the internet's popularization, having a website is a common practice for many internet users. Unfortunately, up until about a decade ago, internet users needed in-depth programming knowledge in order to create and edit content within a website. This made managing websites' content not only difficult but also expensive without prerequisite knowledge. In order to combat these issues, content management systems (i.e. CMS) were developed.
A web content management system is a computer software designed to create, edit, organize, publish and manage the content of a website. It provides an intuitive interface which allows its users to create and make changes to the website without having to write or edit computer code.
First, let us explain what makes up a CMS. There are two core components that make up a content management system:
Content Management Application (CMA): this is the graphical user interface (GUI) that allows the users to add and manage content on the website.
Content Delivery Application (CDA): this is the back-end of the CMS which stores the content that is input with the CMA and makes it visible to the site's visitors.
Although there are countless CMSes available, each with its own unique features, their core functions could be boiled down to:
Index, search and retrieve: the CMS indexes all the data and allows users to search for and retrieve content by attributes.
Format management: facilitates scanned paper documents and legacy electronic documents into HTML or PDF documents.
Revision control: allows for content to be updated and edited after initial publication as well as tracking any changes made to files.
Publishing: allows for the use of templates and wizards along with other tools to create or modify content.
Having a content management system is especially useful when having multiple content editors on a website as it is possible to set permissions for each individual and what accesses he/she has. All of the editors have access to the website's database through a simple, easy-to-use graphical user interface. Some content management systems even support multi-site and multi-lingual capabilities, which are highly beneficial to large websites.
Despite all the advantages that come with using a CMS, nothing in is flawless and there are a few common issues that need to be considered before deciding which one to use. Certain vendors might have some hidden costs such as costs for implementation, customization or even technical support/training. Depending on the CMS, it may require significant server resources to run. Regular updates need to be performed to ensure maximum security is maintained.
There are plenty of content management systems available and at times it may seem impossible to select one that works best for you. In order to make your life easier, we have created a comprehensive comparison of what in our opinion are the best CMSes available nowadays.