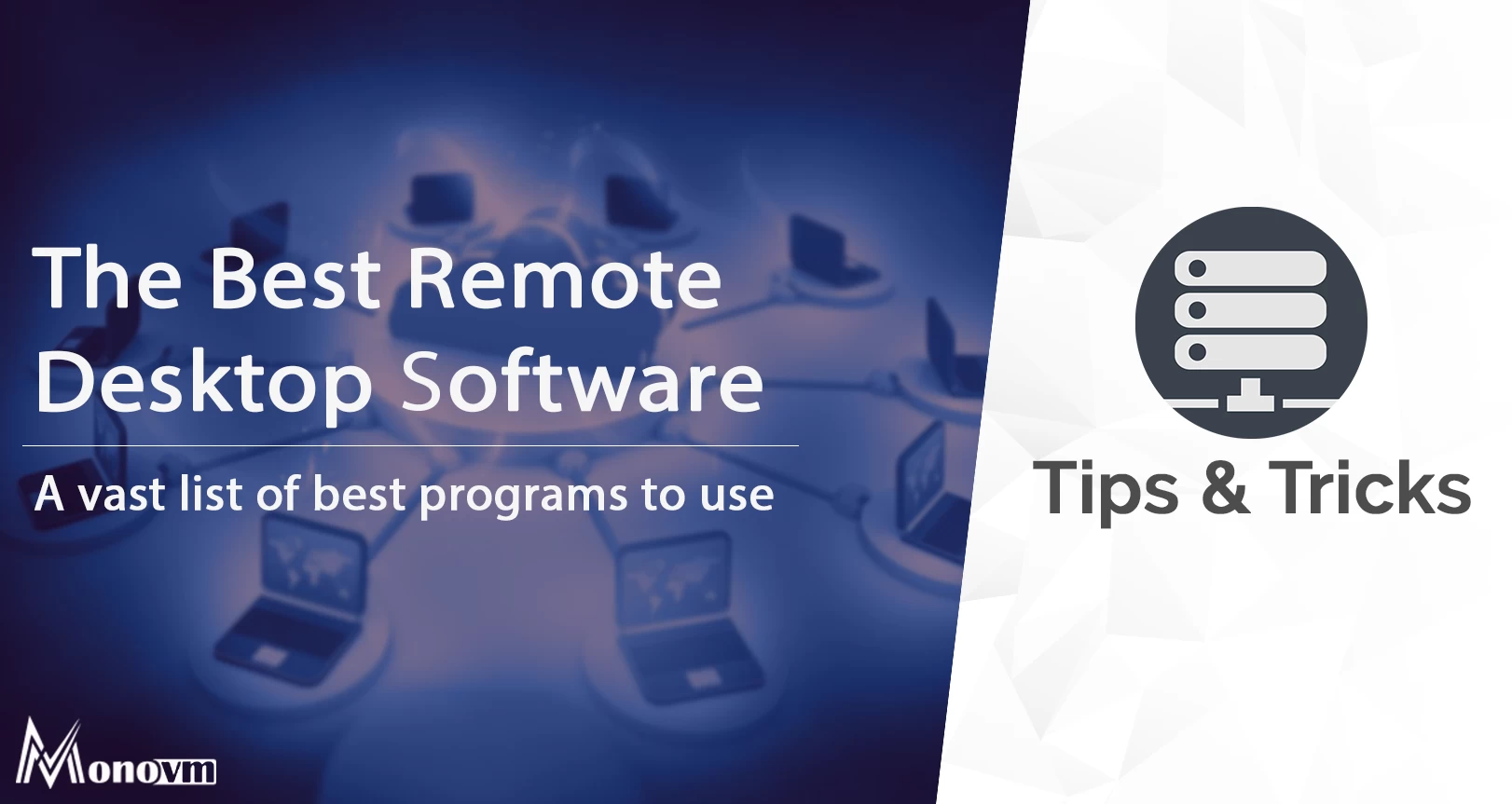 List of content you will read in this article:
If you are hunting for the best remote desktop software, then you have landed at the right place. Remote desktop software helps you connect and interact with a desktop or device present in another location through the internet or internal network. The software helps you to control the device that you are connected with; it is like you are sitting in front of the system. Additionally, it gives you a hand in collaborative work and some technical support.
Well, you may bear the thought, that the same task can be accomplished through screen sharing software too, then what is the benefit of remote desktop software? In screen-sharing software, the users can only share their screens and nothing else. Whereas, on a remote desktop, you get tons of other features for remote use as well. 
Remote desktops are generally used by professionals or technicians working on several industrial applications or datacenters. Now, there are two types of remote desktop software: third-party solutions and operating-system-based solutions. 
Best Remote Desktop Software
Moving on, we are here with the list of the best remote desktop software available for you. Take a look.
TeamViewer
AnyDesk
ConnectWise Control
Zoho Assist
Splashtop Business Access
BeyondTrust Remote Support
VNC Connect
LogMeIn Pro
GoToAssist
LogMeIn Rescue
ISL Online
FixMe.IT
GoverIan Reach
1. TeamViewer
TeamViewer was established in 2005 in Germany. The company has many branches in Europe, Asia Pacific, the United States, etc. More than 800 employees are working for TeamViewer across the globe. It is known as one of the leading worldwide remote desktop providers when it comes to remote connectivity solutions. 
TeamViewer provides highly secure remote access and support; it is one of the largest free remote desktop software used globally. The company's objective is to let out the maximum digital potential of all businesses. It tries to achieve this by implementing incredible tech innovations like the Internet of Things (IoT) or Augmented Reality (AR). 
More than 2 billion devices have been actively using TeamViewer. And at the same time, approximately 45 million systems are active!
You can download it from here.
2. AnyDesk
AnyDesk came into existence in 2014. Interestingly, more than 300 million users have downloaded their Remote Desktop software, And that's just not it! Every month 14 million more users join their family.  They are known for their great product performance and customizable and affordable price structure. 
AnyDesk uses DeskRT, a proprietary codec that provides virtual latent free connections and lower bandwidth internet connections. They stand on the list of 50 fastest-growing firms in Germany. 
Many users have recommended this remote desktop software to their customers, it's working very fast, and it's reliable.
You can download it from here.
3. ConnectWise Control 
ConnectWise Control is extremely fast and a highly reliable RDP alternative for you. 
There are unprecedented events like downtime, vulnerabilities, or even loss of productivity. To tackle such issues, ConnectWise Control assists you with help desks to sort them out at any time from anywhere. The support provides full remote access to troubleshoot, remotely control, and update client devices.
It is extremely easy to conduct online meetings or webinars using the built-in VOIP. You can take screenshots, capture videos, and much more. 
They also provide over 120 extensions for customizing your remote support experience.
You can download it from here.
4. Zoho Assist
Zoho Assist is cloud-based remote support software that helps you to connect with your customers from anywhere via web-based or on-demand remote support sessions. You can manage remote PCs, mobile devices, or laptops seamlessly. Establish connections to offer customers remote support solutions in only a few seconds. 
Additionally, the help desk is present to solve the customer's problems. The team helps speed up the resolution time and deliver some incredible service. The team can connect to your remote desktops, where you can easily establish remote PC access, which is further helpful in faster troubleshooting. Also, interact with the support through voice or video chats, even in a remote session. 
Further, the feature to reboot the Remote Desktop and reconnect to a session with a single click helps the technicians. With Zoho, you can set up unattended remote access for the available systems inside and outside the LAN. It supports both Windows and Mac!
You can download it from here.
5. Splashtop Business Access
This is one of the most desirable options for professional businesses; it is the most popular premium remote desktop software worldwide. You get unattended remote access to Windows, Linux, or Mac computers from Windows, Mac, Android, iOS, or Chrome browsers. You must install the Splashtop Business app on each device you need access to and from. The app is free of cost. 
Furthermore, the process of transferring files is extremely easy. You can drag and drop various files between the computers. Additionally, there is no need to start a remote session if you want to transfer files! Leave your tensions behind when it comes to security. Splashtop provides multiple levels of protection, for instance, 256-bit AES encryption, two-factor verification, and protection with TLS.
The cloud infrastructure hosted on AWS is highly secure and provides a great computing environment with firewalls, DDoS mitigation, and data encryption. Moreover, there are additional features for your convenience, such as screen auto-lock, blank screen, remote connection notification, session timeout, and many more.
You can download it from here.
6. BeyondTrust Remote Support
BeyondTrust supports Windows, Mac, Linux, Android, and several other network devices. Their SaaS portfolio helps in fast deployment and easy management. With them, you can be assured of receiving instant and reliable remote support. You can easily troubleshoot the issues. Additionally, there are tons of other features for your convenience, for instance, file sharing, device camera sharing, remote control, screen sharing, etc. 
With the assistance of BeyondTrust thick client, browser-based console, or mobile app, you can receive support from anywhere. Moreover, the provision of scalable enterprise-grade support assists in running the business pretty well. You can easily manage unattended access to various systems that help to grow your business with utmost security.
You can download it from here.
7. VNC Connect
VNC Connect aims to provide a consolidated remote access strategy that helps evolve your business. The deployment with standard tools is seamless. Additionally, the sessions are fully encrypted with multi-factor authentication. The company enables everyone to access the resources securely. 
You can download it from here.
8. LogMeIn Pro
LogMeIn Pro is another wonderful RDP alternative for you. You can quickly access the desktop from anywhere you want.  If you want to collaborate with others, feel free to extend computer and file access to them. Moreover, security matters a lot, right? Hence, add protection to your systems with the LogMeIn antivirus that protects you from viruses, malware, and several online threats. 
Additionally, if you want to implement group policies, you can find control tools for the system administrators. Moreover, you also have the feature of a multi-monitor display where you can view multiple remote monitors 1:1 on your screens. You also get a 1 TB data storage to store all the data. 
You can download it from here.
9. GoToAssist
In simple words, GoToAssist is easy to get started, quick to connect, and secure. GoToAssist is seamlessly fast and frictionless. With them, you get tons of features while working. You can safely transfer files during a live or unattended support session. Moreover, it helps in remote diagnostics, where you can access the system information of your customers, be it software or hardware configuration. 
Not only this, switch between the monitors of your customers easily. You also get to host up to 15 sessions. Easily start the support session from the desktop app or the browser. Lastly, GoToAssist offers a free trial of 7 days.
You can download it from here.
10. LogMeIn Rescue 
With LogMeIn Rescue, you can securely build a connection with any device. The multi-platform support helps you support any device remotely per your needs. It is built to provide expertise for teams, be it a small helpdesk or a large enterprise. You can easily handle multi-session, and they provide the toggle between up to 10 sessions, which sounds good. 
Now, reboots are extremely important when it comes to troubleshooting. Therefore, in a remote support session, you can reboot and reconnect within no time. They guarantee world-class security to keep your business and the users safe. You get fast, flexible, and reliable technical support that benefits employees and customers.
You can download it from here.
Bonus Free Remote Desktop Software
We have covered almost the best and most free remote desktop software in the above list, but that's not completed here, so we have been listed as bonus remote desktop software.
11. ISL Online
ISL Online is one of the most credible companies for delivering a seamless experience. They have successfully collaborated with thousands of IT professionals and help desk technicians of small or big companies and Fortune 500 companies. Their growth range is impressive and speaks to how far they have come. 
With ISL Online, you can easily access Windows, Linux, and Mac remote computers in a fraction of a second. You can update or install software quickly with their reboot and restart feature. Regarding security, ISL Online inhibits two-factor authentication and assures AES 256-bit end-to-end encryption. Additionally, the sessions are automatically recorded, and you can export the audit logs too. It is completely designed to make your experience more efficient and easier. They also offer a trial period of 15 days, free of cost. Give it a try!
You can download it from here.
12. FixMe.IT
FixMe.IT helps you to deliver some top-notch technical support to clients. You can establish a connection with multiple computer systems. After building the connection, share your screen or multitask by viewing or switching between the connected remote devices. Also, there is an advantage of various scaling options that help you adjust and navigate the remote screen of any size. 
Furthermore, to strengthen security, you have an option of two-factor authentication. Additionally, there are ample features associated with this company. For instance, session reporting, MSI package, video session recording, performing administrative tasks, instant chat for support, and much more.
You can download it from here.
13. Goverlan Reach
This incredible remote control software is for Windows, Mac, and Linux. You can easily access systems and users in and out of your networks in just a few seconds. Additionally, monitor the screen activity and the health status of multiple machines. By monitoring the screen activity, they mean that you can see various systems at once and detect issues, if any. Also, you can spot some performance issues while monitoring the system. 
Sharing screens and communicating with users through texts or even video chats is easy. Moreover, you can store the information by taking screenshots or recording a video. With Goverlan, you can also centrally audit the remote assistance sessions, including operator background and management options. 
You can download it from here.
Conclusion
With a detailed analysis of some of the best remote desktop software available in the market, we have reached the end of this article. We hope the above information helps you understand RDP software through which you can work and help others by controlling their device, pcs, or other remote devices. You can buy RDP from us to see blocked websites and keep your software online. If you feel this article will help you solve your problem, you can share it with others and leave some comments for us. Keep learning, and keep exploring!
People are also reading: