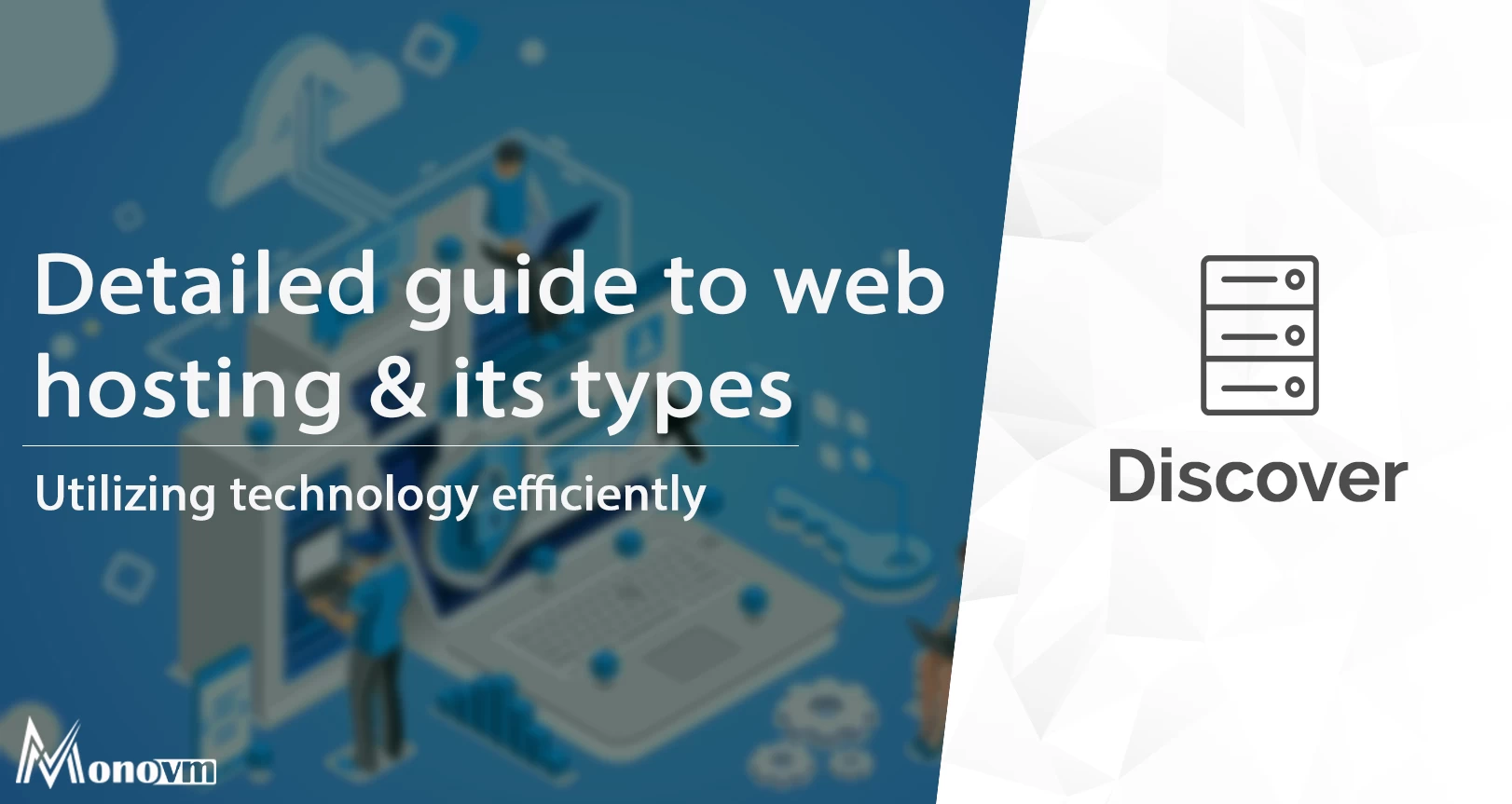 List of content you will read in this article:
You have a wide range of choices when it comes to choosing a website hosting provider. In addition to all that, you also have to know about the different types of website hosting to know which one is best for you. We know it can get a bit confusing at times, especially with all the jargon on the providers' websites and we're here to help. By the end of this article, you'll have understood what the different types of website hosting are, what their differences are, and when you should upgrade your plan. So, let's dive in.
What is Website Hosting?
Website hosting is the service of providing storage and access to websites. A web hosting provider typically offers this service, which stores the website's data, provides internet connectivity, and ensures that the website is available to users anytime they need it.
There are various types of website hosting, such as shared hosting, VPS hosting, and dedicated hosting, to name a few. Each hosting type has advantages and disadvantages, and it is important to choose a type of website hosting that fits your business needs.
With the right website hosting service provider, you can ensure that your website is up and running all the time! Without website hosting, your website would not be visible online; the content would only be accessible on the computer or server where it was created and stored.
Additionally, website hosting includes services such as email accounts, bandwidth allocation, technical support, security features, and reliable uptime guarantees, which are essential for ensuring your website runs smoothly and efficiently.
How to Choose the Right Website Hosting Provider
Now that you fully understand what website hosting is and what it'll help you achieve let's find out what you need to consider before going with a web host.
Identifying Your Requirements
Before selecting a website host, it's important to identify your specific needs—including the number of visitors you anticipate, the types of features you'd like on your website, and the level of security and redundancy you'll require. Choosing the right types of website hosting should be the first step in your hosting journey.
Do you go with a shared host, a dedicated host, or a virtual private server? It all depends on your needs; if you anticipate heavy traffic, you may want to consider getting a VPS, while if you need basic features and don't expect many visitors, then shared hosting will do the trick!
To ensure maximum security and uptime, redundancy is key; your website should have multiple back-ups so that your site won't go offline even during an outage. Make sure to figure out exactly what types of website hosting you require before signing up for any services!
It would help if you also considered whether you'd like additional capabilities, such as content management systems or e-commerce capability, and whether or not you have any special requirements for scalability or flexibility.
Website hosting is like playing a game of Jenga — you'll need the right pieces in the right order to ensure you can build a solid website tower that won't come crashing down! So, consider your potential future needs when looking for the perfect hosting provider.
Hosting Reliability and Uptime
Before selecting a website host, you must find out how reliable they are through their reviews and uptime guarantees — you'll want to avoid the good old 100% uptime guarantees. When mentioning reliability, we're talking about consistently uninterrupted service. As for "Uptime" it means the time the website is "up" and operational without any crashes.
You can check out a website hosting provider's online reviews or testimonials left by their clients. Any reliable host must have the infrastructure and proactive monitoring to reduce the risk of downtime.
Considering Scalability Options
Scalability is how accommodating the provider will be as your website's demands and visitors increase over time. Every successful business will gain more visitors as their online presence gets established, and it's important to know your website's ready for when it happens.
When choosing a website hosting provider, you must see their resources for load balancing on their premium plans. The most important option for almost every website owner is seamless scalability, which means consistent performance and responsiveness as your website grows.
Prioritizing Performance, Speed, and Security
Performance, speed, and security are essential for having a positive UX and protecting the user's data. Let's see what they each mean and how they'll help.
Performance: If you want performance, find a host with the fastest servers and performance optimization features such as caching and content delivery networks (CDN). By employing these techniques, you can enjoy faster loading times and better responsiveness.
Speed: This is one of the key factors in SEO, and users love it just as much as Google does. To have fast-loading pages, you must look for a host with a robust infrastructure and efficient server configurations.
Security: Extra security never hurts anyone. It might help save your users' information from being extracted. If you want a host that values security above all, look for features like SSL certificates, proactive security monitoring, and firewalls. These will help keep unauthorized access and attackers afar.
Determining Cost & Budget
When determining a budget for hosting a website, it's important to consider the cost of hosting itself and any additional services or features that may be necessary. Sure, the basic costs of hosting might seem like a lot, but having access to helpful features like automatic backups and malware protection often pays for itself in the long run.
You'll also have that all-important peace of mind knowing that your website is always running optimally. So don't skimp on website hosting - allocate additional funds for other services, and you'll be golden!
Weigh out the cost of hosting with the potential return on your investment; for example, if you plan on running an e-commerce store, you'll want to ensure that you have the necessary security measures and enough storage capacity to handle your data.
Types of Website Hosting
Now that you know how to identify your requirements, you should learn about the different types of Website Hosting. Keep reading to learn more.
Shared Hosting
Shared Hosting is a web hosting service where multiple websites are hosted on a single server owned and managed by a web hosting company.
This type of hosting is ideal for small businesses or individuals who don't need the features or resources of a VPS or dedicated server or people who don't need the power of a VPS or dedicated server and are looking for an affordable and easy-to-use hosting solution.
Pros
Easy setup

Scalability

Easy maintenance
Cons
Resources shared with other websites

Slower load times
Virtual Private Server (VPS) Hosting
A Virtual Private Server is a dedicated computer you rent from a web host. It gives you access to your private server to install whatever software you need. This kind of hosting is called "virtual" because it has its hardware and resources and is isolated from other servers.
Through VPS hosting, your website will be hosted on a physical server shared with others. While this website hosting can't take a lot of traffic, it's highly customizable and has more storage space.
VPS hosting is good for business owners without the technical knowledge needed for most hosting types. You should also choose this hosting type if you need specific software or packages installed.
Pros
Scalability

Full admin access

More autonomy than other website hosting types
Cons
Too expensive for small businesses
Cloud Hosting
Cloud Hosting may be your solution if you're looking for the ultimate scalability and affordability. Cloud Hosting takes advantage of virtualization technology, which means you have a virtual machine completely isolated from other customers' VMs.
This website hosting type is ideal for companies and businesses that are rapidly growing and need to reduce the risk of downtime as much as possible. Bloggers and freelancers might also benefit from it as it is highly affordable.
Pros
Cloud hosting is much more affordable than dedicated servers.

Your server will scale with your business.

You receive the private cloud server locked to yours only.

Cloud hosting providers have multiple data centers and networks.
Cons
It can be slower than other solutions depending on the number of VMs on your server.
Dedicated Hosting
When deciding which website hosting solution is right for your business, you'll want to consider "dedicated hosting." This is when your business data and websites are hosted on a computer solely owned and operated by you. The servers are dedicated exclusively to your business.
Dedicated hosting gives you full control over your websites and server environment. You can install software, modify settings, and access system files whenever needed. You can also choose the operating system and type of hardware used in the server.
Dedicated hosting is ideal for big-business owners with high traffic and income because of this website hosting type's cost. Keep in mind that you should also have a high level of technical knowledge to be able to manage the server.
Pros
You get full control over the hardware

You are free to choose where the server is located

You can install and configure any software you need.

High-end dedicated servers are highly durable and scalable.
Cons
They can be expensive.

You don't have as many website hosting configuration options.

Some will come with pre-installed content management systems (CMS), or you may have restrictions about which CMS you can use.
WordPress Hosting
WordPress has an optimized and robust environment for you to create your website, and it has also been designed to ensure high performance and security. WordPress offers not-commonly found features like one-click installations and performance-enhancing configurations.
Some website hosting providers offer caching techniques and CDNs to improve website responsiveness and loading times. They might also provide you with specialized support and regular backups.
WordPress Hosting is ideal for content creators, bloggers, small business owners, and non-profit organizations who want a user-friendly and scalable platform that'll help them reach their audience and establish an online presence.
Pros
Optimized performance

Simplifies website management

Tailored features such as advanced caching
Cons
Limited flexibility

Higher cost

Reliance on WordPress leads to potential compatibility issues.
When to Upgrade Your Website Hosting Plan
No matter your website hosting type, you will have to upgrade your plan at some point. Not only will upgrading your plan optimize your website's performance, but it will also get it ready for your visitors' growth.
You'll want to upgrade your plan when you face slow loading times or frequent downtime. These signs mean that your website's traffic volume has gone up enough that you're facing resource limitations.
Additionally, if you're planning on expanding your business in a way that increases its functionalities or traffic, it'd be a good idea to upgrade your plan. This way, you'll have a guaranteed seamless scaling of your business and operations.
Upgrading your website hosting plan will also help you SEO-wise. Premium plans offer SSL certificates enabling your site to have secure transactions and help keep your users' data safe. Safeguarding your website against potential online threats is one of the best things you could do for your visitors.
Final Say
In conclusion, many different types of website hosting are available, and no one-size-fits-all solution. To choose the right hosting for your needs, you need to consider the type of website you are creating, your budget, and how much technical support you need. With this knowledge, you can make an informed decision and ensure that your website is hosted on the platform most suited to your needs.
When choosing a website hosting provider, it's important to consider your budget and the type of website you are building.

You should also determine how much bandwidth and storage space you need to accommodate your website.

Additionally, it's important to research any additional features the hosting provider offers, such as security, support, and scalability.

Dedicated Hosting is the way to go if you're looking for exclusive server hosting.

Cloud Hosting is best in terms of scalability and affordability.

For those of you interested in autonomy, VPS is your best choice.
People also read: