List of content you will read in this article:
Web hosting plays a major role in creating websites on the internet. In simple words, Web hosting offers space on the webserver for any website so that these websites can store their files.
Web hosting requires when a file is uploaded through a local computer on the webserver. The resources of a server, such as hard drive, RAM, bandwidth, etc.) are allocated to a website for proper working.
The type of web hosting depends upon the plan you choose for the website. So if you want to choose a plan that can fulfil the requirement, first learn the difference between available plans and their offerings.
Apart from it, you have to understand your website's needs, so for example, if you want to create a larger website, you must go for dedicated web hosting. It can help your website to run properly without having bugs, glitches, etc.
In case you are thinking of having a website, then you will need web hosting. However, many people are not aware of web hosting, so read this guide from start to end. In this guide, we will cover complete information about what web hosting is, how it works, and why it is essential to run a website without having any trouble.
What Is Web Hosting? [Definition]
Web hosting is what allows websites to become viewable on the internet. The files that make up your website can exist independently. They're only accessible to the masses if you put them on a server that is properly connected.
To use an analogy, think of web hosting as a home. Your website and its files are the stuff that goes in the home. They're safe and accessible by being someplace that everyone can access.
Web hosting makes use of servers, as we mentioned. These servers store information about a website. Then they make it available to those who want to access it via a web browser. Since most people or even businesses don't have servers of their own, they rent out server space from a third-party web hosting company.
A server is a physical computer that runs 24/7, so your site's files can always be accessed without interruption in service. These servers are loaded with the necessary hardware and software (Hosting Control Panels) that your website needs to function.
Your web host is responsible for things like server maintenance, security, and running the right software, so the files on the server can be readily accessed by a website browser, like Google Chrome or Firefox.
How Does Web Hosting Work?
Your website is just a collection of different files. When you create a website, you need a place to store all of these files. That place is your hosting company's server.
On this server, you'll store your website's media, files, databases, and anything else required to render your website properly. Exactly how much storage you have will depend on the hosting plan you choose (more on this below).
If you're just getting started online, you'll probably just be renting a portion of a server you're sharing with other websites. As your storage and traffic needs increase, then you may need to scale up to renting an entire physical server—or at least using the resources of one, with a cloud or VPS server.
When you sign up for a web hosting package, you'll usually get access to the server via a solution like cPanel. This makes it easy to upload your files to the server. Or, you can install a CMS like WordPress to easily build out your site.
In order to have a fully functioning website, you'll also need to register a domain name. Once you purchase this, you'll point it towards your server, which lets the web browser know that this is where your files are located.
Then, when a person types in your domain name or clicks on a link to your site, the web browser gets the files from the server and displays them for the viewer. All of this should happen in a few seconds or less. If this process takes too long, you either need to speed up your website or consider switching hosts entirely.
How is Web Hosting different from Data Centers?
Web hosting and datacenters get confused a lot. They're the same thing. But, technically, they're different. The term web hosting refers to the service you pay for that hosts your website's files so that they can be displayed on the internet.
The most crucial element of a data center is the network of servers. A server is similar to the desktop computer you might have sitting on your desk, and only they're more powerful.
The term "datacenter" refers to the hosting company's existing technical infrastructure to provide the hosting service. Beyond servers, this will typically include backup supplies, security measures, connection devices, air-cooling systems, and a lot more.
Types of Web Hosting
There are multiple types of web hosting you can choose from when uploading a website to the internet.
1. Shared Hosting
Many sites share one server and its resources in this setup. It's a much better way to go than free hosting, though. There is a cost, which is low, but many advantages that come with the shared model.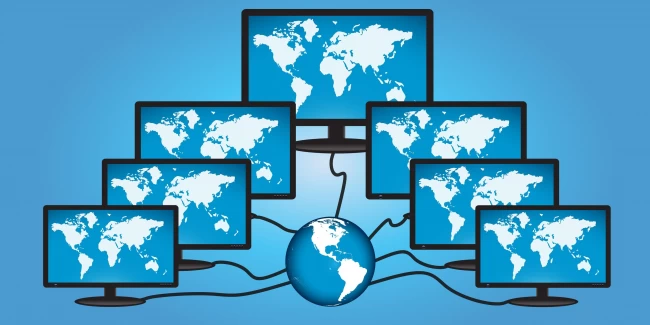 The primary benefit is the low cost. Expenditures for running the server are spread among the many websites that reside on the server. Shared hosting can be as low as $4.00/month, depending on which service you decide to use.
Shared hosting relieves the responsibility of having to run the server yourself. All you have to do is build and manage your site. The hosting service will handle the administration and technical issues.
Since many sites share the server, the technical support you receive may actually come quicker than using a dedicated host. This is because a problem that can affect one site on the server can spread to others.
Your hosting service does not want to deal with a bunch of pissed-off customers if they can avoid it. If something goes wrong, they're moving right into high gear to find a solution. Of course, this also means that if something goes wrong with another site, it does have the potential to wreck yours too. This is just one of the downsides of shared hosting.
There's also the fact that shared resources can slow you down. Your website may run sluggish because some other site is getting swamped. On top of that, you have very little control over the grand scheme of things.
The choice of software, applications, etc., is out of your hands. The hosting service is the big boss, and you have to ride the waves or find yourself a new host if you're disappointed.
Pro & Cons of Shared Hosting
Pro:
Shared hosting is available at cheaper plans as compared to other hosting plans available. Thus making it feasible for small budget projects or startups.

With this hosting plan, you do not need to worry about maintaining the server as it is done by the hosting provider. Thus not requiring any technical knowledge for shared hosting.

You can manage your websites easily with its user-friendly cPanel.

You can have more than one email address and database option for your domain.
Cons:
With the shared resources, you may face security issues like hacking, malicious activity, or any attack on the other websites on the same hosting that may impact your website too.

You will get shared resources, leading to impacting the performance of your website, especially during the traffic hikes.

You will get fewer features and functionalities as compared to other hosting plans.

You may not get consistent customer support and have to rely on a third party for maintenance.
2. VPS
Having a VPS is like having your server without actually having your server. True, there are multiple sites on the server. However, they are partitioned so that each one has its operating system, disc space, and capacity.
It provides a greater degree of individual control, including root access, without the expense required for a dedicated host. There are advantages to using this hosting that go beyond cost, though.
You can set up a VPS faster than a dedicated host. You can "scale up" your resources if you need to accommodate the growth of your site. You also get the support and commitment from your host that you would with a shared server.
The main drawback is that you still don't have the same amount of power that a dedicated server would provide. You can still experience limitations if another site on the server is drawing too much CPU power.
If the hosting service hasn't allocated resources to each site properly, you could be in for some weird service fluctuations that you wouldn't get with your dedicated host.
Pros and Cons of VPS
Pro:
This web hosting is less expensive than dedicated hosting.

VPS hosting plans are mostly customizable and you only have to pay for the required features.

You will get partitioned but dedicated resources for your website enhancing the performance of your website.

Your website will not get impacted by other websites on the network.

You are able to control your server configuration.
Cons:
For this hosting, you need to pay more might impact your budget.

You should have technical knowledge for configuring server settings.

You will not be having control over the server and is maintained by the hosting provider.

The resources might get wasted due to inappropriate allocation.
3. Dedicated Server Hosting
It is where you go "all-in." You get the entire server to yourself, and it's yours to play with as you please. You get the maximum level of power. The maximum level of flexibility and control. You can shoulder large amounts of traffic and gain a higher level of stability.
You also have to shoulder all the costs. Dedicated servers will require more overhead and a greater investment of time and money. Having a dedicated server is more complicated, and if something goes wrong, it's all on you.
Still, if you're going to go all out for your website, this is the way to do it. Many find the reliability, power, and incredible uptime well worth the expense. Dedicated hosting offers a higher self-service server administration facility, and many people consider it flexible hosting for any website. However, you require technical expert support for maintaining your platform properly.
Pros and Cons of Dedicated Server Hosting:

Pros:
Your website will not be impacted due to fluctuated traffic and guarantee up to 99.9 percent uptime.

You will get complete control over the server and you can customize the settings accordingly.

Your website will be secured completely and no threat will come to your website.

You will get consistent customer support for managing website hosting issues.
Cons:
You will not require any technical knowledge for using the dedicated server hosting.

You will not be able to scale a dedicated physical server and it is hard to maintain.

It is a costly web hosting service.
4. Cloud Hosting
Cloud hosting is one of the latest technologies in the hosting field, but it has become famous recently. Cloud hosting operates over various interconnected web servers that offer reliable, affordable, and scalable web infrastructure.
This web hosting plan offers reliable, unmetered bandwidth and infinite hard drive space for many domains. Cloud hosting is an effective way of running a website with different resource-intensive applications and a huge amount of content assets like images. However, always remember that cloud hosting requires higher costs and appropriate management.
Pros and Cons of Cloud Hosting:

Pros:
It helps the business to retain the same application without worrying about the backend details. It is easy to implement anywhere.

You can access your data from anywhere. It helps in enhancing the productivity by making your application accessible all the time.

All the data will be hosted on the cloud, so there is no need to maintain hardware and is helpful during any disaster to retain the data.

As your business grows, you do not have to pay a large amount. You can pay for the increased resources only.

Cloud hosting allows your business to scale efficiently.
Cons:
You will no longer be able to control your applications, as it is all managed by the web hosting provider.

All cloud services are not the same and have some limitations for supporting databases, data, and many others.

There can be bandwidth issues and may impact the application performance if there is a hike in traffic to your website.
5. Wordpress Hosting
It is a type of web hosting that is well-suited to run WordPress efficiently. You will get various features depending on which web hosting you choose. The right WordPress hosting will improve SEO and help in increasing sales. The main feature is the one-click installation of WordPress, providing easy installation and automatic updates whenever required. This hosting will provide you with a technical staff that is well skilled in WordPress and help in solving related issues. However, you can run WordPress on any web hosting platform, for this you may not require a specified WordPress hosting platform.
Pros and Cons of Dedicated Server Hosting:

Pros:
This web hosting will provide you with a better allocation of the resources for better performance of every component.

You will experience faster page loading times and better user experience.

You will be ensured complete security for WordPress related issues and threats.

It comes with pre-configured settings, making the installation of WordPress easier.
Cons:
Having WordPress hosting can be the most expensive scenario for your project and is suitable for big-budgeted companies.

As WordPress works on themes and plugins, it requires frequent updates that can be difficult at peak times to ensure the availability of your website.

You should be technically sound for working with WordPress hosting.
Conclusion
So it was the brief details on web hosting and why it is important to use a website properly without having any trouble. As we have mentioned earlier, web hosting helps maintain a website by storing its data and making the website smoother to run on the internet.
If you like our guide, then make sure to visit the official website of Monovm as there are many informative guides on multiple topics. We also offer online services like VPS hosting, web hosting, dedicated server, and so on at lower prices.