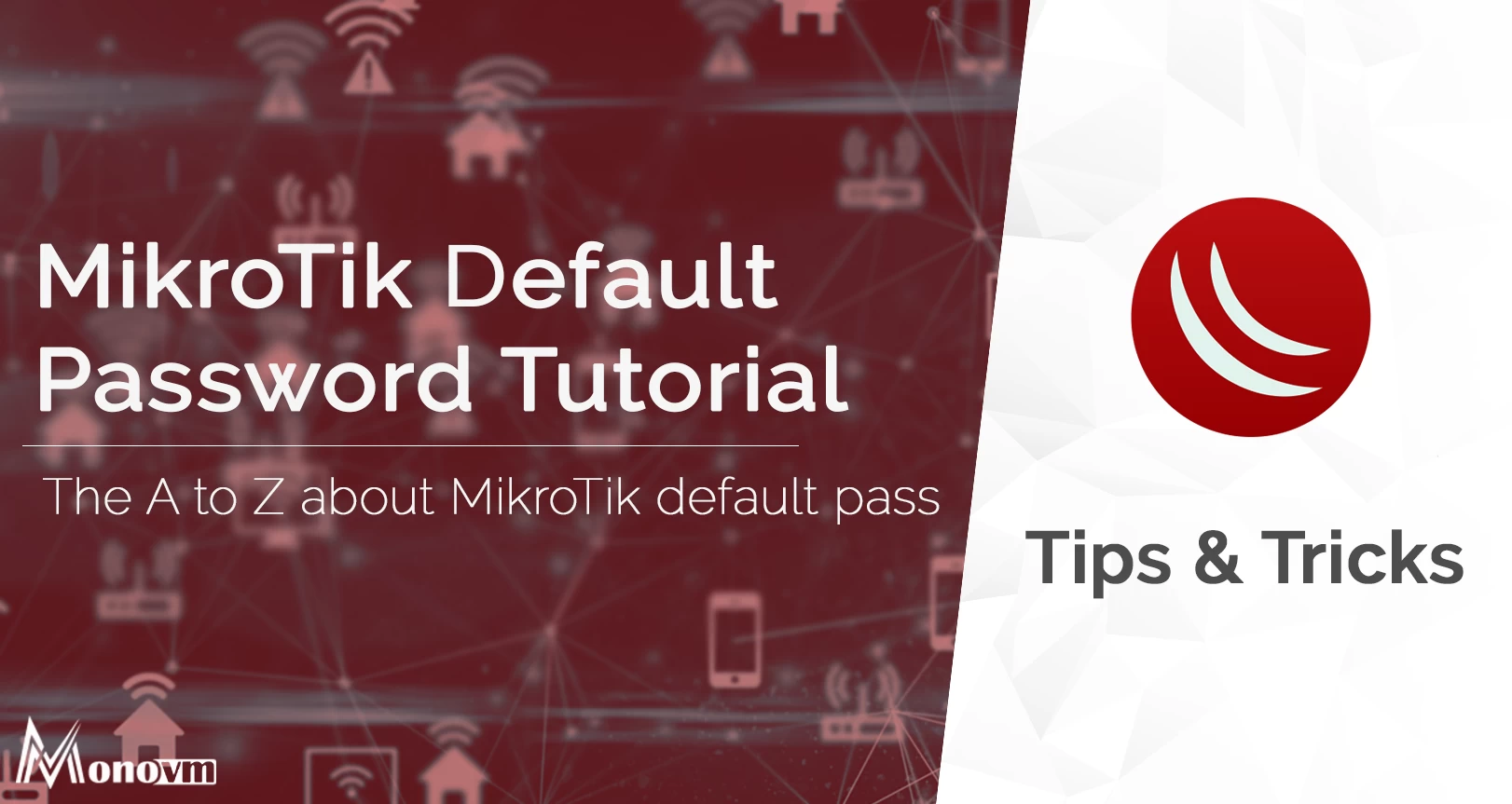 List of content you will read in this article:
MikroTik is a well-established business that provides a comprehensive solution for wireless connection requirements. Home network and internet service providers' primary operations are the two aspects on which it aims.
Since its inception, the MikroTik Company has been at the forefront of developing high-quality routers and wireless IP systems for the enterprise. These routers have been provided in almost every region globally, providing consumers with a whole new experience. Their complex UI doesn't allow you to change or retrieve the password quickly. There are, however, specific ways following which you can do so. Here we've provided a complete overview of where to find the MikroTik default password and its retrieval process. Have a look.
Also, if you need MikroTik router VPS you can order from MonoVM; we provide VPS from more than 25 data centers worldwide.
First-Time Login
Are you asking yourself "what is the default password for MikroTik router"? When a MikroTik router is bought for the first time, it is configured using the factory defaults. To access the user interface, each router uses a unique IP address. The administration panel allows you to customize several settings to suit your needs. Changes may be made to these default settings, including unique passcodes and modifications that enhance the router's performance while performing specific tasks. Now, is time for MikroTik default password and username. Let's see what they are. The default username is admin, and the default password for MikroTik router is empty. There is no password required. To keep your router safe, you must establish a passphrase that is unique to it. This way, it is possible to prohibit unauthorized users from accessing the router's interface.
What is the MikroTik Router Default IP Address?
Your router's administration panel has many options that may be customized after you have gained access to it. The IP address is the first item you'll need to get your hands on. The IP address 192.168.88.1 is used by the majority of MikroTik routers. If you cannot locate your IP address, the best option is to look it up on the internet or the manufacturer's website.
Since you know your IP address, you may use any web browser to access the internet, such as Firefox, Internet Explorer, Opera, etc. Type the following address in the URL text box: http://192.168.88.1, and then press the 'Enter' key to submit the request.
You will be prompted to enter your login credentials in a new prompt window, which will display once you click OK—the MikroTik router logs in using the login "admin" and leaves the password field empty. To continue to the next stage, click on the 'Login' or 'OK' buttons, respectively.
After completing the login steps, you will be redirected to the main page of your router. You can customize any of the parameters to meet your needs. The most effective method of securing your MikroTik router is to create a new password containing various characters. It is always a good idea to keep it secure if you forget where you put it in the future.
However, if you somehow forgot your password, you must reset the router to its default settings. Using this method, all of your previous customizations will be erased, and your router will be reset to its factory defaults. When you connect to your router for the first time, you will be prompted to provide the default username and password.
How to Find MikroTik Default Password?
Most MikroTik routers' default username and password are admin and no password, with the default IP address 192.168.88.1. These MikroTik credentials are required to log into the MikroTik router's web interface to make any configuration changes. Keep in mind that the MikroTik default password after reset is still nothing. Meaning, there is no password for you to enter.
Tip: To quickly search for your model number, press the keys Ctrl+F (or cmd+F on a Mac).
Did You Forget the Password to Your MikroTik Router?
B
But when you updated your MikroTik router's login or password and then forgot which one you used in the first place? Don't panic; all MikroTik routers come with a factory-set password that you may recover by reading the directions described in the next section. Reset your MikroTik router default password. If you wish to return your MikroTik router to factory settings, you may do so by performing the 30-30-30 reset as described below.
To force your MikroTik router to restart, press and hold the reset button for 30 seconds while it is switched on.
Press and hold the reset button for around 30 seconds to disable the router's power and continue to hold down the reset button.
To complete the process, keep the reset button down while turning on the device a second time and hold it down for another 30 seconds.
The factory default settings for your MikroTik router should now be restored. 
If it doesn't work, restart your router and try again. If the factory reset does not fix the problem, see the MikroTik 30 30 30 factory reset instructions for further information.
Important note: If you do a factory reset on your router, be careful to change the default login and password to enhance your router's security, as the MikroTik default password options are readily available on the internet.
Still unable to get into my MikroTik router with the default password?
You must strictly follow the instructions for the MikroTik routers to continually return to their factory default settings after being reset. In any case, there is always the possibility that your router has been damaged and will need to be fixed or completely replaced.
Conclusion
The ability to retrieve your default username and password for MikroTik router if you accidentally forget them is possible if you routinely back up your MikroTik configuration files. There are two ways to recover the MikroTik default password from a backup configuration file that has not been encrypted. This strategy may be successful if used to retrieve forgotten login and passwords since we will know the approximate username and password combination that was used, increasing the likelihood of success compared to if we are attempting to hack into someone's MikroTik Router.