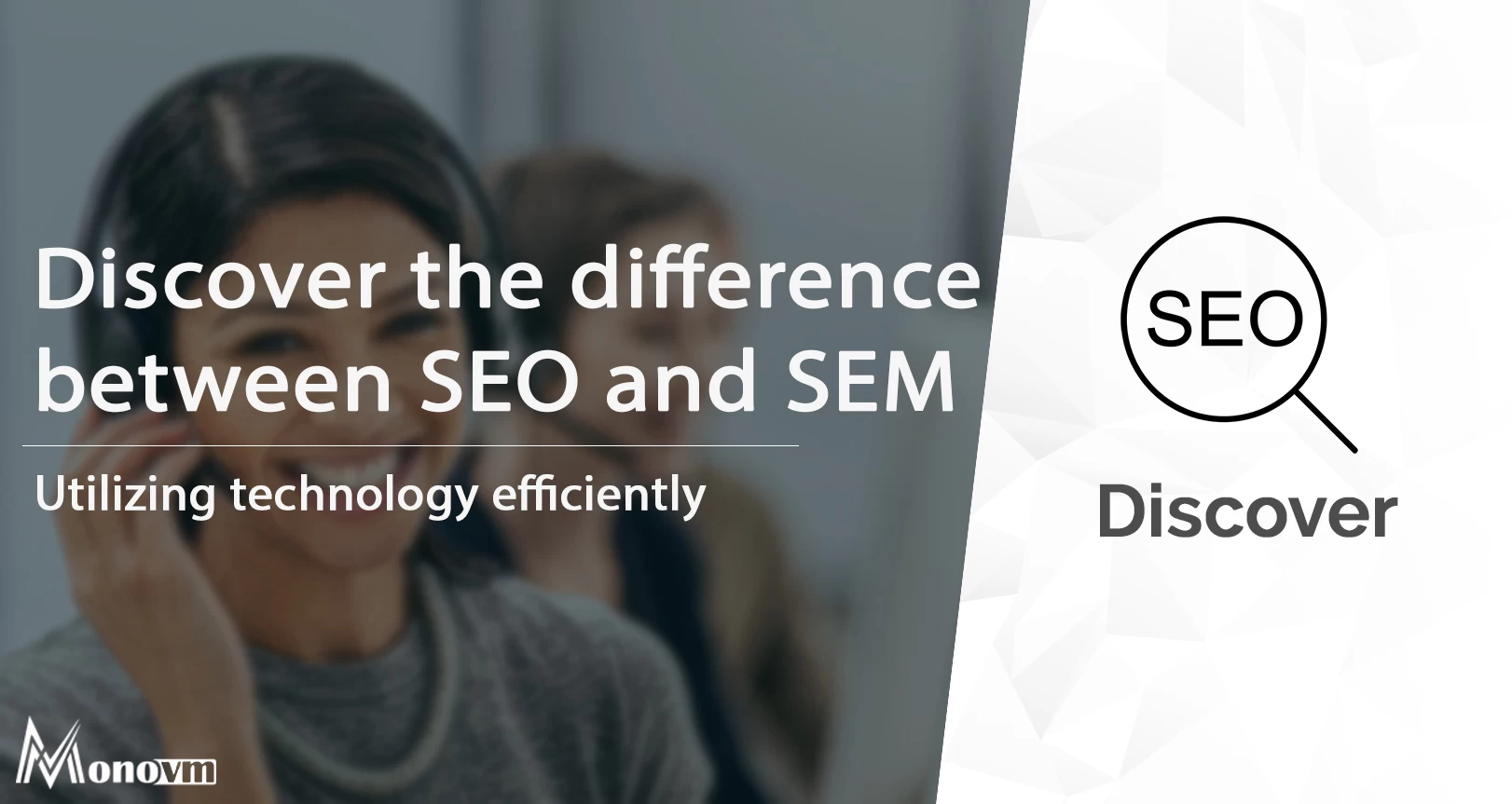 List of content you will read in this article:
SEO vs SEM! SEO and SEM are two important concepts in the digital marketing world that focus on growing an online business and driving more customers to a website. Although they share some similarities, there are a lot of differences when it comes to comparing SEO vs SEM. So, don't get confused when using these digital marketing methodologies to maximise your marketing budget.
Take some time and read the following sections if you want to find out more about search engine optimization and search engine marketing. We're going to answer the following questions in this article:
What really are the SEO and SEM concepts?

SEO vs SEM, what are the differences?

Which one is better for an online business?

How can we make the most of our SEO and SEM budget?
Let's Take a Look at Statistics
Google surpasses over

8.5

billion searches per day, making it the most visited search engine worldwide.

Remember that Google owns 78% of all online search efforts, pointing out that businesses should consider optimizing their websites according to Google algorithms.

68%

of traceable website traffic comes from organic and paid searches.

93% of users use the internet to find out more about a local business then buy.
SEO vs SEM: What is SEO?
SEO stands for Search Engine Optimization, which emphasizes creating an optimized and fast online website. It's the process of making more website traffic and getting more customers.
When comparing SEO vs SEM, you need to read more about their internal elements. SEO consists of 3 main parts, including:
On-page SEO: It's the effort of crafting internal components of a website according to the best optimization practices. On-page optimization is about increasing website traffic by publishing high-quality content and designing the website's elements.

Off-page SEO: Off-page search engine optimization refers to the activities done off a web platform to increase its traffic and search engine ranking. Building external links or investing in social media marketing are two types of off-page optimization.

Technical SEO: Technical SEO focuses on solving technical issues of a website that can be hidden in HTML tags and website coding. There might be a lot of problems with crawling and indexing, which SEO experts should solve.
SEO vs SEM: What is SEM?
Search engine marketing sometimes refers to SEM. SEM is a broader concept when compared to SEO. SEM is when you drive traffic to your website, which can originate from organic or paid traffic.
So, when you want to take a step further and level up your website's traffic, you need to consider search engine marketing.
A manager account on Google Ads lends you a hand to simplify introducing your products and services to the target audience. Account management and maintenance is an essential part of PPC and paid ads. You always need an Ad copy that helps you better propose your products.
Regarding SEM, there are two important terms: Bidding and quality score.
When you set your bid on Google Ads, you're telling Google the maximum amount of money you can pay for a click.
Quality score is an analytics and monitoring tool that gives the advertised page a score and compares your page with other competitors. This way, Google Ads can determine the high-quality pages that are the best to display to search engine users.
The Exciting Applications of SEM
Search engine marketing is a comprehensive package of marketing efforts that help you generate more visitor traffic from search engine results pages (SERPs).
The main goal of SEM is to promote a website or some pages of a website to be displayed to the target audience at the right time and in the right place.
In this case, Google tools come in handy with many ready-to-use features to provide highly-customized ad campaigns online.
Remarketing: Remarketing is one of the exciting use cases of SEM that aims at displaying ads to users who are interested in your website's products or services.

New product introduction: New product introduction is somewhat complex online. But paid ads and search engine marketing have solved these types of issues. You can set online ads and optimize your product page to be displayed to the target customers at the right time.

PPC: Pay-per-click is a method of paid advertisement by which you can pay to get more visitors to your website. Note that organic SEO is much better than paid ads in the digital marketing world.
Comparing SEO vs SEM as 2 Vital Parts of Digital Marketing
SEO vs SEM

SEO

SEM

It's reasonable

It's expensive

Stands for Search Engine Optimization

Stands for Search Engine Marketing

It's a subset of search engine marketing

It's a superset of search engine optimization

Suitable when you're on a budget

Suitable for large companies

It generates organic traffic

It generates organic and paid traffic

The results will take time to appear

The results are quick

Offers long-term benefits

Provides short-term benefits

Good for all products and services

Best for new product introduction

Focuses on improving the visitors of your website

Focuses on increasing the sales of your business

Targets the audience with less specific details

Targets the audience with more specific details
🔑🔑Unlock blazing-fast performance, robust security features, and cutting-edge hardware technology with our VPS hosting plans, ensuring optimal speed and protection for your online ventures.🔑🔑
Similarities of SEM & SEO
Now that you've got a good insight into SEO vs SEM, it's time to find out more about their similarities.
Improving your brand awareness: Improving brand awareness is a critical part of digital marketing, and it's considered a common goal for digital marketers. When brand awareness rises, there will be more website visitors and customers accordingly. SEM and SEO help marketers improve brand awareness by targeting a specific range of keywords related to your industry.

Boost website traffic: After establishing a website, you'll get some online traffic, as a rule. However, the watched pot never boils! You need to work on different parts of your website to make it optimized and tell search engines your website is good for visitors. SEO and SEM both focus on boosting a website's traffic.

Market research involves a wide range of activities that help you better understand the market and your customers. Keyword research is a part of market research which is essential for both SEM and SEO methodologies.

Monitoring, monitoring, and monitoring: These marketing efforts produce the best results when you adopt a trustworthy monitoring approach. Google offers reliable tools to monitor online marketing, but you can switch to more professional tools if needed.
SEO or SEM? Which One is the Best Choice for Your Business?
It depends. If you ask a digital marketing expert to help you out with this, he will analyze your objectives and future goals to determine which marketing approach works best for your business.
Regular search engine optimisation methods are recommended if you're in the first stages of online development. In fact, you don't need to pay much for paid ads, and SEO will work best for you.
Search engine optimization is a good fit for small and medium businesses that guide them to start their digital marketing journey. If your business is grown-up and mature, you can take advantage of search engine marketing methods to take professional steps and grow your business even better.
What About Combining SEO and SEM?
The benefits of combining these approaches are exceptionally rich for an online business.
This way, they cover each other to improve a website's visibility within the online world and help digital marketers achieve their goals better and quicker.
We should mention that it's not a battleground; it's an alliance. You can adopt a comprehensive marketing strategy, which includes a lot of marketing activities powered by SEM and SEO. Doing so, you'll have the best of both worlds!
There is one more benefit for online businesses that are using SEM and SEO together. In such a manner, your marketing experts can clearly find out which method works well for your business. So, they can modify the budget according to the real-world experience they're getting along the way.
SEO vs SEM: Wrapping Up
A lot of companies stick to regular search engine optimization concepts and put other methods aside. Although search engine marketing solutions require more money than unpaid solutions, they offer enhanced benefits, especially for a short period of time. If you want to secure your website's traffic long-term, investing in search engine optimization tasks is better. However, SEM can help you introduce your new services and products in a blink of an eye.
Frequently Asked Questions
Which is better - SEO or SEM?
There isn't an exact answer to this question. In short, online businesses should determine their goals in the first step and shift to one of these solutions based on their goals.
Can I use SEO and SEM together?
Yes, absolutely. Using SEM and SEO together will help you take advantage of a wide range of digital marketing approaches.
What type of SEO is the best fit for your business?
SEO has many subcategories which you can use for your website growth. In the first step, content marketing makes sense if you want to get started with online marketing.
Is SEO part of SEM?
Yes. SEO is a part of SEM, and search engine marketing covers a broader field of digital marketing approaches.
What is the main difference when comparing SEO vs SEM?
They share a wide variety of similarities but have some differences. The main difference is that SEO focuses on increasing a website's organic traffic, while search engine marketing aims to boost sales and productivity.
People also read: