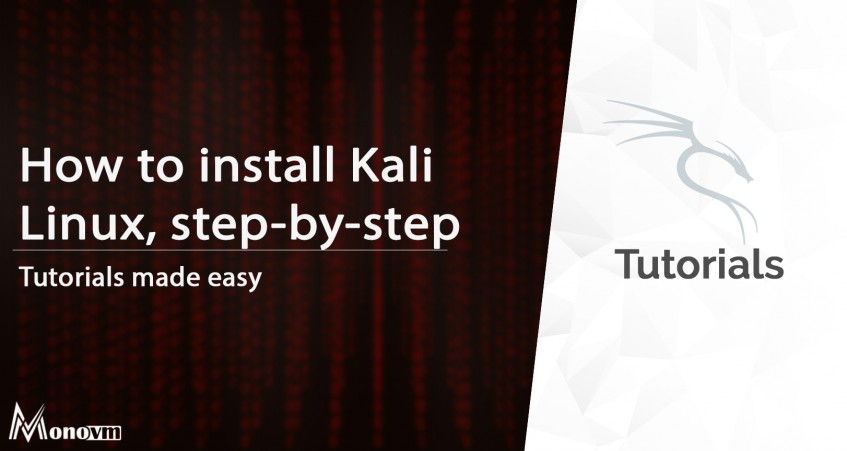 How To Install Kali Linux
Kali Linux is a Debian-based Linux distribution aimed at advanced Penetration Testing and Security Auditing. Kali contains several hundreds of tools which are geared towards various information security tasks, such as Penetration Testing, Security research, Computer Forensics, and Reverse Engineering. Kali Linux is developed, funded and maintained by Offensive Security, a leading information security training company.
At this tutorial, we want to learn to install Kali Linux step by step, but first, let us see the installation prerequisites:
A minimum of 20 GB disk space for the Kali Linux install.
RAM for i386 and amd64 architectures, minimum: 1GB, recommended: 2GB or more.
CD-DVD Drive / USB boot support
First of all, download the Linux Kali ISO file and make a bootable USB or burn the iso file to a CD or a DVD with this file.
After booting PC or VPS Server or Dedicated Server, on the first page, you can choose either Graphical or Text-Mode installation. In this example, we chose to install a GUI.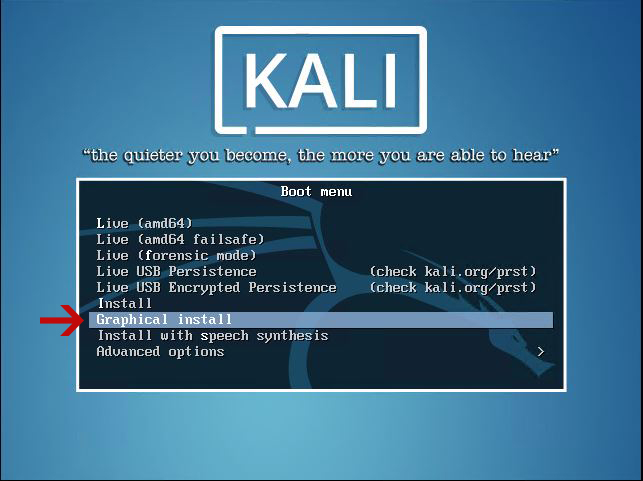 Select your language.
Specify your geographic location.
Configure the keyboard.
In the installation steps, you can configure the network settings. Kali will try to set network configuration through DHCP. If you don't use DHCP in your network you will be presented with the below screen. Click on the continue button.
On the next page, you can choose an option to set the network configuration manually. Also, you can ignore configuring network settings by choosing Do not configure the network at this time.
Select Configure network manually and click on the Continue button.
In the next page, enter your IP address and click the Continue button.
Enter Netmask and click on Continue.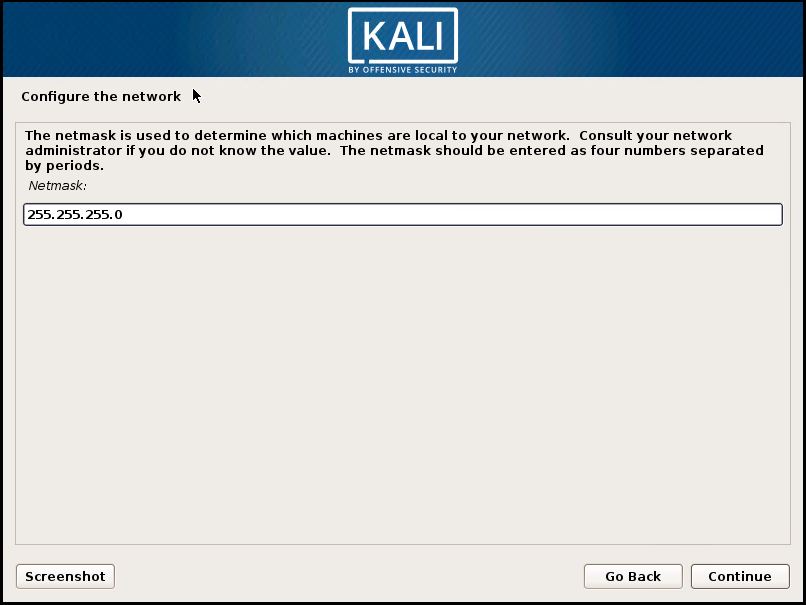 Enter your network's router IP in the Gateway section.
Also, you have to set the DNS address.
At the next page enter your system name (Hostname).
If you have a specific Kali Domain name you can enter that in this page.
At the next step, you must choose a password for the root user.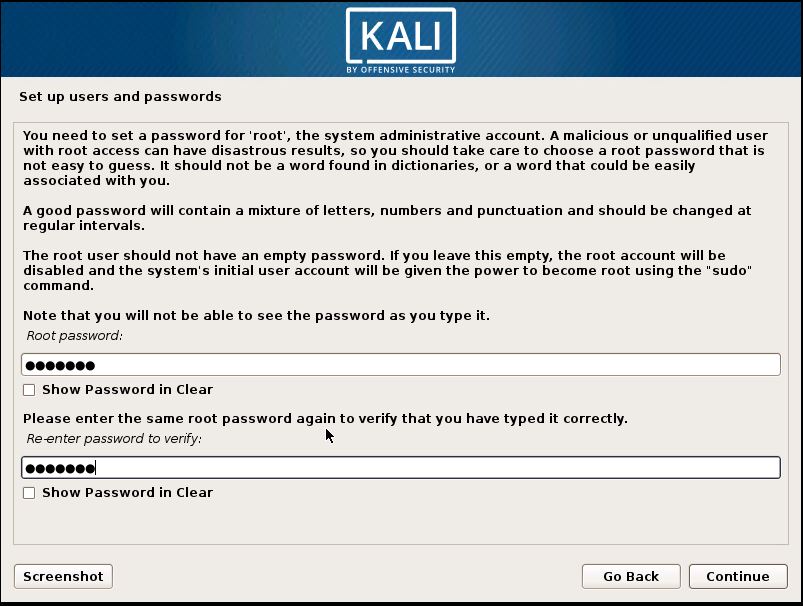 Select your Time Zone.
In this section, you will receive some suggestions for partitioning your hard disk.
At this point, we use the Guided - use entire disk.
At this page, choose the disk to be partitioned.
Depending on your needs, you can choose to keep all your files in a single partition or to have separate partitions for one or more of the top-level directories. If you're not sure which you want, select All files in one partition.
You will see partitioning and disk format at this page for the last time. Select Finish partitioning and write changes to disk and click on continue.
On this page, you will see the confirmation of the changes to disk. Choose Yes and click on Continue button.
In this section, you will create the connection settings for the Kali package.
Please Note: if you select No, you will not be able to install packages from the Kali repository.
At next page install GRUB.
Finally, click Continue to reboot.
You have installed Kali successfully.
Kali Linux can be installed on windows too, you can install kali linux from windows store.
https://monovm.com/blog/installing-kali-linux-in-windows-through-microsoft-store/