The organizations have different requirements for communication based on organization size or type of business and so on. If you're using an email address such as companyname@gmail.com, many would say your business looks unprofessional. Business owners know how important one email (example: sales@yourdomain.com) can be. In this tutorial, we will show you how to create and use Monovm free webmail service without a web host service.
First of all, you should purchase/transfer your domain with/to Monovm.
Use the link and make your domain registration order: https://monovm.com/buy-domain/bitcoin/
Monovm provides you with 2 Email Account(s) free with every domain purchase, along with POP/IMAP access. Each account comes with 100 MB space, which is also upgradeable.
Let's create Webmail Accounts:
1. Login to Domain Control Panel.
How? https://monovm.com/blog/domaincp/#Logging-domaincp
2. Upon activating your Free Email Service, you need to enable the email server to be able to send/receive mails for your domain name. The simplest method to allow this is to modify your domain name's Name Servers to ours, Set following DNS through Name Servers option in Domain Registration section.
monovm.earth.orderbox-dns.com
monovm.mars.orderbox-dns.com
monovm.mercury.orderbox-dns.com
monovm.venus.orderbox-dns.com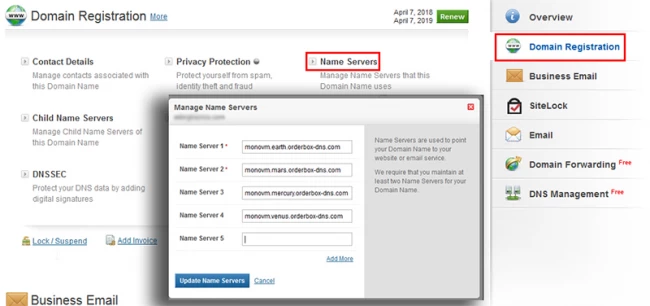 Note: Let them to be propagated, it will take a few minutes for .COM, .Net, etc domains and little more time to others; up to 24 hours(especially for local domains like CN, RU, US, etc).
If you wish to retain the Name Servers of your domain name, instead of using Monovm's Name Servers, you would need to create the DNS (MX, CNAME, TXT) Records on your existing Name Servers.
The DNS records are listed in the Email Hosting Management interface under Mail > DNS Configuration.
3. Proceed to the Free Email Service interface, Click the Manage Email link.
Click Mail -> Add User, Fill all the necessary fields.
Name: Provide a First Name and Last Name for the User.

Desired Email Address: Provide an email address you wish to assign to this user

Example: For John, you may set the email address as john@yourdomainname.com.

Alternate Email Address: Provide an alternate email address, where the system can send important communication, such as Password reminders.

Country of User: Choose the geographical location of this user.

Language of User: This will be the language used by the system for all communications with the user.
Once the account is created, a success page will be displayed. This page will provide details of the account that you have added, including a password that is generated for the user and server details for configuring the account in a desktop email client such as Microsoft Outlook, Mozilla Thunderbird, etc.. This information will also be automatically emailed to the Alternate Email Address you have provided.
4. Put a "Webmail." before your domain and go ahead.
example:  http://webmail.yourdomain.com
That's it. You will be able to upgrade the two free webmail to Business or Enterprise email services with the below link: