List of content you will read in this article:
To buy a dedicated server, you don't have to worry bout using Dollars or Euros when you can get it using Bitcoin. Monovm has been accepting Bitcoin since 2012 as a payment method for acquiring our services. If you are looking to buy dedicated server with Bitcoin and have some uncertainty, worry not: we got you covered.
Throughout this article, we will go through various aspects of using Bitcoin and why invest in a Monovm dedicated server.
What is Bitcoin?
"Bitcoin is an innovative payment network and a new kind of money", as stated on the official Bitcoin website. Bitcoin is a digital currency (a digital asset before) introduced to the world over a decade ago in 2009. Unlike other currencies (USD, EUR, PND), which are government-issued, bitcoin is operated under a decentralized authority.
Bitcoin started with $0.08 per bitcoin (2009 Jan), and now it has reached a staggering high of $43000 (2021 Feb). That's an impressive increase within a couple of years. Bitcoin is a cryptocurrency with no physical bitcoins present; only balances kept on a public ledger (blockchain) that everyone has access to.
With the global attention towards Bitcoin, many shops and merchants are starting to accept bitcoin payments with its growing influence. Bitcoin gained popularity due to the fact that it is the world's first decentralized digital currency.
As a result of its popularity and success, bitcoin has inspired a multitude of other cryptocurrencies to bring into being.
How are bitcoins made?
Bitcoins are released through a process known as mining. Anyone can participate in bitcoin mining using free, open-source software. Each bitcoin is released at a specific time interval which is kept constant by the network itself.
Due to this, the bigger the miners, the harder it becomes to release bitcoins. It is said that the number of bitcoins being mined is decreased by half every four years, and it is estimated that the total amount of Bitcoins that will be produced will reach up to 21 million.
Benefits of using Bitcoin
User autonomy:

You will be able to control how you spend the money without dealing with an intermediary authority (banks and governments).

Discretion:

Bitcoin transactions are

never

associated with your personal identity unless it is voluntarily published.

Peer-to-peer focus:

You can send and receive money from anyone on the network worldwide without any external involvement.

No more bank fees:

You will no longer have to pay high transaction fees that are common with bank transfers.

Low fees for international payments

No more waiting time for a transaction to be completed.

Can carry out payments using just a mobile phone.

Accessible from anywhere. You only need the internet and a computer or smartphone.
Why choose Monovm Dedicated servers?
Now that we got familiar with Bitcoin let us see why you should consider using our dedicated servers.
1. No setup fees
We have our infrastructure and server hardware, allowing us to provide dedicated servers without any additional costs.
2. Complete access to the server
We provide full administrator and root access with all our windows and Linux dedicated servers. All software and configurations of the server will be at your sole discretion.
3. Instant support
We have a team of technical experts readily available 24/7. If you come across any technical or sales issue, you can reach us through our online ticketing system or via our ticketing system.
4. Highest performance
All Monovm dedicated servers are based on DDR4 and ECC RAM resulting in unparalleled performance.
5. Permanent IPMI access
You will get direct IPMI and management access to your dedicated server to install the needed operating systems, firmware configurations, power options, etc.
6. 99.9% Uptime – Guaranteed
Our data centers are equipped with top-notch server hardware and are constantly being monitored and maintained by industry-leading professionals. Uptime is guaranteed.
7. Dedicated server customization options
Didn't find a server config you like? Worry not, as we provide a multitude of options for you to create your very own custom server with the preferred hardware, OS, and software.
8. The storage device of your choice
Upon request, the high-rpm HDDs could be replaced with enterprise-grade SSDs, providing superior load times. We also provide NVME storage solutions. All our storage devices are reconfigured in RAID 10 array.
9. Multiple locations to choose from
Monovm dedicated servers are hosted in the world's first-class data centers in more than 15 locations worldwide. The locations include:
Hong Kong

Canada

USA

UK

Romania

Germany

France

Spain

Italy

Netherlands and more…
How to buy dedicated server with bitcoin from Monovm? [Step-by-Step Guide]

Step 1: Select the server of your choice.
Step 2: Click on order now.
Step 3: Set the configurations.
Step 4: Click Continue.
Step 5: Login to your account by entering the email and password.
Step 6: Verify the server information and select Bitcoin as the payment method.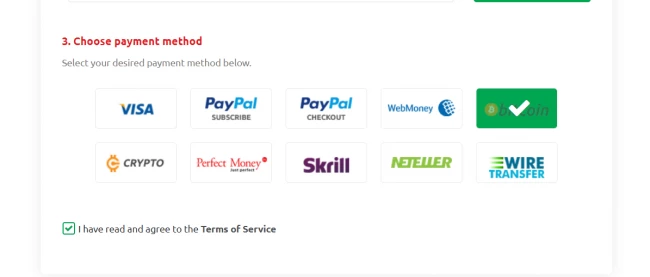 Step 7: Once you press continue, you will be redirected to a secure, reputable third-party website coinpayments.net.
Step 8: Enter the needed information to complete the payment.
Conclusion
If you're looking for a high-performing dedicated server, Monovm got you covered. You can buy dedicated server with Bitcoin or by choosing our other payment gateways. The dedicated server will be provisioned within 1 to 7 days once the order has been processed. if you want to know the working, benefits, and other features of a dedicated server, you can read our blog post.