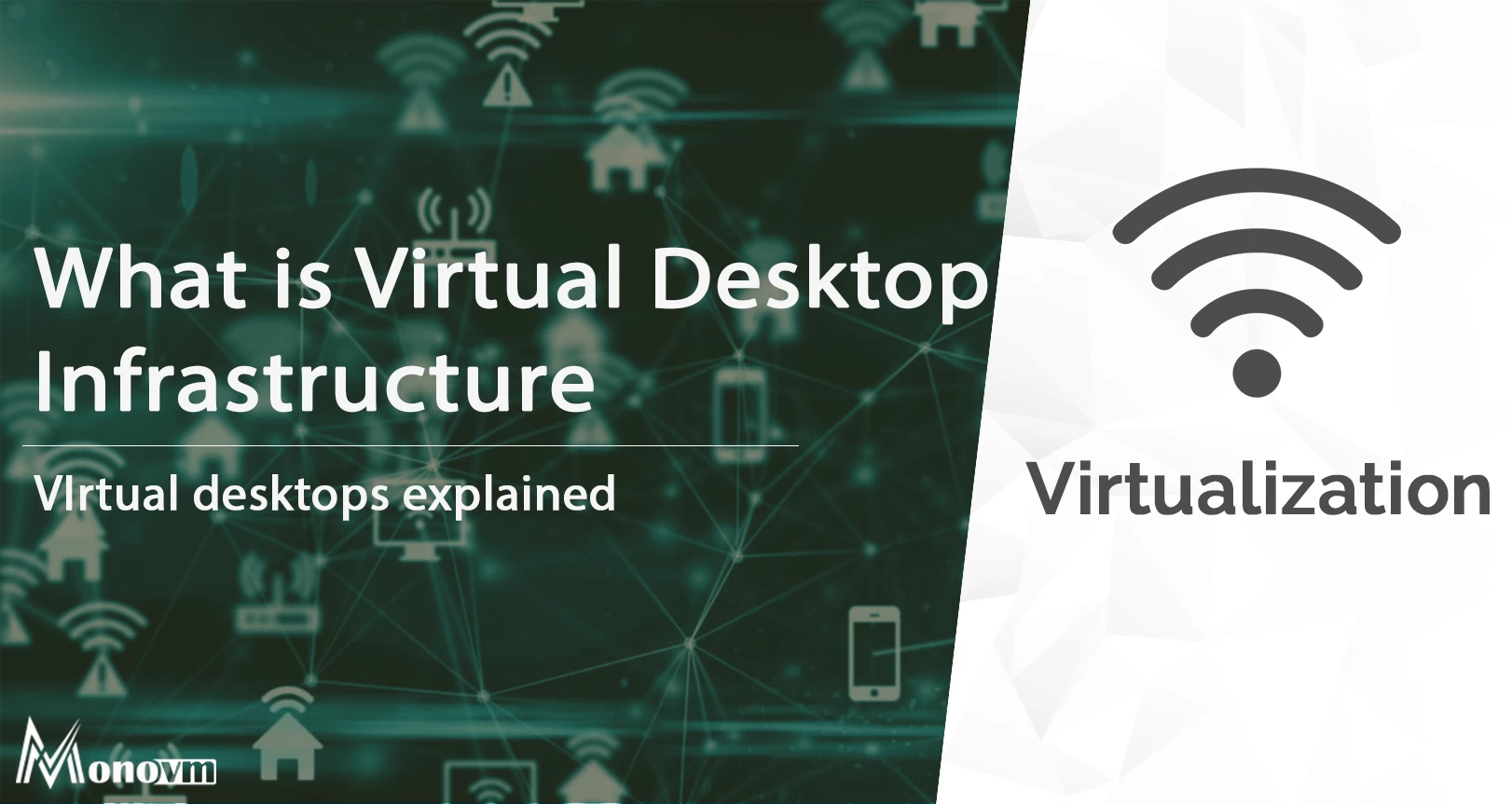 List of content you will read in this article:
Virtual desktop infrastructure (VDI) is a desktop virtualization technology where a desktop operating system like Microsoft Windows runs and manages in a data centre. In this form of desktop virtualization, the virtual desktop image is supplied over a network to the last point device, allowing users to interact with the operating system. The best part about this technology is that users will also interact with the functional application, just like typically running a hard drive system. Besides, the endpoint might be PCs or other devices like mobile or tablets or thin client terminals. 
Virtualized applications and desktops are the concepts of presenting these two servers that fall under the chain of end-user computing (EUC). The term VDI was initially stamped by VMware and since has become the most trending technology acronym. There are two options available; instead of having one of the most common windows-based VDI, Linux virtual desktops is another option.
It entirely depends on the organization's configuration on how users access the VDI framework. While this process also renders from the virtual desktop's automatic presentation where it requires users to select the virtual desktop and then start it. After the user accesses the virtual desktop, it feels and looks completely like a local workstation. Lastly, the user could select the appropriate application and continue their work. 
How does VDI work?
Operating system
VDI is based on a server or workstation operating system we learned above. Traditionally, VDI has been the most popular and referred to as virtualized workstation operating systems allocated to singular users, and the definition keeps changing. 
Perhaps each virtual desktop supplied to users might be based on a 1:1 alignment or a 1: many ratios, which we also refer to as multi-user. For instance, 1:1 is considered a single user who is allocated to a single virtual desktop. On the other side, many virtual desktops shared behind the single operating system referred to as 1:many. 
A server operating system can provide service to 1:1 or 1:many users. A server operating system is a platform for VDI. The Microsoft server desktop operating system is enabled to more closely mimic a workstation performing system to users. The desktop operating system adds features such as Sound Record, Windows Media Player, and character map. Another point to remember is that some features are not natively included with general server operating system installation. 
Recently, the workstation operating system was used to provide only 1:1 user service. Furthermore, in 2019, Windows Virtual Desktop was introduced by Microsoft. It enables multi-user functionality on Windows 10. Before this paddle shift, it was previously only available on the server operating system. Till now, Windows 10 is coming with the proper workstation multi-user functionality. Windows Virtual Desktop (WVD) is available on Microsoft's cloud infrastructure like Azure. Another thing is, there are rigorous licensing requirements that make it unsuitable to many organizations and businesses.
Display protocols
In this segment, all the protocol's endpoint devices are installed concerning client software or running an HTML5 based session that quickly catches the respective session protocol. Each vendor is based on a remote display protocol that takes care of data between the client and the computing resource. 
Independent Computing Architecture (ICA)

Enlightened Data Transport (EDT)
Blast Extreme

PC over IP (PCoIP)
Microsoft

Remote Desktop Protocol (RDP)
HDX is a high-definition user experience from Citrix. It is mostly a chain marketing term that encompasses ICA, EDT, and other additional capabilities. Whereas VMware user's sessions can be placed on Blast Extreme or RDP. However, Microsoft Remove Desktop can only access RDP, 
The display protocol and session protocol drive the user display and multimedia abilities; each protocol's specific functionality and features vary. PCoIP means PC over IP is licensed from Tetradic. Meanwhile, Blas Extreme is VMware's in-house protocol. Additionally, Blast Extreme and EDT are optimized for User Datagram protocol. 
All the session protocols listed above decrease and compress the data travelled to and from the user's device to supply the best possible user experience. For instance, if anyone is working on a spreadsheet that is under a VDI session, the user transmits mouse movements and typing to the virtual server or workstation. Bitmaps are shared back to the user's system. The data does not require permits for the user display. Instead, it shows bitmaps representing the data. When practitioners enter additional data in a cell, they also see the bitmaps are transmitted.
Requirements
Virtual Desktop infrastructure commands many different technologies working in the same pitch to perform a virtual desktop to a user. Firstly, IT should consider meeting all the credentials for computing resources to the user. Despite this computing, the help can be a physical desktop, virtual machines. Both can be a common choice. 
For the on-premises environment, Virtual machines hosted by a hypervisor deploy as VDI. Several operations could be considered, such as Citrix Virtual Apps and Desktops and Microsoft RDS on any hypervisor. At the same time, VMware Horizon has been conditioned to run on its ESXi hypervisor. Besides, companies must use virtual graphics processing units (vGPUs) to assist Ulta-graphical applications. It can be radiographic imaging or computer-aided design (CAD). It is pretty normal to use Citrix Hypervisor or Vmware ESXi.
A device for comprehending and administering VDI images is crucial. Also, there is a magnitude complexity associated with these processes. IT may employ one gold image for significant VDI workloads according to the requirements of enterprises. Enterprises can also utilize many gold photos altogether. However, if enterprises focus on minimizing the number of images, it decreases administrative effort, as every image joints exponentially overhead. IT can do the best thing to revise the Windows updates, open gold images, robust antivirus, and base application. Also significant changes along with consequently re-enabling them.
Storage resources are another de facto that can significantly represent the single most expensive character of VDI, particularly when every virtual machine has allotted vital disk size. Furthermore, IT may select thin provisioning, creating the virtual machines to perform with a low amount of disk space and then extend as necessary.
Nevertheless, close monitoring of the original storage elements is essential to check the storage expansion to not exceed actual space. For better possibility, companies might choose the thick provisioning, which can cause the maximum amount of space to be fully allotted.
Organizations and IT frequently use layers of technologies in conjunction with VDI images. By giving a non-persistent virtual desktop to users and adding a dynamic layer for applications and functionality. IT can flexibly customize a virtual desktop with minimal administration. For instance, IT might be appending an application layer suitable for a marketing department. Meanwhile, an engineering department will require a distinguished application layer with CAD.
Persistent vs. non-persistent deployments
VDI organizations deploy non-persistent or persistent desktops. The difference between the two of these desktops is significant. Persistent virtual desktops have a 1:1 ratio. On the other side, non-persistent desktops have a many:1 ratio. Both differ from specific in the ability to save changes and install apps. 
Pros of Persistent VDI
A user is given a centralized desktop from the resource pool the first time when they log on.

Every single consequent time they enable the VDI environment, they correlate through the same desktop. Also associated with all of their changes maintained in the virtual OS image after the connection is restarted. 

For workers with complex and fast-paced digital workloads, they can take advantage of the VDI.

It means users can benefit from various personalization settings of the virtual desktop apps. 

IT administrators can manage persistent desktop equally to physical desktop. 
Cons of Persistent VDI 
It comes as challenging image management. The 1:1 ratio of persistent desktops means several distinct images and profiles for IT to manage. It takes a lot of time and energy.

Persistent VDI commands more storage as compared with non-persistent VDI. Overall, it will increase costs.
Non-persistent VDI
Non-persistent VDI rotates up a new VDI image in each login. It allows a variety of benefits, including:
Pros of Non-persistent VDI
It comes with easy management. IT has a lower number of master images to manage and protect, which is hugely simpler than managing an entire virtual desktop for each user.  

Another good deal that comes with Non-persistent VDI is its less storage ability. With non-persistent VDI, the OS is distinct from the operational data, which reduces storage costs. 

Another advantage employs fewer storage specifications on the device. Users will get a clean and pristine desktop.
Cons of Non-persistent VDI
One of the most mentioned drawbacks for non-persistent VDI is limited personalization. 

Non-persistent VDI doesn't save any shortcuts and file settings and changes that might make end-users make. 
VDI use cases
VDI is an essential technology among all types of workers across numerous industries. Many global associations regularly rely on VDI to access an individual virtual desktop from multiple locations. Similarly, many users are field technicians, contractors, kiosk and task workers, medical professionals, teachers, and many others. 
Thanks to the flexibility of VDI throughout the major deployment types. VDI technology works equivalently as the way for clients to have access to flexible, non-persistent desktops. Also, they change their virtual desktop into a standardized digital workspace. 
Power users

- It helps to hold the administrative rights or work with CAD applications that require many computing resources. 

Kiosk users

- In this fundamental, users work with a shared resource, like a computer library.

Task worker

- In this domain, users can do their jobs with a small chain of applications and take advantage of VDI.
Other major uses of VDI
BYOD

- It brings your native decide (BYOD) program interlock well with VDI. Here users are taking their own endpoint devices in the workplace. They are fully functioning virtual desktops, refusing to combine apps within users' endpoints' physical machines. Also, users can instantly gain access to a virtual desktop and enterprise application without any further configuration.  

Ultra-secure environments

- Top industries worldwide, including Finance and the military, must prioritize a high-security level with VDI. VDI offers IT administrators to have a chondritic level of control over users' desktops. It significantly impacts and prevents unauthorized software from hijacking the desktop environment. Optionally, these enterprises should also consider application virtualization for apps that commands robust security layers. 
Pros and Cons of VDI
Here are the top benefits and drawbacks of VDI mentioned below. 
Pros of VDI
Device flexibility -

Because little actual computing takes place at the endpoint, IT departments may be able to extend the life span of otherwise obsolete PCs by repurposing them as VDI endpoints. When the time comes to purchase new devices, organizations can buy less robust -- and less expensive -- end-user computing devices, including thin clients.

Device flexibility

- Due to little computing placement, which takes position at the endpoint, IT administrators might extend the work potential off PCs by combining with VDI endpoints. 

Persistent VDI

- All the data lives in the data centre, not as an endpoint; VDI brings insane security benefits. If anyone tries to steal a laptop from a VDI user, they can't take any data from the endpoint due to centralized power capability.

User experience

- VDI offers a centralized and standardized desktop. Users can grow customary to a coherent workspace, meaning the user interface remains the same, whether a client is accessing a home computer, thin client, or kios. Another great thing about this server, users will experience even better than the physical workstation. 

Scalability

- It quickly expands the VDI environment significantly when the enterprise expands seasonal call centre agent contractors. Providing the virtual desktop workload to the employees, and its similar apps, seasonal call centre contractors, can be fully optimized in minutes. It shows the tremendous scalability of VDI.

Mobility

- The other benefits of VDI includes the ability to assist remote workers quickly and mobile workers. 
Cons of VDI
Some of its advantages can be more significant disadvantages. It is providing a centralized system that means users are not fully independent as compared to VDI integration. 

Challenging training for users because they have to adopt the terminology and transition of different interfaces with strange troubleshooting steps. Therefore, it creates much resistance for users. 
Conclusion
In today's modern technological culture, it becomes mandatory for enterprises and organizations to adopt a VDI environment. Since it has shaped the work culture in various forms, it has become a popular trend among the IT community. Similarly, Digital workspace provides application-driven, secure, and straightforward access to different types of applications. It also performs significantly with virtualized VDI OS images. Virtual desktop infrastructure comes as the primary solution to support economical and reliable VDI solutions to scale mobile and remote teams' applications and services. 
VDI is delivering its immense benefits of flexibility, scalability, ultra-mobility across many devices. Users can easily benefit from VDI in PCs, smartphones, tablets, and thin clients. One of the best things about VDI is, it imposes a high degree of freedom in the use of work. Simply meaning, it allows more modernized and centralized workflows. Finally, this article showed you complete information about the VDI and how it dramatically influences the modern technological environment.