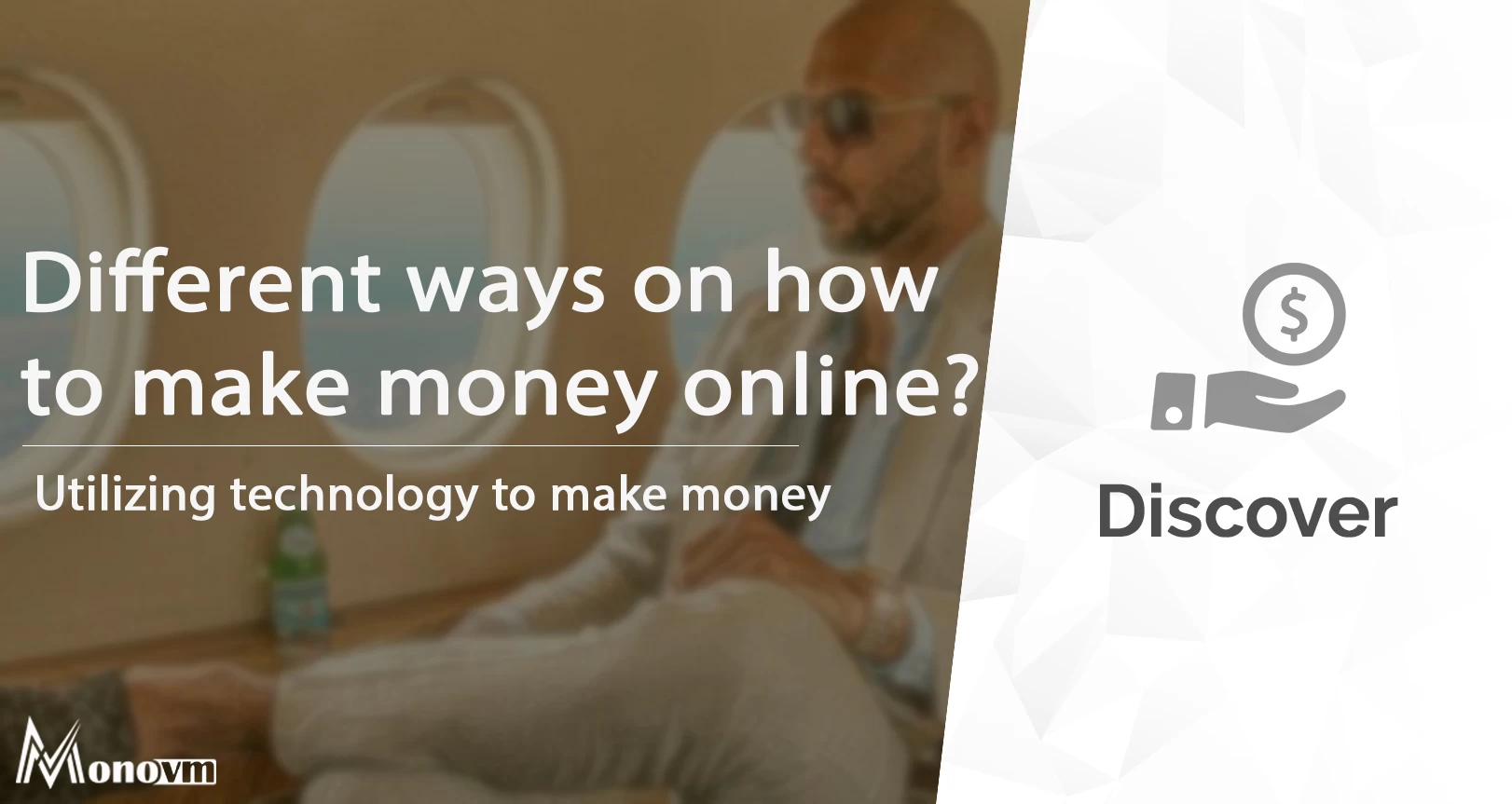 List of content you will read in this article:
The desire to quickly earn money online while staying at home has increased over the past few years. The appeal of the internet is that it serves as a potent retail channel, marketing network, and social media hub, among many other functions.
There are legitimate online income opportunities, and millions of people use them daily. With a computer and a strong internet connection, you may start various home-based businesses, from independent digital entrepreneurs to savvy marketers to aspiring business owners.
So, let's examine some legal strategies for making money online. 
10 ways to make money online
The chances to quickly and occasionally passively earn money online are increasing. In this article, we've uncovered several good possibilities, regardless of whether your goal is to become a six-figure blogger or you want to add some online side projects to your current activities.
Dropshipping
If dropshipping is a new concept, it is a business where you sell goods to a customer, but the supplier stockpiles, packages, and ships the product to the customer on your behalf.
With Shopify dropshipping, you can access a massive selection of products you may use in your store.
Using a variety of Shopify dropshipping tools, you may hand-pick your product images, update the product information, and give your online store a unique vibe that will encourage customers to make additional purchases.
According to Google Trends, dropshipping is becoming increasingly popular, highlighting its potential as a business idea.
There is a ton of proof that dropshipping is a natural way to make money online, such as success stories about business owners who made six figures selling just one product or who made $6,667 in eight weeks.
Print on demand
Another popular way to make money online is POD. This business model has gained widespread acceptance since it has a lower overhead than others. 
Print-on-demand eliminates the requirement for holding inventory by enabling retailers to customize white-label products using their graphics and sell them only when a client buys.
A print-on-demand business will include your design in the product when a client places an order, complete the purchase, and send the goods to the consumer.
The most significant benefit of print-on-demand over dropshipping is that you will have complete control over the look of the products, which makes it stand out in product categories like t-shirts, where the design is the primary differentiator.
In general, print-on-demand enables you to manufacture personalized products swiftly. Your suppliers will take care of shipping and fulfilment, so you don't have to.
Additionally, it's a low-risk, low-investment way to earn money online because you have no inventory to worry about.
Affiliate marketing
Affiliate marketing is one of the most popular ways to make money online. Despite fluctuations in popularity throughout the years, it remains one of the safest ways to generate money online.
The best thing about affiliate marketing is that you may work with a wide range of companies, like Amazon, Shopify, FabFitFun, and Uber.
You can earn money through affiliate marketing by promoting other businesses' goods. Advertising services, applications, software, and other products can boost sales if you're a savvy marketer.
Even if the commission you receive may seem insignificant, remember that you may work as an affiliate for multiple companies and include multiple affiliate links in a single blog post.
If you're serious about using affiliate marketing to make money online, your best bet is to focus on content marketing. A blog can become a useful asset by adding numerous pages of top-notch content.
Picking which affiliate links to add to your blog posts with care will help your affiliate partner's website receive more visitors.
Creating and selling online courses
Selling classes online is one of the best ways to make money. If you are an expert in a particular field, you can monetize your knowledge by creating and marketing online courses.
If you already have a significant following, you can promote your course on Udemy and your own website. Some can earn up to $5,000 per month through online courses.
To create a well-liked and profitable course, draw inspiration from well-known courses in your field. Read the reviews after that. How can you make something superior to what has already been made?
Focus on creating content that addresses the most widespread issues and imitates the enticing features that people find appealing.
The platform on which your course is sold will determine how much money you may generate from it. If you decide to sell your course on Udemy, you won't have to spend much time on promotion.
You can set almost anything and forget about it. Maybe let people know about it on various blogs or social media sites. If the course is hosted on your website, you might run adverts to promote it.
Additionally, you can advertise upcoming courses without spending money on advertisements by building an email list.
Selling digital products
The margins on digital products are among the finest of any product you can offer. Although the indirect expenses of selling digital items are very modest, the upfront development expenditures can be significant.
Once material or software is created, distributing it to customers is not extremely expensive.
A digital product is fundamentally an intangible good that you can sell continuously without replenishing inventories. They frequently arrive as downloadable, interactive documents, plug-ins, or PDFs.
Digital items, including guides, eBooks, blueprints, research findings, proposals, and lessons, are now frequently released by top professional influencers, authors, or public figures because they are such a reliable source of passive revenue.
Freelancing
One of the simplest methods to earn money online is to take your current 9–5 work and perform it online.
You can market your skills online to find clients who will pay you to utilize them if you're a writer, office clerk, graphic designer, instructor, programmer, etc.
Websites like Freelancer.com, Fiverr, and Upwork provide opportunities to work as a virtual assistant and other freelance services, including writing, coding, design, advertising, and data entry. 
Building a strong portfolio is the first step towards becoming a freelancer. It could be necessary to volunteer for some respectable mid-tier businesses before starting to operate as a freelancer.
Once you've amassed a solid portfolio, you could contact potential large clients to boost your online income.
The more personalized your emails and proposals are, the more likely it is that you will obtain a response. Keep in mind that freelancing is a numbers game.
Translation
The translation niche market is considered underserved since there is less rivalry than in other niche businesses. If you wish to take advantage of the chance, you must be fluent in at least two languages.
If you are multilingual or have learned a language that is widely spoken, this can be a great way for you to make money.
You'll need to demonstrate your ability to translate, though. In your portfolio or resume, highlight any language experience or training you may have in translating materials.
You will be required to pass a translation test by most employers, and you are not allowed to utilize any translation tools while taking the test.
Online tutoring 
If you want to work from home and earn money online, think about becoming an online tutor.
If you have a teaching degree, you might have a greater chance of landing a job as a tutor. A degree or past language-learning experience is necessary for this type of profession.
If you've made a presentation on the subject at a conference or other gathering, you might also be considered for a job as an online tutor, lecturer, or mentor.
International audiences choose English, but there is also a huge demand for tutors in the sciences and math. If you are an expert on a particular topic, tutoring may be the perfect platform to make money rapidly.
Starting a YouTube channel
If others can make money off of YouTube, so can you. Your YouTube channel should focus on a specific topic if you want to build a strong, loyal audience.
You could, for instance, create parody films, review products, impart skills, stream video games, give makeup tutorials, or do anything else you think your audience will find interesting.
Producing content that viewers will pay for is essential for success on YouTube. Use catchy names to get people to watch your videos, and use keywords in the description to help YouTube find them.
Once you reach 1,000 subscribers, you can begin monetizing your channel with YouTube ads.
Becoming an influencer
Building your unique brand will help you make money online. Although reality stars, singers, and sportsmen may seem to be the most significant influencers, even smaller-scale influencers can now make more money than they could a few years ago.
To be an influencer, you must have a big following. TikTok and Instagram are among the most popular starting points.
Many of the biggest non-celebrity influencers began their careers in the spotlight on these websites. You might want to find ways to get more followers to expand your Instagram audience.
As an influencer, there are many opportunities available to you. You can charge for sponsored content, launch your online store to sell goods, put affiliate links on your profile page, sell your pictures, sell advertisements through your podcast, create and sell personalized goods, get paid to go to events, and more.
Conclusion
There are several possibilities to work from home or make money online, but many are dubious or blatant scams.
Any "opportunity" that seeks an upfront payment, certification fees, your Social Security number, or any other financial details, including your credit card number, should be avoided.
While being able to make money online can aid you in getting by in difficult situations, it can also allow you to leave your 9 to 5 jobs and focus solely on your online business.
By thinking about making money online, you can improve your financial security and level of financial freedom and get closer to enjoying life on your terms.
You can make a living online if you work hard and persist. Which business endeavor would you, therefore, begin by pursuing first?