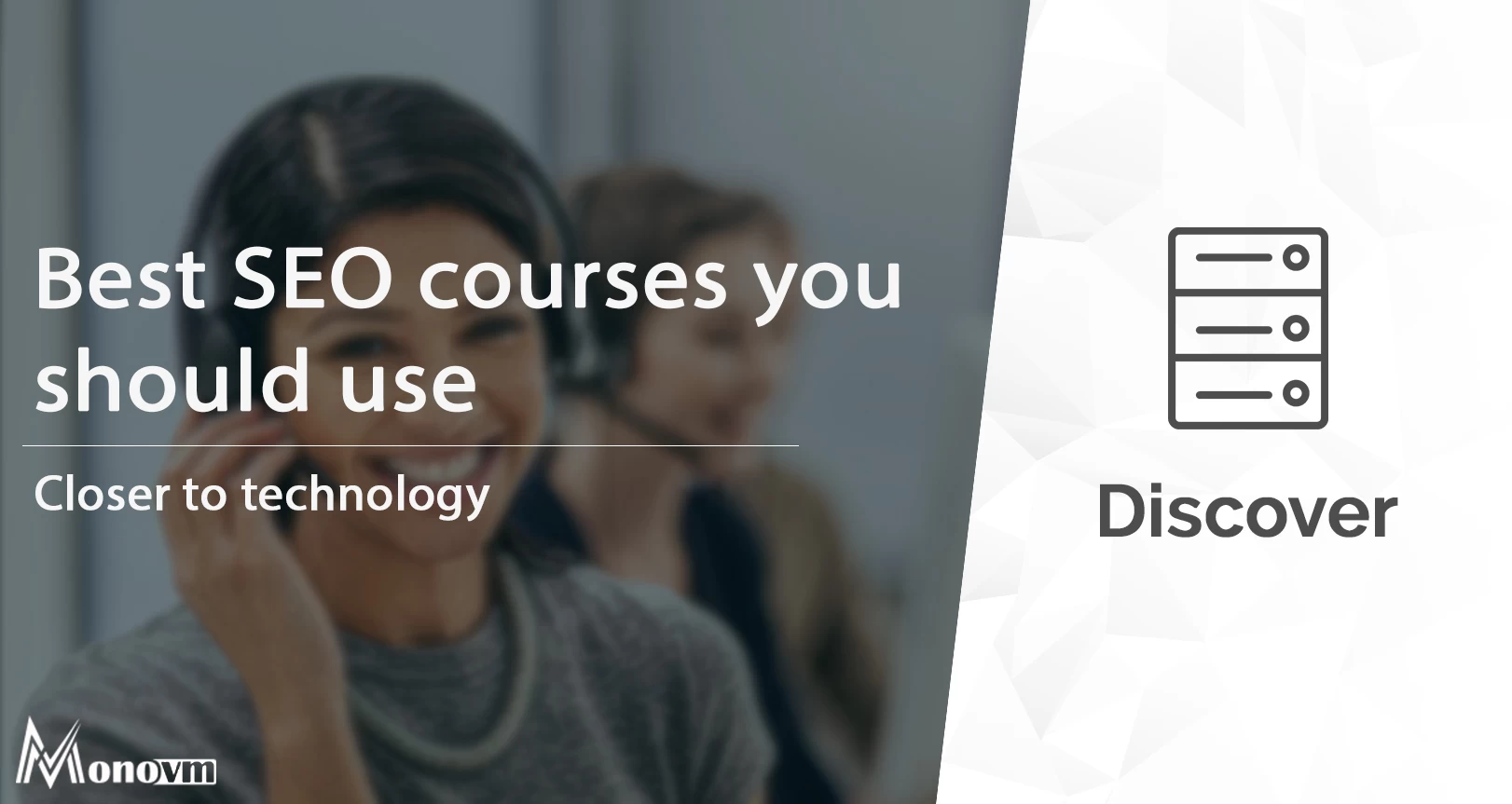 List of content you will read in this article:
Natural referencing, or SEO (Search Engine Optimization), is a set of techniques that consists in positioning the pages of your website in the first results of search engines, in particular Google, as the most important search engine.
According to the professionals surveyed, the three most important factors in SEO are links from authoritative sites, keywords in the title relevant to the query, and central content in line with the search engine results. 
Need some SEO skills to expand your digital marketing knowledge? You have just created your e-commerce, and it is an absolute necessity for the success of your project to boost its visibility on search engines.
Never mind, it is now easy to take online SEO training that will allow you to acquire the basics of natural referencing or to reach a high level of expertise without having to travel to attend classes. Here's why you should take online SEO training:
1- Have all the assets in hand to ensure the success of your website
This is the first reason that pushes professionals and budding digital entrepreneurs to participate in SEO training. As we mentioned in the introduction, it is essential in 2022 to know and master the techniques that will allow you to optimize the pages of your website on search engines to offer maximum visibility to your business and drive online traffic.
The SEO training and online courses that we will talk about later will allow you to master yourself with the famous Google algorithm updates and master the main levers of natural referencing. And you can count on seasoned professionals who know their job inside out to teach you the best SEO techniques that will boost your website's ranking on Google search pages.
2- A long-term investment that no one can do without
The great thing about SEO — provided you have a modicum of SEO skills and time — is that it's commendable. If you can take care of the technical aspects of your natural referencing and ensure the writing of most of your web content, SEO will cost you practically nothing except time.
Unlike SEA (Search Engine Advertising) which refers to online advertising, such as sponsored links, and requires a budget, SEO is an almost free marketing lever if you can optimize your web pages by following the positioning criteria.
In addition, all your expenses will pay off in the long term for sure since SEO is a long-term practice that gives results over time— everyday morsels like a good investment that regularly brings in money, on the condition of practising a regular watch on the evolutions of the SEO and the changes of algorithms carried out by Google.
3- A highly sought-after skill in the field of digital marketing
Through this, you will have gained, mastering natural referencing as a sine qua non for business success, ensuring that SEO profiles are prized by recruiters in the digital sector and by companies looking to boost their visibility online.
Given the profitability of this essential lever of digital marketing, there is no doubt that the skills associated with SEO will still be taken in a few years. Putting your money into online SEO training is, therefore, a wise investment.
Most of the online SEO courses that we are going to introduce you to in the rest of this article will not turn you into a natural SEO crack; however, they will allow you to pick up some essential basics that could make you want to follow additional acquisitions later, or to train yourself over the job to improve your skills and add an extra competence to your CV.
Best SEO Training Courses
Now let's get to the matter with our selection of the ten best current online SEO courses:
1- Formeo
Created by Olivier Andrieu, a French expert in natural referencing and the founder of the blog Abondance, Formaseo offers remote SEO training that allows everyone to learn about natural referencing and acquire the fundamentals of SEO and the operation of major search engines.
Formaseo offers two online training courses of different levels.
Level 1 is an online SEO training that can be followed by an audience who is familiar with the web environment but who has very little knowledge in this area.
This course is also a good opportunity to perfect your basic knowledge in the field to validate your knowledge. This total training lasts 6 hours and includes around forty videos. You can therefore take advantage of this online course at any time and from any place, provided you have an internet connection.
2- SEO LiveMentor training
This online training on natural referencing aims to make you discover all the learnings, tool tests, readings, successful (and unsuccessful) iterations, and good practices identified in recent years at LiveMentor.
By following the advice provided by the trainers at LiveMentor, you'll benefit from the techniques and methods that have allowed this company specializing in training and digital marketing to appear in more than 30,000 Google searches every day.
The LiveMentor team is made up of two specialists in natural referencing and online marketing: 
Thomas Meyer, the SEO manager at LiveMentor 

Baptiste Dodane, the marketing manager.
These two trainers will accompany you throughout this training on natural referencing and allow you to acquire knowledge that will propel your website into the first search results.
In this SEO training, the two friends will explain to you in particular how to go further than the Yoast tool to optimize and structure the pages and articles present on your site, using the technique of semantic cocoons and the " pillar-cluster ». They will show you how to improve the performance of your website by getting the famous backlinks, essential elements for the good referencing of websites today.
Thanks to this online SEO training, you will have all the cards in hand to improve the performance of your website, take care of the architecture of your content strategy, and install all the tools necessary to follow the evolution of your SEO referencing calmly. 
3- Guillaume Guersan SEO training
This online SEO training is offered by Guillaume Guersan, an SEO and e-marketing expert who has been working in the field of SEO since 2014, and who has extensive professional experience.
It covers all the main aspects you need to know to become an SEO ace, from the On-Site technical aspect to the content, including Netlinking and researching your keywords.
The training also offers you resources to set up the monitoring of your SEO strategy and correctly analyze your results, as well as quizzes, exercises, and several free and paid tools that will be presented to you in detail.
Guillaume Guersan offers his training on Udemy—The no. 1 e-learning platform in the world—and he can prowl for having excellent customer feedback, with an overall rating of 4.4/5 and several thousand people have followed. Training.
Thanks to the e-learning concept, you can follow this SEO training at your own pace and even benefit from all the updates for life from the moment you are registered once. In short, Guillaume Guersan offers training with student support, where you can ask questions and get quick answers.
At the end of the training, you are even entitled to an hour of face-to-face coaching, and this is the perfect opportunity to ask a few last questions, ask for advice, look at your website, etc.
4- MyTraining
On the site specializing in online courses, " MaFormation ", you will find an exceptional range of training in all areas, including digital marketing (SEO, SEA, Community Management, Webdesign, etc.).
To attend this 2-day online SEO training, dedicated to current employees and companies, no prerequisites are necessary,
The only prerequisite for this training is a telephone interview with the trainer, whose function is personalising your course. This means that the training program can be modified free of charge according to your expectations.
The first day is devoted to the functioning of search engines and the definition of essential terms, such as indexing, positioning, referencing, the criteria used for referencing, the latest developments in search engine algorithms, the realization of auditing your site, etc.
During the second day, you will learn how to develop your natural referencing strategy and differentiate the concepts of keywords, tags, PageRank, and optimize the contents of your site to obtain better referencing.
Finally, you will be entitled to a course on "off-site" SEO, the different SEO approaches and techniques, Netlinking and paid SEO (sponsored links, Google Ads, etc.)
The highlight of this training is a debriefing session with the trainer to know your knowledge.
In these courses, you might be taught 58.99% of all website traffic in the world comes from mobile phones (Statista), 72.6% of internet users will only access the internet via their smartphone by 2025 (CNBC), and there is more research on mobile than on desktop (Think With Google).
5- Black Hat Money
Behind this Black Hat Money SEO training is Romain Pirotte, a self-taught SEO expert since 2016, who has spent a lot of time testing methods and developing his SEO techniques.
Romain Pirotte takes part in many SEO and business events to transmit his knowledge in the field of natural referencing. His experience in monetization and SEO techniques allows him to focus mainly on his role as a trainer and coach to support small businesses and even large structures.
At the mercy of the efficient techniques offered by Black Hat Money, you will be able to improve your SEO results, enjoying having a great visibility for your e-commerce shop without having to wait several months before receiving your first visitors to go get a life.
In 2022, Romain Pirotte's team will support more than 500 clients through Black Hat Money training to help them achieve their SEO goals. The Black Hat Money training site offers courses covering all SEO aspects: SEO strategy creation, backlink creation, website and web content creation tools, etc.
6- Neil Patel SEO Course 
If you prefer to find a free online English-language course, bet on the "SEO Unlocked" training offered by Neil Patel, a serial entrepreneur, web marketing expert and investor from Great Britain. He is best known for being the founder of Crazy Egg, Hello Bar, Ubersuggest, and KISSmetrics.
In this 7-week online SEO course, you'll get plenty of expert advice on keyword research for your business, On-Page SEO, content marketing, link building, free tool Ubersuggets, created by Neil Patel, and a session on branding and customer experience.
On Neil Patel's website, you will find many other training courses, all called "Unlocked", which concern almost all areas of digital marketing: e-commerce, content marketing, email marketing, Growth Hacking, local SEO, and social networks.
Final Words
We at AzarOnline always try to help you achieve your goals. In this article, we tried to introduce you to the best online SEO training courses. Know that these courses can make you money. In addition, you can tell us your idea so we can add you to our friends.
People also read: