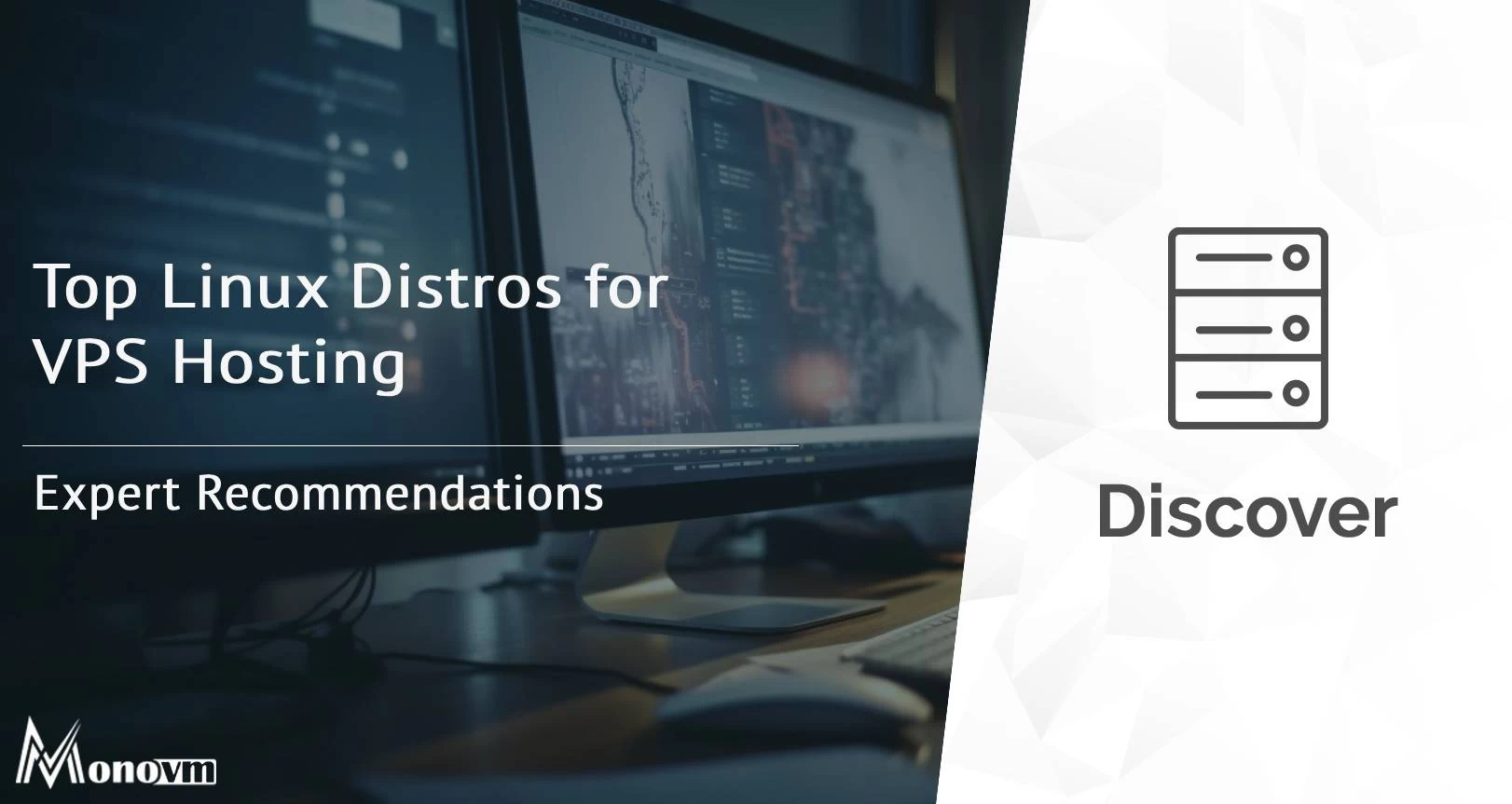 List of content you will read in this article:
Selecting the right Linux distribution for your Virtual Private Server (VPS) can significantly impact its performance, security, and ease of management. In the realm of VPS hosting, the diversity of Linux distributions offers a wide array of options, each tailored to different needs and preferences. Whether you're a seasoned sysadmin seeking robustness or a beginner looking for user-friendly interfaces, this guide explores some of the top Linux distributions for VPS hosting. Let's delve into the world of operating systems designed to power your VPS with efficiency and reliability.
Factors to Consider When Choosing a Linux Distro for VPS
When it comes to VPS, any good server needs an operating system to function. These days, most servers run on an iteration of Linux called a distribution, also known by the friendly name "distro." There are thousands of distributions to choose from, all offering different desktop environments, package managers, and clean designs. However, for those unfamiliar with Linux, such a choice may be problematic. Linux Distros for VPS Hosting you are looking for?
With so many choices, it can be almost impossible to know where to start your search. That's why I wanted to give you my best tips for choosing a Linux distribution, so you don't have to wade through an ocean of options.
But before going any further, a clarification: I am not going to delve into all the complexity of Linux.
Those taking their first steps with a new operating system don't need to know options like system, security features like SELinux, window managers like LightDM, or bootloaders like GRUB.
New users simply need to know how to make a choice that will help them get comfortable with a new operating system. They want to be able to be productive without having to do a deep dive into anything.
It's all about the office!!!
I'm not going to beat myself up about it: the most important choice you'll make on your Linux journey is the desktop environment you choose. Although there aren't as many desktop environments as there are distributions, there are still quite a few, such as GNOME, KDE Plasma, Pantheon, Budgie, Xfce, Cinnamon, Mate, Enlightenment, Deepin Desktop, LXDE, i3, LXQt, Sugar, and many more. However, not all of these desktop environments are good choices for a new user.
For those who have never used Linux, there are really only a handful of desktop environments to consider:
GNOME
KDE Plasma
Cinnamon
Mate
Xfce
From the list above, I wouldn't recommend Xfce, simply because it might be a bit too complex for the average user. Even though Xfce is a very user-friendly desktop environment, there are a lot of configuration options available, which could quickly become intimidating. And although I use a GNOME-based desktop, I wouldn't recommend the GNOME desktop to those who have never used Linux, simply because it is very different from what is out there today.
That leaves KDE Plasma, Cinnamon, and Mate. Of the three, KDE Plasma is one of the sleekest desktops, but it offers a lot of ancillary features that aren't necessarily useful.
So only Cinnamon and Mate remain. Between the two I recommend Cinnamon for two reasons: it is the default Linux Mint desktop and it is in active development.
Whether you are a beginner or a professional, and unlike Windows or Mac, the path to follow with Linux is not mapped out from the start. When other operating systems release new versions at regular intervals and sooner or later stop supporting older ones, Linux leaves the choice up to the user. There is only one kernel, a few GNU tools, but hundreds of Linux distributions. Although they are not all recommended, some are still more suitable for a specific use. The open-source approach in principle allows each developer to set up their own system.
Top Linux Distros for VPS Hosting
We present to you below on the one hand the fully developed Linux server distributions and therefore with the best results; on the other hand, for which applications certain Linux distributions are most relevant, with the advantages and disadvantages of the different operating systems. If you are looking to switch to Linux or change systems, this overview will allow you to get a good idea of the market to make the best choice based on your needs.
Debian
Best Linux distro for beginners? Debian! Debian is one of the great classics among Linux server distributions. Since 1993, it has brought together a huge community from all over the world. Its fans not only use Debian, but they also maintain it. Debian forms the basis for many other Linux distributions, with ongoing optimization by over 1,000 official developers. The operating system is suitable for servers, desktops, or laptops.

Debian VPS Server
Starting From $5.99/Monthly
Advantages and disadvantages of Debian
Free of rights, stable, and versatile, Debian has real arguments in its favor. The operating system is not only reliable but also supports many types of hardware architectures and allows users to customize many settings and functions. Debian offers over 57,000 different packages. Compared to its performance, the operating system remains very light and requires little memory.
Debian is not completely suitable for beginners because its installation and configuration can become quite long and complicated. Updates are not done at fixed intervals, which is why it is difficult to schedule them. Personal package archives are not supported. Finally, although its user interface remains very clear, it is not very modern.
Who is Debian for?
Debian is a reliable solution to recommend to experienced developers working in software and hardware. For home users or beginners, other Linux distributions are more suitable.
CentOS
CentOS has been based on Red Hat Enterprise Linux (RHEL) since 2009, but it is available for free as open source. The operating system is binary compatible with RHEL, and its ease of use makes it successful. It is precisely in the field of Linux server distributions that CentOS has gained its reputation, considered by many users as an entry-level solution that holds up. Red Hat, however, announced the end of support for CentOS for 2024. Its successor, CentOS Stream, is struggling to convince many developers because it is much more experimental and not 100% compatible with RHEL. This new alternative serves as a test environment for its commercial version.

Debian VPS Server
Starting From $5.99/Monthly
Advantages and disadvantages of CentOS
CentOS has always been considered a free entry-level solution with RHEL features. It works very stable and is reliable thanks to its monitoring and regular community patches. Overall, the support is also excellent.
But we must face the facts: CentOS is not a solution for the future and its support will end in the near future. Although many RHEL applications also work on CentOS, they are not always guaranteed due to a lack of necessary certificates.
Who is CentOS for?
CentOS is now only suitable for beginners looking to master RHEL without having to pay. For long-term projects, we prefer other Linux distributions.
Rocky Linux
Among the Linux distributions expected to succeed CentOS, we find Rocky Linux. This clone of RHEL, with which it is binary compatible, is named after the late CentOS co-founder Rocky McGough. Available since 2021 only, it has a Gnome desktop environment. Rocky Linux 8.5, which highlights Secure Boot, is also managed by a community, which makes it a free tool. Financial funds are provided by sponsors in the background. Learn About Rocky Linux: Your Gateway to the CentOS Replacement!
Advantages and Disadvantages of Rocky Linux
Moving from CentOS or RHEL to Rocky Linux is very simple. From the moment you get started, the Linux distribution gives you confidence with its ease of installation and use. The system is suitable for Cloud and High-Performance Computing and is considered very stable and modern.
But even for Rocky Linux the question of its future arises. If the first feedback is good, it will only be after several years of use and after a certain number of updates that we will really see the role that the operating system can play in the field of Linux server distributions.
Who is Rocky Linux for?
CentOS aficionados will soon be able to choose between Rocky Linux and AlmaLinux. After a successful launch, the former offers a simple, trouble-free transition and great ease of use.
Ubuntu
Linux distro resource requirements and in this regard, Ubuntu is one of the best-known and largest Linux distributions on the market obviating all the besoins. The Debian-based operating system has since evolved into an equal competitor. Own development has already existed since 2005. A big difference between the two systems is the simpler use of the newer system. Ubuntu is a recommended alternative, especially for individual users. Ubuntu. An obvious choice for the best Linux distro for laptops is Ubuntu. It's easily one of the most popular and well-known Linux distributions, which means it comes with a large user community as well as solid online support.

Debian VPS Server
Starting From $5.99/Monthly
Advantages and disadvantages of Ubuntu
Its ease of installation and use clearly speaks in its favor. The operating system also runs smoothly on mobile devices. Ubuntu is known for its regular and straightforward update policy, so it is possible to plan new version releases in advance. Thanks to cooperation with many hardware and software manufacturers, Ubuntu is compatible with many vendors.
A small drawback is the size of the operating system. It takes up a lot of space: in addition to free software, Ubuntu uses a number of commercial products, and individual adaptations are only possible within a limited framework. Finally, the system is not royalty-free but sponsored by the London company Canonical.
Who is Ubuntu for?
Ubuntu is aimed at users looking for a reliable operating system with a simple structure. Switching from Windows to Ubuntu is particularly easy.
Photon OS
VMware's Photon OS was also developed as open source for the use of containers. The distribution notably supports Docker, Rocket, and Pivotals Garden. The very minimalist operating system supports ARM64, x64, and Raspberry Pi architectures.
Advantages and disadvantages of Photon OS
The minimalist approach is also reflected in the size of the operating system: Photon OS takes up very little space and is fast. Most common container formats are supported. The system is optimized to run on VMware platforms and is therefore a good add-on that integrates seamlessly.
Compared to many other Linux server distributions, Photon OS is rather lightweight and offers few additional features.
Who is Photon OS for?
Photon OS is primarily intended for people who work with VMware and are looking for a good complement for working with containers.
AlmaLinux
AlmaLinux is one of the most recent Linux server distributions. The first stable version was only released in 2021. This distribution is managed and developed by an open community, having been created as a fork of Red Hat Enterprise Linux. Free, AlmaLinux is expected to replace CentOS sooner or later. Almalinux Unveiled: Your Definitive Handbook
Advantages and disadvantages of AlmaLinux
As AlmaLinux aims to be the successor to CentOS, the developers have ensured that the transition is as smooth as possible. It is therefore possible to take the packages, configurations, and others one by one. One of its big advantages is the availability and openness of its community: in principle, everyone can participate in AlmaLinux and optimize the operating system for themselves because there are no usage restrictions or licenses. With guaranteed support until 2029, AlmaLinux is largely limited to the essentials with LibreOffice, Mozilla Firefox as well as Python, PostgreSQL, and MariaDB.
So far, AlmaLinux does not present any major defects. This is explained in particular by the fact that it is one of the most recent Linux distributions, so feedback is still limited. We will have to wait sometime to know if AlmaLinux can establish itself and compete with older distributions. It is also not possible to predict the quality of updates or how quickly any problems might be resolved. In addition, its dependence on funding remains a small drawback, more than offset by its completely free nature.
Who is AlmaLinux for?
AlmaLinux is primarily aimed at CentOS users. Anyone looking for an alternative to the famous distribution will find what they are looking for here. The transition is very simple, and the use is also designed for easy-to-understand daily processes. If you are looking for a 100% free and reliable Linux server distribution, you will find what you are looking for with AlmaLinux.
Use Cases and Recommendations
However, the following points must be taken into account for best Linux distro 2023 for developers:
Do you prefer a more modern-looking desk that works without having to do anything? If yes, go for Ubuntu.
If you want a sleeker desktop operating system that behaves the same as the one you're used to and enjoys the same user-friendliness, then choose Kubuntu
If you want a distribution that focuses on stability but doesn't release updates as often as other distributions, go with Debian
If you're looking for a desktop operating system that's efficient, but still maintains a high level of usability, choose Pop!_OS.
Whether you want to stick with something familiar or Linux distros for virtual servers, try something completely different, or find a happy medium, Linux offers options that can meet every need.
Installation and Getting Started Guides
You are now ready to install any Linux batch from the Microsoft Store: Ubuntu, Kali, Debian, openSuse, etc.
Open the Microsoft Store.
Click Search and type Linux. Validate by Enter.
The store shows you different distributions available: Ubuntu, Kali, Debian, openSuse, etc. Click on the one you want to install.
Click Download.
The download begins.
After a few moments, the files are installed.
You can install other distributions if you want.
Conclusion
When choosing the most relevant version of Linux distros for virtual servers based on your needs, it is best to consider many factors. We quickly find many Linux distributions for servers, desktop computers, or for other applications in a professional or private context. Ubuntu is an easy-to-use Linux distribution based on Debian. A strong community, as well as frequent outings, make it a popular choice. Debian is an established and mature Linux distribution with a focus on stability. Many other Linux distributions, including Ubuntu, have been ported from Debian. CentOS is the same distribution used on our range of DV servers. It aims to be 100% compatible with packages designed for Red Hat Enterprise Linux. Among other options; only Cinnamon and Mate you should consider. Between the two I recommend Cinnamon for two reasons: it is the default Linux Mint desktop and it is in active development. We can offer you the best at the lowest cost!