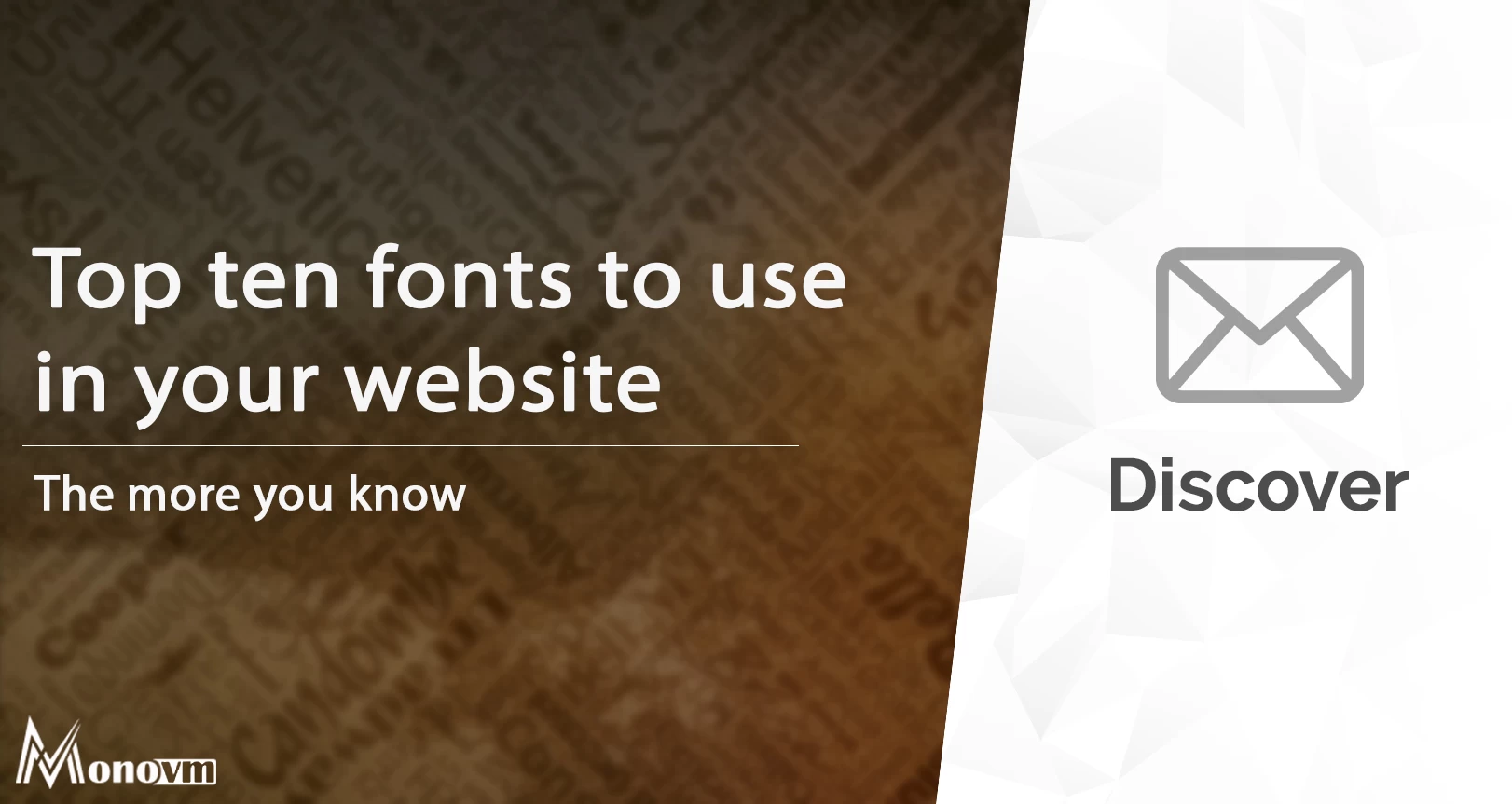 List of content you will read in this article:
Typography refers to the appearance and style of language. Typography is a crucial design component that enhances the material you provide.
Online customers make snap decisions; it takes them just 0.5 seconds to create an opinion about a website, and 94% of that judgment is based on the site's design and the font styles they see and read.
As a result, since fonts play a significant role in a website's web design, they must be used effectively to persuade users that this is a suitable page for them.
Different meanings can be sent to readers using distinct font types, including those of trust, consistency, strength, elegance, and refinement, and inventiveness.
The designer must decide which fonts to use (or avoid using) while selecting the best fonts for websites out of the countless options that are readily available online.
Best Fonts for Websites
Now that you know how crucial typography is to website design, let's review the top 10 web design fonts. 
Open Sans
This font is highly readable, impartial, and simple option considered one of the best sans-serif fonts for readability and user experience (UX). 
Open Sans is a reliable option for most situations and performs best for companies that place a high value on consistency and dependability.
Open Sans has emerged as one of the most popular fonts on the internet, as we have seen. In fact, in 2020, this font was used to create some of the top websites.
Many well-known companies are updating their websites, using Open Sans to provide great readability and a welcoming appeal.
Open Sans is a very effective replacement for standard sans serif fonts because of its exceptional legibility and exceptionally robust letterforms.
Playfair Display
Playfair Display is a serif typeface with hints of femininity and an appealing, contemporary feel, which is why this web design font is an ideal choice for websites targeting women. 
Playfair is a distinctive font that Claus Eggers Sorensen designed. We appreciate it mainly because of the non-traditional, delicate serifs and the lovely italic style.
It has traditional letterforms with fine hairlines and excellent contrast. Playfair is typically used to give site headers and titles a more "classic" feel.
Roboto
More and more websites will benefit from typefaces like Roboto as our world gets more technologically linked and advanced.
The wide-open characters give this font a pleasant tone in addition to its techy, machine-like feel.
This neo-grotesque sans serif typeface was initially created by Google as the Android system font and is currently used on websites like Vice.com, YouTube, and Flipkart. 
This typeface is really simple to read, and since Google uses it so frequently, most users are already familiar with it.
This can be an excellent font option if your website has a lot of content you want visitors to read.
Lato
Lato was initially created as a corporate font as it is one of the best fonts for websites. The designer decided to make it a public, open-source typeface after the client rejected it.
Particularly when employed in smaller proportions, this font exudes a sense of harmony and sturdiness, making it a tidy and unobtrusive choice.
Subtle qualities shine out when utilized for headers and other larger text. Therefore, it makes sense that it is the third most used Google Font.
This font's ease of use and stability would be advantageous for any company website that aims to appear substantial and reliable.
Additionally, because of its neutrality, it pairs well with other, more ornate typefaces.
Arvo
Number, value, and worth are all translations of the Finnish word arvo. Anton Koovit designed the Arvo family of slab serif fonts.
Arvo, one of the best fonts for website design, is a geometric slab-serif typeface that comes in 4 different styles, ranging from regular weight and regular italic to bold italic.
Although this font has a clean design, small additions give it a distinct edge above other slab serifs.
This web design font functions well as a display font because it was created for screens and print use.
Ensure that geometric styling fits the story the site is trying to tell, whether you utilize it for your header or the body content.
A complete Slab Serif online font family is quite uncommon, and this font comes quite close to meeting our requirements for robust characters and great readability.
Arvo works well as a title and subtitle font when used in conjunction with a sans-serif body font.
Centra No. 1
Centra No. 1 differs from well-known fonts such as Futura and Century Gothic by having a current edge in contrast to other geometric sans serif designs of the modernist era.
Compared to these traditional Bauhaus-inspired typefaces, it has additional depth thanks to its textures and angles.
There are eight different weights in the typeface family. Centra No. 1 Black, the family's heaviest font, is best for logos and headers.
Despite this, Centra No. 1 Hairline, the family's thinnest font, nearly appears to be a different typeface since its lack of thickness makes character styling simpler. It is, therefore, best suited for use in the main body material.
Centra No. 1 has a lot to offer if you're looking for a flexible typeface that can spruce up different website elements and branding elements.
Voyage
Voyage is one of the latest fonts included in this list of the best for website design. It is also the only typeface on our list that is calligraphic.
The voyage can fit nicely into your website design because it isn't excessively decorative, as we would expect from a calligraphic typeface. This is especially true when utilized wisely in specific situations.
The voyage was created to add a sense of adventure to your site's huge type. Because it's a display typeface, it works best in header material that must draw readers in immediately.
Montserrat
Montserrat is another one of the top web design fonts available. The signage from the Montserrat area of Buenos Aires in the early 1900s served as the inspiration for this font.
It is obvious why the typographer was inspired by the location, given the city's rich architectural heritage and the distinctive beauty of its small streets (which are similar to the font's thin characters).
This geometric sans-serif typeface is simple to use in almost any place on your website.
Montserrat scales nicely since it is readable in both large and small sizes. In addition, this strong, modern font tends to appeal to the millennial generation. 
This vibrant and lovely sans serif font excels with smaller body text on the web because it was created primarily for fast reading.
Lora
Next on our list of the best fonts for website is Lora, a modern serif.
While it undoubtedly makes it easier for website visitors to read through a lot of text, this specific serif font has a more artistic feel than other serifs because of the distinctive brush strokes at the character end.
The paragraph content of news and entertainment websites like FOX News, Urban Dictionary, and The Kitchn benefit greatly from this feature. 
Although Lora has a familiar appearance of a serif font, its roots are in calligraphy. The hand-brushed curves contrast with the serif fonts and give this typeface a more artistic vibe if you look carefully enough.
This font, which comes in four different weights, works great for the main body of your pages.
This font's design is ideal for artistic brands, such as those for writers, agencies, distinctive storefronts, or other types of companies.
Abril Fatface
Based on headlines from advertisements published in England and France in the 1800s, Abril Fatface is a Google Font.
Any title or heading you use it on will have strength thanks to the font's weight. However, the writing and numbers' curves also exude an air of refinement. This will be a lovely option if you want to give your website a touch of traditional, old-world character.
Abril Fatface is a premium font family with a considerably larger, free font family by the same name.
The entire font family was a modern reader's reinterpretation of the traditional newsface. However, this specific typeface stands out from the others in its family due to its thicker ("fat") characters.
This is because the title text found on early 1900s advertising posters served as the model for the Abril Fontface.
This is a tidy yet powerful web design font for your headers if you're searching for a way to give a news site, online magazine, or blog a bolder feel.
Conclusion
A website's usability is increased by well-chosen typography and its aesthetic appeal, which is why the concern over the typefaces we employ continues to increase yearly.
However, just because choosing the best fonts for a website requires caution does not preclude having fun with it. 
There are many lovely and useful typefaces available that can support your brand identity while maintaining legibility.
Additionally, it will persuade users to concentrate on reading the content rather than gawking at the wacky assortment of typefaces all over your pages.
It can be difficult to reduce the options and identify those that best suit your website, but fortunately, our list of best fonts for websites will help you with the process.
Try to pair no more than two or three typefaces for each website you build when picking them. This will provide your interface with a unified appearance from beginning to end.