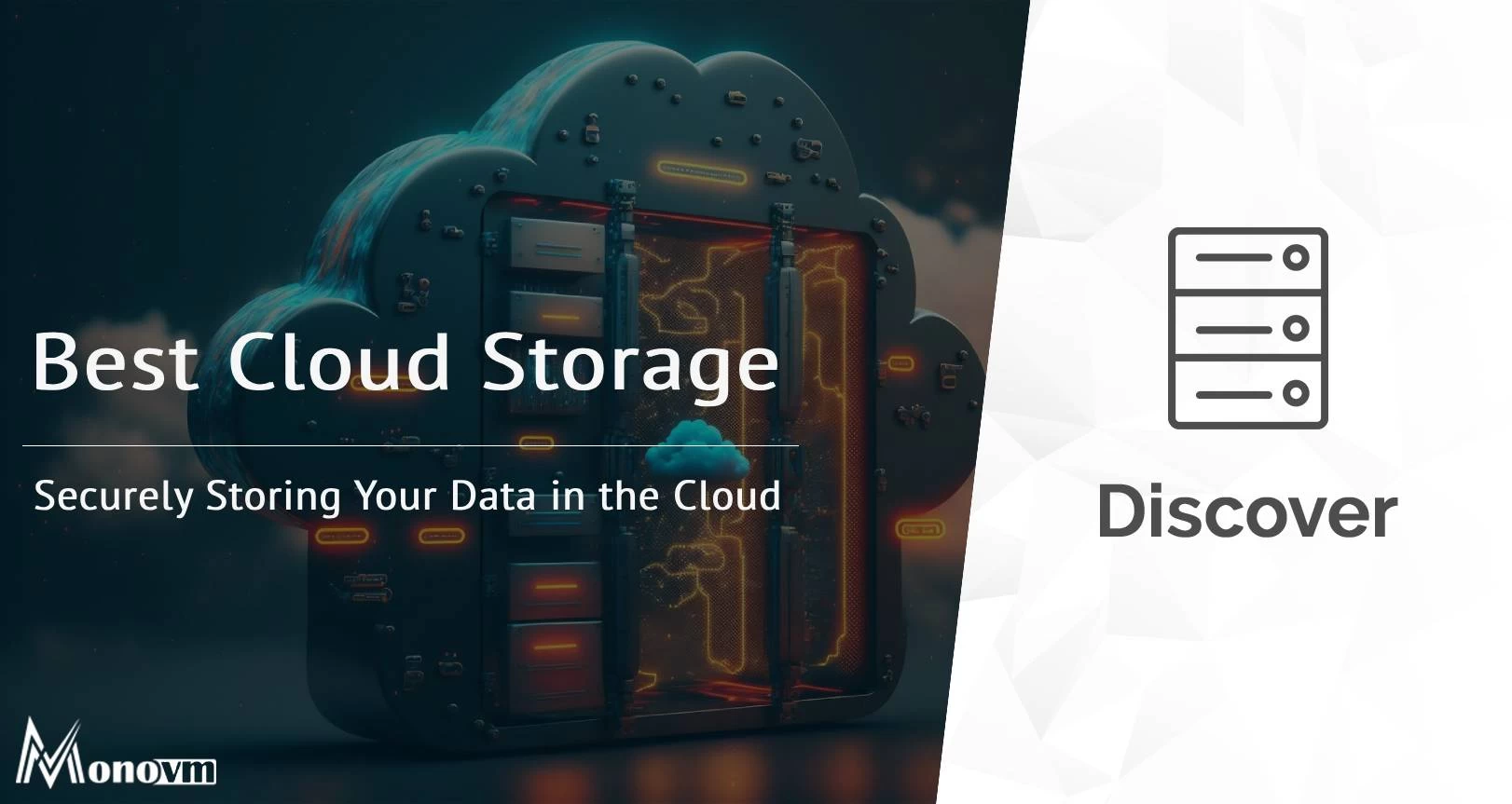 List of content you will read in this article:
In an increasingly digitized world, the way we store and manage data has undergone a transformative shift, and at the heart of this evolution is cloud storage. This technological innovation has not only changed the way we think about data but has also revolutionized the very concept of data management.
At its core, cloud storage is a method of storing data on remote servers that are hosted and managed by third-party providers. Unlike traditional local storage solutions that rely on physical devices like hard drives or flash memory, cloud storage leverages the power of the internet to securely store and manage data.
Cloud storage's meteoric rise is fueled by its diverse advantages. It delivers unparalleled scalability, adapting effortlessly to user needs, from individuals to corporations. Universal accessibility transcends geographical limits, empowering remote work and hassle-free data access. In this article, we'll explore the best cloud storage services of 2023, highlighting their unique features and advantages.
Maximize Data Security with STORAGE VPS Solutions
Top Cloud Storage Services in 2023
In the realm of cloud storage, 2023 has ushered in a diverse array of options, each catering to distinct needs and preferences. Below, we introduce some of the best cloud storage services, shedding light on their unique features and specialties:
Google Drive
Google Drive, part of the Google Workspace ecosystem, stands out for its versatility and integration capabilities. It offers 15 GB of free storage and a range of affordable plans for individuals and businesses.
Features:
Generous Free Storage:

Google Drive offers 15 GB of free storage, which is shared across Google Drive, Gmail, and Google Photos.

Seamless Integration:

It seamlessly integrates with the Google Workspace suite, including Google Docs, Sheets, Slides, and Forms.

Real-time Collaboration:

Multiple users can work on the same document simultaneously, with changes being saved in real-time.

Mobile App Support:

Google Drive has robust mobile apps for both Android and iOS, ensuring access to your files on the go.
Dropbox
Dropbox is known for its simplicity and excellent file-syncing capabilities. It offers various plans, including a free tier with limited storage, making it a great choice for personal users and small businesses.
Features:
Intuitive File Syncing:

Dropbox is known for its user-friendly file syncing capabilities, making it easy to keep files up to date across devices.

Easy Sharing:

Sharing files and folders with others is straightforward, making it suitable for personal users and small businesses.

File Recovery:

Dropbox offers file recovery options in case you accidentally delete or modify files.

App Integrations:

It boasts an extensive list of third-party app integrations, expanding its functionality.
Microsoft OneDrive
OneDrive is Microsoft's cloud storage solution, seamlessly integrating with Windows and Office applications. It's one of the best cloud storage services for individuals and organizations heavily invested in the Microsoft ecosystem.
Features:
Deep Integration:

OneDrive deeply integrates with Windows 10 and Microsoft Office applications, providing a seamless experience for Windows users.

File Versioning:

Users can access previous versions of files, facilitating easy document management.

Robust Security:

It offers security features such as two-factor authentication, data loss prevention, and encryption.

Collaboration:

OneDrive allows real-time collaboration on Office documents and integrates with Microsoft Teams for team communication.
Amazon S3 (Amazon Simple Storage Service)
Amazon S3 is designed for developers and enterprises with demanding storage needs. It's highly customizable and integrates seamlessly with other AWS services.
Features:
Scalable Object Storage:

Amazon S3 provides highly scalable object storage, ideal for developers and enterprises with varying storage needs.

High Durability:

It offers a high level of data durability, ensuring data remains intact even in the face of hardware failures.

Integration with AWS:

S3 seamlessly integrates with the Amazon Web Services (AWS) ecosystem, making it a powerful choice for businesses utilizing AWS services.

Customization:

Developers appreciate the flexibility and customization options available with Amazon S3, tailoring it to their specific requirements.
These are just a few of the top players in the best cloud storage services arena, each with its own strengths and specialties. As we move forward, we'll delve deeper into what sets them apart.
Best Cloud Storage in terms of Storage Capacity and Pricing
When choosing the best cloud storage service, storage capacity, and pricing are often the primary considerations. Here's a quick overview of the storage plans offered by some of the top providers:
Google Drive: Offers 15 GB of free storage, with various paid plans starting at $1.99 per month for 100 GB.
Dropbox: Provides a free plan with 2 GB of storage. Paid plans start at $9.99 per month for 2 TB of space.
Microsoft OneDrive: Comes with 5 GB of free storage. Paid plans begin at $1.99 per month for 100 GB.
Amazon S3: Billing is based on actual usage, making it highly customizable. Costs vary depending on the amount of data stored and data transfer.
Many providers also offer trial periods or opportunities to earn additional free storage through referrals or completing certain tasks. It's essential to evaluate your storage needs and budget before making a choice.
Best Cloud Storage in terms of File Sync and Sharing
Cloud storage is not just about storing files; it's about easy access and sharing. All the best cloud storage services excel in file synchronization and sharing capabilities:
Real-time Collaboration

: Google Drive and Microsoft OneDrive offer real-time collaboration on documents, spreadsheets, and presentations. Multiple users can work on the same file simultaneously.

Link Sharing

: Dropbox, Google Drive, and OneDrive allow you to create shareable links to files and folders. You can set permissions and even password-protect links for added cloud storage security.

Version Control

: Most services offer file versioning, allowing you to access previous versions of a file and track changes over time.
Collaboration and sharing have never been more accessible, making these cloud storage solutions ideal for remote work and team projects.
Security and Data Privacy
Security is a top concern when it comes to cloud storage. Fortunately, leading providers implement robust security measures to protect your data:
Encryption

: Data is encrypted both in transit and at rest. Providers like Dropbox and Google Drive use advanced encryption protocols.

Two-Factor Authentication (2FA)

: Enable 2FA to add an extra layer of security to your account.

Compliance

: Leading providers comply with data privacy regulations such as GDPR and HIPAA, making them suitable for various industries.
Your data's security is a top priority for these services, and they invest heavily in maintaining the highest standards.
Cross-Platform Compatibility
In today's interconnected world, compatibility is key, and when it comes to cloud storage, the best cloud storage services have you covered on every front:
Desktop

: Whether you're a Windows enthusiast, a macOS aficionado, or a Linux devotee, you can enjoy a seamless experience with desktop applications that cater to your operating system of choice.

Mobile Apps

: Stay productive on the move with dedicated mobile apps designed for both Android and iOS users. Access, edit, and share your files no matter where life takes you.

Web Access

: With web-based access, you're never far from your data. Simply open your preferred web browser, log in, and you're instantly connected to your files. It's the epitome of flexibility and convenience.
This extensive cross-platform cloud storage compatibility ensures that your files are always within reach, whether you're working from your trusted desktop, juggling tasks on your smartphone, or hopping between different devices. Your data remains accessible, no matter your location or the device in your hands.
File Versioning and Recovery
Cloud storage services offer file versioning and recovery features to protect your data:
File Versioning:

They automatically save multiple versions of files, allowing you to access previous iterations.

Recovery Options:

If a file is deleted or corrupted, you can restore it to a previous version or recover it from a recycle bin.
Importance of Data Backup and Restoration
Data backup and restoration are vital for:
Data Safety:

Cloud storage ensures your data is secure, even if local devices fail.

Protection from Errors:

It prevents data loss due to accidental deletions or changes.

Business Continuity:

Your data remains intact in case of disasters, ensuring uninterrupted operations.

Efficient Collaboration:

File versioning helps maintain document integrity during collaboration.
Integration with Other Services
The best cloud storage services often integrate with other apps and services, enhancing their functionality. For instance:
Google Workspace Integration

: Google Drive seamlessly integrates with Google Workspace apps like Gmail, Google Docs, and Google Sheets.

Microsoft Office Integration

: OneDrive works seamlessly with Microsoft Office applications.

Third-Party Apps

: All major providers offer integrations with third-party apps through app stores or extensions.
These cloud storage integrations expand the capabilities of cloud storage, making it a central hub for your digital work.
Accessibility and Mobile Apps
Cloud storage services understand the need for flexibility in today's mobile world. They offer dedicated mobile cloud storage apps for both Android and iOS platforms, allowing users to access their stored files conveniently while on the go. These apps are designed for intuitive navigation, making it easy to browse, view, and edit your documents and media files using your smartphone or tablet.
One notable feature is offline access, which lets you work on files even when you're not connected to the internet. Any changes made offline will sync across your devices once you're back online, ensuring that your data remains up-to-date and accessible no matter where you are.
User Support and Resources
When it comes to navigating the cloud storage landscape, having the right support and resources can make all the difference:
Customer Support

: Leading cloud storage providers understand the importance of being there when you need them. They offer a range of customer support options, including comprehensive help centers and, in many cases, convenient live chat support. Rest assured that assistance is just a click away.

Learning and Troubleshooting

: To help you harness the full potential of your chosen cloud storage service, consider exploring their dedicated resources for learning and troubleshooting. These often include step-by-step guides, video tutorials, and user forums where you can find answers to common questions and gain insights into advanced features.
Real-World Examples and Use Cases
To give you a sense of how cloud storage can be used in real-world scenarios, here are some common use cases:
Data Backup: Imagine never losing your precious files, photos, or important documents. Cloud storage serves as a reliable guardian of your data, offering automatic backup solutions that protect your information from hardware failures or unexpected disasters. Your cherished memories and critical files remain safe and sound, ready for retrieval whenever you need them.
Collaboration: In today's interconnected world, collaboration knows no geographical boundaries. Cloud storage facilitates seamless teamwork by allowing multiple users to access and edit files simultaneously. Whether it's co-authoring documents, sharing project resources, or collaborating on creative endeavors, the cloud fosters productivity and innovation.
Remote Work: The way we work is evolving, and cloud storage is at the forefront of this transformation. Remote work becomes a breeze as you access your work-related documents and files from anywhere with an internet connection. Say goodbye to the constraints of office walls and embrace the freedom of working remotely without sacrificing efficiency.
Considerations When Choosing a Cloud Storage Service
As you embark on your cloud storage journey, consider the following factors:
Storage Needs

: Assess how much storage space you require both now and in the future.

Security Requirements

: Evaluate the level of security and compliance your data demands.

Cost

: Balance your budget with the pricing plans offered by different providers.

Integration

: Consider how well the cloud storage service integrates with your existing tools and apps.
Conclusion: Empowering Data Management
In conclusion, the world of cloud storage offers a plethora of options tailored to various needs. Whether you're an individual seeking a convenient way to access files across devices or a business in search of secure collaboration tools, there's one of the best cloud storage solutions for you. By carefully assessing your requirements and exploring the features and benefits offered by top providers, you can empower your data management and ensure that your digital assets are safe, accessible, and ready to support your endeavors.