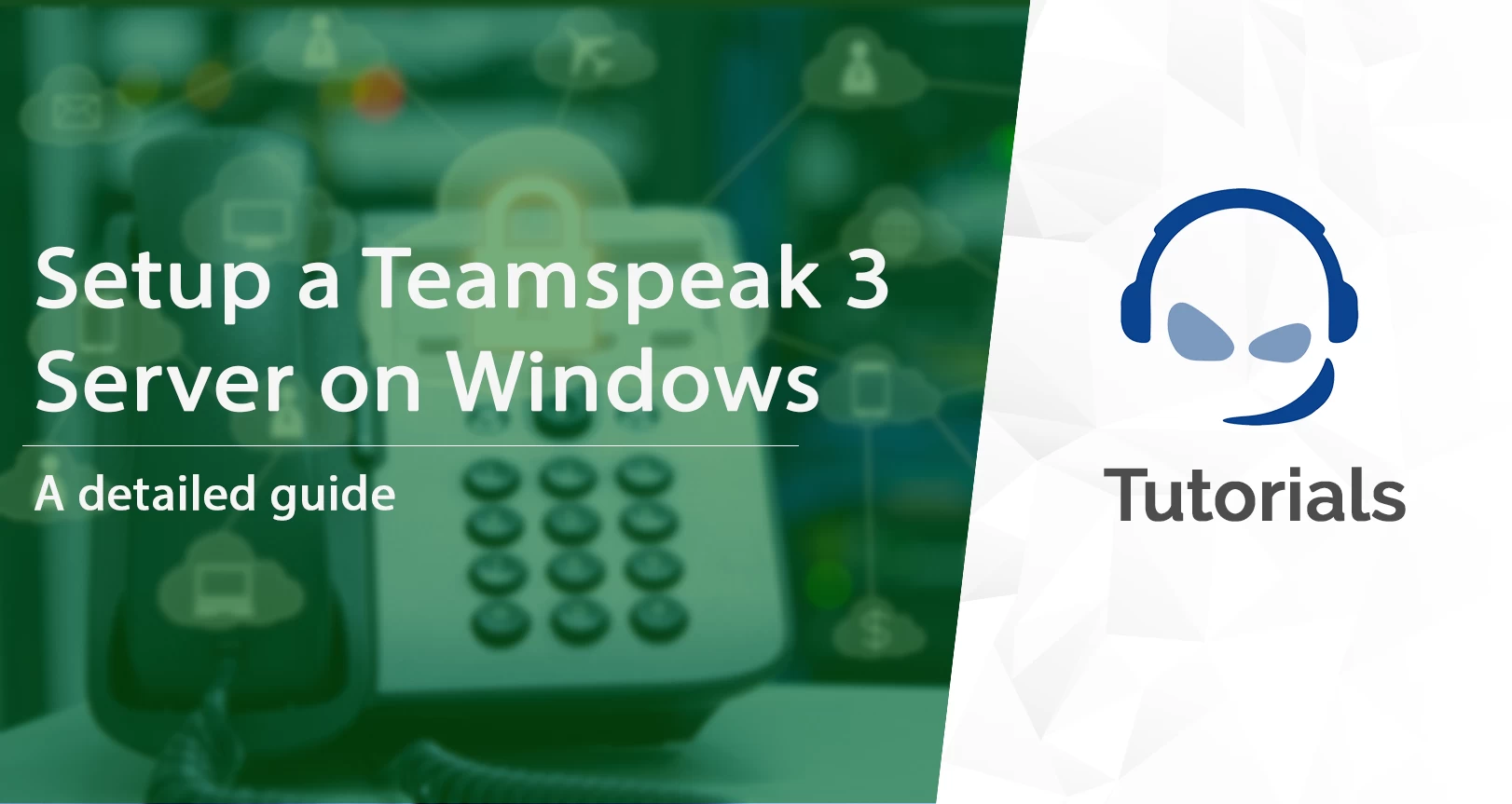 List of content you will read in this article:
Do you want to establish a stable and smooth voice connection among your group for online gaming? Or are you a business professional wishing the same for internal communication over the internet? If yes, then you need a VoIP.
What is a VoIP?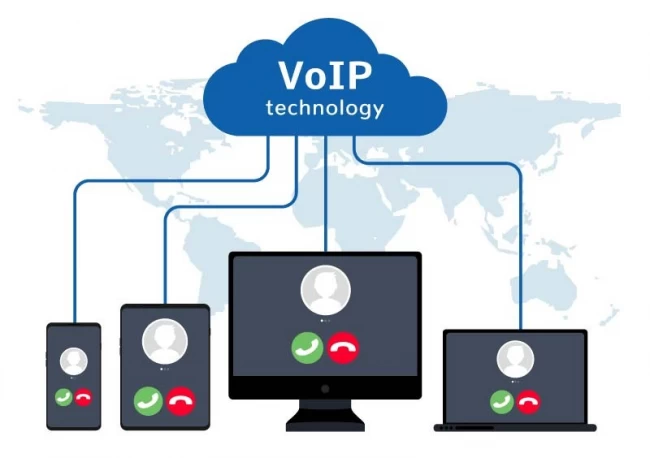 VoIP or Voice over Internet Protocol is a technology that enables users to place phone calls over the internet connection. It allows groups or individuals to connect over the internet call while performing tasks simultaneously.
Among the numerous VoIP options currently available in the market, Teamspeak 3 is one that is all the rage. It is a robust VoIP platform that is mostly used by gamers to communicate with their groups, offering way more unique features and perks than its peers.
This blog is a step-by-step guide on how to set up the Teamspeak 3 server on Windows. But before getting into the steps, let's learn about Teamspeak 3 in detail.
What is TeamSpeak 3?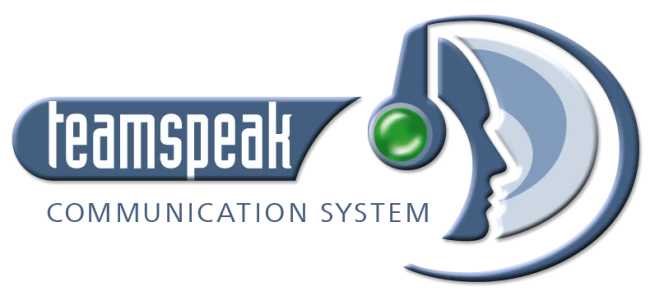 Founded in 2001, TeamSpeak is a reliable and lightweight tool for communicating with friends or colleagues. TeamSpeak 3 server is one of the top choices for gamers who often need to communicate with each other during a game session.
The VoIP communication system also offers several additional features, and it empowers individuals to create virtual rooms in which they can enter and exit freely, talk, chat with other people, send and receive media files, and so on.
Teamspeak 3 provides apps for computers and mobiles that allows users to communicate with their groups with cutting-edge VoIP technology for high-quality voice calls. Most people use it for gaming purposes to achieve feasible audio connections with their gaming buddies.
To make this service available to a wider audience, Teamspeak 3 is compatible with Windows, Linux, Android, macOS, and iOS. The following features make Teamspeak 3 the cream of the crop:
It liberates users to transfer files to other conference members and provides an option to save the same on the server. Its special architecture makes it work through all firewalls.
Provides end-to-end security settings and specifies exactly who has access and what chat rooms can be entered and operated by whom.
Implements easy customization, plugins, and tools as per the need. You can add skins, change color, and use plugins to extend the functionality.
Also available for mobile devices. It can be used on smartphones running iOS and Android.
If you're up to gaming, you might require the whole screen. In this case, you can activate an in-game overlay that shows you the key information in small semi-transparent windows.
TeamSpeak 3 is Best-suited for:
Although anyone can use TeamSpeak, these are the ones who will get the most out of the popular VoIP communication system:
1.    Online Gamers
Most users come under this umbrella because the TeamSpeak application is embedded with special features for online gaming. It allows online gamers to connect in real-time while playing online games.
2.    Business Professionals
Many organizations are adopting TeamSpeak as it provides file-sharing and chat options and VoIP calling.  Also, it is cost-effective because the charges are inexpensive compared to conventional charges.
3.    Students and Learners
Many educational organizations, especially during the Covid-19 outbreak, have adopted TeamSpeak. Leveraging the VoIP communication system helps facilitate inter-student communication in virtual classrooms and online courses.
Steps-By-Step Guide on How To Setup a Teamspeak 3 Server on Windows
Setting up the Teamspeak 3 server on Windows is easy. All you have to do is download the VoIP application and install it. After installing, start the server on your computer and enable port forwarding on your computer using the default gateway.
Next, log in to your server and set a password. Then, at last, connect to the server and join the call. Pretty simple right? Let's jump into the step-by-step detailed process:
Here's a descriptive video tutorial for your ease and reference:
https://www.youtube.com/watch?v=vgQgkD61AHU
Step 1: Check the Windows Version
TeamSpeak has 2 different applications for 2 different versions - architecture - of Windows i.e. 32-bit and 64-bit. In case you don't know which one you have, you can check your Windows version and download the server accordingly by searching/going to Device Specifications.
Step 2: Download TeamSpeak 3 Server
Visit TeamSpeak and download the Teamspeak 3 server as per your system type.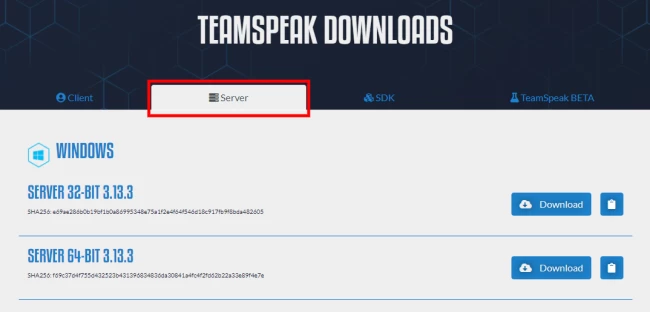 Step 3: Extract files and Install
After downloading, extract the files to a directory and run the installer file i.e. ts3server.exe. After accepting the license agreement, you will see your server login credentials and a Server Admin Token.
Make sure to copy these fields onto a text file, as they will be required during the next step.
Now the TeamSpeak icon will be displayed on your taskbar. This means that the TeamSpeak 3 server is now running on your computer.
Step-4: Allow TeamSpeak 3 Ports on Windows Firewall
By default, incoming ports are not allowed on Windows for new services unless you allow it during the installation. Therefore, you have to do it manually and allow the required ports on the Windows firewall.
TeamSpeak uses various ports/protocols for feasible connection with the client and server. We will need only Voice, File transfer, and ServerQuery (raw) ports here.
Step-5: Connect via TeamSpeak 3 Client
The TeamSpeak 3 installation process is now complete. Next, you need to connect with this server via the Teamspeak client as the admin. For this, you have to download the TeamSpeak Client again, accordingly, as per your Windows version.
After that, use the Connections tab and click on connect. Enter your VPS IP in Server Nickname or Address field and press Connect.
Here comes the last step. After successfully connecting with the TeamSpeak server as an admin, you have to insert the privilege key which you've noted earlier on a text file. This will change your user rank as admin.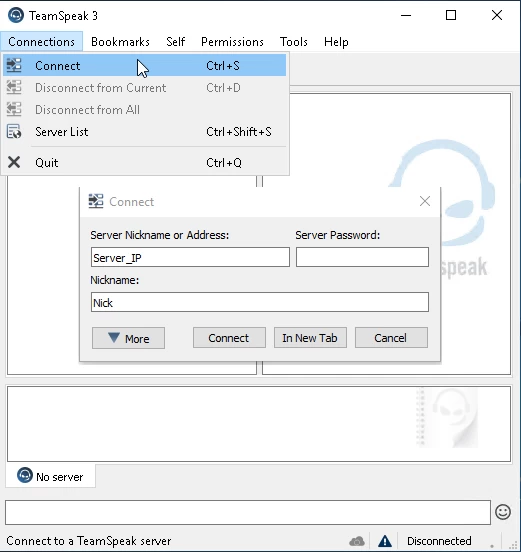 That's all! You've successfully set up the TeamSpeak 3 Server on Windows. You're all set to go now!
Conclusion
The blog covers detailed information about setting up TeamSpeak 3 Server so that you can learn about it, and its features before actually using it. Moreover, the blog has covered the way to set up TeamSpeak 3 server on Windows.
If you have any queries or suggestions regarding the same, then do let us know in the comments section. We will be more than happy to resolve it.