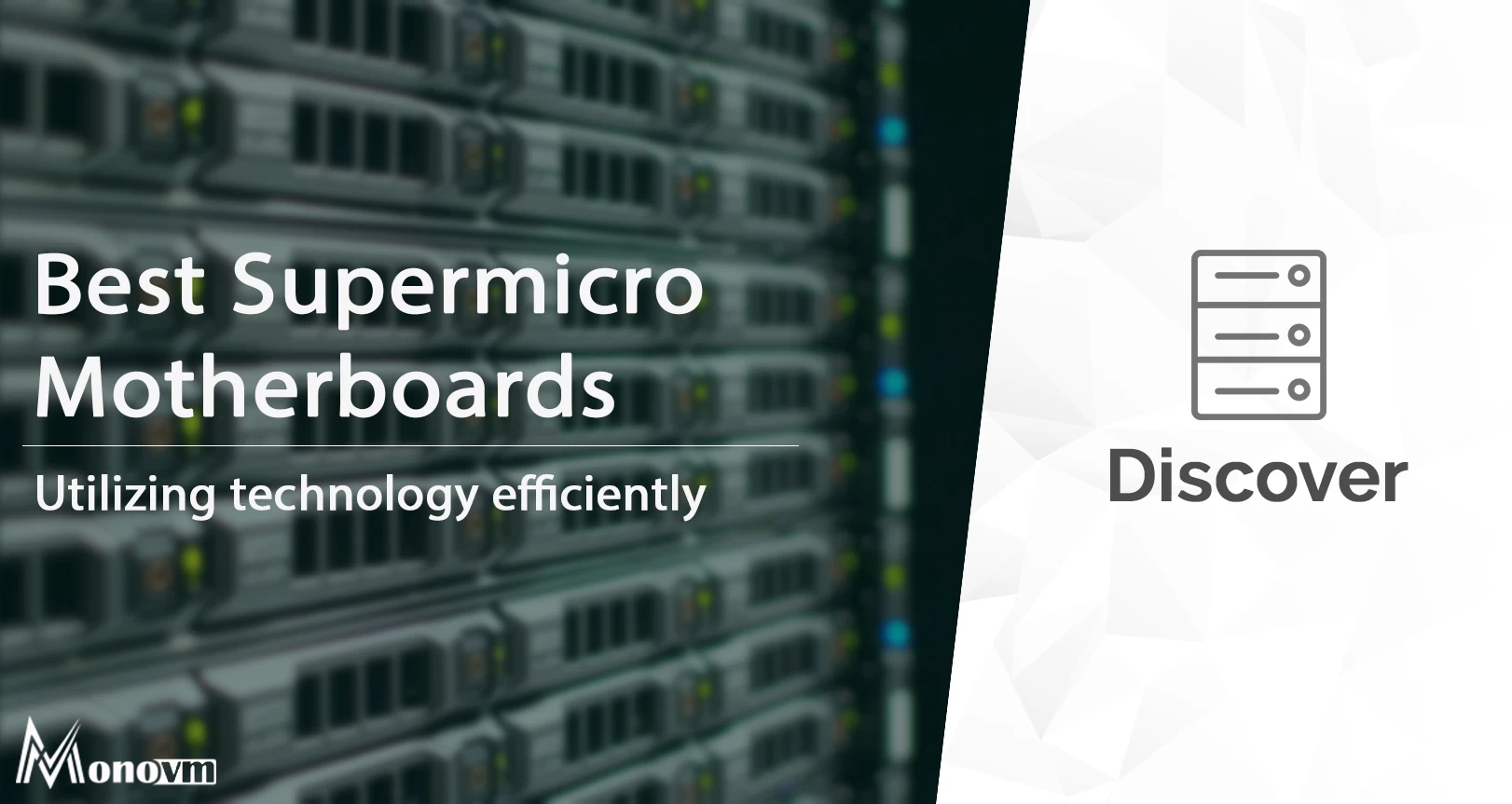 List of content you will read in this article:
When it comes to home computing, finding the right motherboard can be a daunting task. What should you look for in a motherboard? What features should you prioritize? Are there any Supermicro motherboards that stand out from the rest? In this blog post, we will be looking at the best Supermicro motherboards for home computing. Read on to learn more!
Introduction to Supermicro Motherboards
Supermicro motherboards are the perfect choice for high-quality and reliable computing solutions. These motherboards feature powerful processors, advanced memory controllers, and a wide range of I/O options to provide cutting-edge performance and allow for superior multitasking capabilities. With Supermicro motherboards, users can build reliable systems that will meet their needs and guarantee the highest computing performance.
Supermicro motherboards are designed to support the widest range of applications, including gaming, content creation, and professional workstations. Their exceptional build quality guarantees a reliable and stable operation even in the most demanding environments. Moreover, you can trust them to remain reliable for years of use, assuring you that your hardware investment will not go to waste.
With their wide selection of models ranging from entry-level to high-end offerings, Supermicro motherboards can easily accommodate any budget or requirement – making them an ideal choice for any computing needs. Supermicro motherboards offer the best of both worlds – a wide selection of models from entry-level to high-end and the capability to accommodate any budget or requirement.
Advantages of Supermicro Motherboards
Robust and Reliable:

Supermicro motherboards are renowned for their robust and reliable performance. Their quality components make them a leading choice among manufacturers worldwide. Their sturdy construction ensures they can easily handle heavy-duty operations, during their impressive uptime and stability guarantee efficient, lasting performance.

High-Level Features:

Supermicro motherboards offer users convenient features that make them a great choice for those looking to build a powerful, state-of-the-art machine. They are equipped with enhanced data transfer speeds, support for multiple processors, a wide range of integrated storage options, memory expandability, and more.

Low Power Consumption:

Supermicro motherboards are designed with energy efficiency in mind so that users can have a high-powered machine without worrying about their electricity bill skyrocketing. Additionally, their integrated heat spreaders help to keep the system cool even when performing computationally intensive tasks.

Support for Advanced Components:

Supermicro motherboards support the latest components on the market, such as DDR4 RAM and PCI Express 3.0 slots, ensuring users can make the most of their components and stay up-to-date with the latest technology.

Cost-Effective:

Supermicro motherboards offer an impressive range of features at an affordable price, making them an ideal choice for those who want to save money without compromising on quality or performance. Additionally, they come with a three-year warranty giving users peace of mind regarding product quality and support.
Best Supermicro Motherboards
Among all the high-quality motherboards offered by Supermicro, we must choose the best one — as hard as it sounds. Keep on reading to find out which Supermicro motherboard models are best.
Supermicro X11SCA-F
The Supermicro X11SCA-F Motherboard is a quality motherboard for any PC builder. It supports the latest Intel processors, including the 9th and 10th Gen Core series. This motherboard has an Intel C246 chipset, which supports four SATA 3 ports, two M.2 slots, and Dual Intel Gigabit LAN. The board has four DDR4 2666MHz memory slots, allowing up to 128GB of RAM to be installed. An Integrated Graphics Processor is also included in the X11SCA-F, allowing users to use onboard graphic capabilities without purchasing a separate dedicated graphics card.
Supermicro X11SRA
Supermicro X11SRA is a state-of-the-art server motherboard designed to provide powerful processing capabilities and high levels of system performance. It is based on the latest Intel Xeon processor family and provides an array of I/O ports, including USB 3.0, SATA, and SAS. The board also supports 8 DDR4 memory modules and 12 PCI Express slots. With support for PCIe Gen3 devices, the board can provide high data transfer speeds and excellent storage capacity.
Additionally, the board has advanced thermal management features to prevent overheating and improve system stability. With its comprehensive feature set and reliability, the Supermicro X11SRA is an ideal choice for businesses that need reliable, high-performance server solutions.
Supermicro X11SSL-F
The Supermicro X11SSL-F is a powerful, entry-level server that is designed to meet the various needs of small and medium businesses. It features a single Intel Xeon Scalable processor with up to six cores, four DDR4 DIMMs, up to four PCIe Gen3 slots, dual Gigabit Ethernet ports, and optional IPMI 2.0 with a dedicated LAN port. 
The versatile server is designed to be highly reliable and energy-efficient while providing enterprise-level performance. It has an onboard RAID controller that supports RAID 0/1/10 and an optional onboard SAS controller for more advanced storage requirements. The X11SSL-F is ideal for many applications, from cloud hosting to database management and email hosting.
Supermicro X10SL7-F
The Supermicro X10SL7-F is a premier motherboard from Supermicro that offers excellent performance and high efficiency. It features the latest Intel Xeon E3-1200 v3/v4 socket, high-quality components, and a wide range of features for server or workstation applications. It has four DDR3 DIMMs up to 32GB, two PCIe 3.0 x16 slots, and an optional third slot for additional expansion. It also supports 12 SATA3 ports, USB 3.0, and four Marvell 88SE9172 SAS/SATA controllers. The X10SL7-F includes Intel® i210 GbE LAN, PXE boot, and Intel vPro technology support, perfect for virtualization and cloud computing.
Supermicro X10DRi-T4+
The Supermicro X10DRi-T4+ is a high-performance server motherboard designed for dual Intel Xeon E5-2600 v3 and Xeon E5-2600 v4 series processors. It is perfect for building a powerful server for small businesses, large companies, and other demanding enterprise computing needs. The X10DRi-T4+ features 8 DIMM slots for up to 128GB of RAM, 4 x PCI Express 3.0 slots, 1 x mezzanine slot, and supports up to 4 onboard SATA III ports, 4 eSATA ports, and 8 SAS2/SAS3 ports. 
In addition, the integrated BMC offers remote management capabilities, and the integrated IPMI 2.0 web interface enables administrators to manage servers remotely without any additional hardware or software. With its support of dual Gigabit LAN and IPMI v2.0 networking functions, this motherboard offers an ideal balance of price, performance, reliability, and expandability for businesses seeking the highest performance levels from their computing infrastructure.
Supermicro X10DAX
Supermicro X10DAX is a high-performance workstation motherboard designed for enterprises and gamers. It provides reliable performance, advanced technologies, and unsurpassed versatility for hardcore gamers and professionals who require the system's highest levels of power and performance. This motherboard is powered by Intel Xeon processor E5-2600 v3 / v4 family. It supports up to twelve cores with hyper-threading, DDR4 2133/2400 MHz memory, Intel QuickPath Interconnect (QPI) with up to 9.6 GT/s bi-directional, and Intel Virtualization Technology (VT-x). 
The UEFI BIOS provides stability and better performance, while the IPMI 2.0 complies with the Intelligent Platform Management Interface version 2.0 Specification to provide remote server management capabilities. With its highly advanced features, Supermicro X10DAX is an excellent choice for serious gamers and professionals.
Wrapping Up
To summarize, when deciding on the best Supermicro motherboard for home computing, it's important to prioritize the features that are most important to you. Each Supermicro motherboard has unique features that may or may not suit your home computing needs. But, with their extensive selection of motherboards, you can be sure you'll find one that fits your needs and budget.
Supermicro motherboards are popular for their stability and reliability - making them an ideal choice for server builds. They are designed for long-term performance and are often used in mission-critical applications.

Supermicro motherboards come in various models and form factors to fit the needs of any system builder. From powerful ATX boards to Mini ITX boards, you can find the perfect solution for any build.

Supermicro motherboards are highly customizable with their wide range of features, such as multi-core processors, DDR4 memory support, multiple PCIe slots, dual M.2 slots, and USB 3.1 Type-C connectors.

Supermicro motherboards also have strong overclocking capabilities, allowing users to push their system to the limits.

The best Supermicro motherboard models are the X11SCA-F, X11SRA, X11SSL-F, X10SL7-F, and X10DRi-T4+. These boards offer a great blend of features and performance at an affordable price.
People also read: