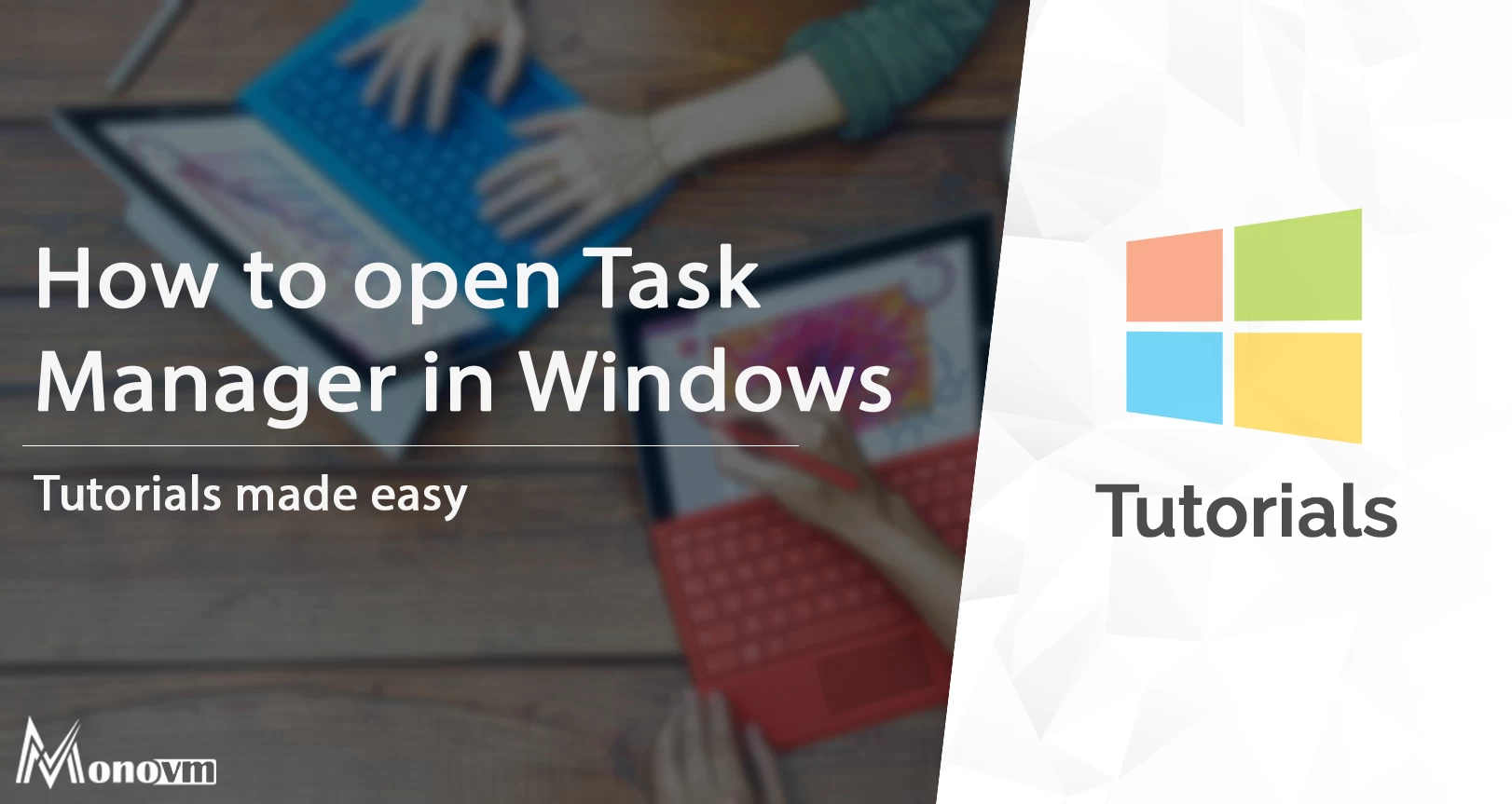 List of content you will read in this article:
Task Manager is one of the most used programs in Windows, regardless of the version. It is a device that demonstrates running programs and resource usages like CPU, RAM, graphics card, hard disk and processes in the Windows operating system.
Task Manager has many functions, including:
Close unresponsive programs and processes;

Start new tasks;

Monitor system performance;

View detailed information.
Opening Task Manager in Windows
Before you can use Task Manager to do anything, you need to know how to open it. Whether you're a beginner or a tech expert, we've compiled this detailed guide to help you find different ways and shortcuts to open Task Manager in Windows. Let's start with the easiest way possible:
Firstly, click Windows Start Menu or "Windows + S";

Secondly, now type Task Manager and press Enter.
Open Task Manager using the Run command in Windows
You can frequently use Task Manager through the Run command. Here's how to access Task Manager.
Go to the Windows search bar and type Run. Alternatively, you can directly press Win + R shortcut key;

Now type

taskmgr

or taskmgr.exe and then tap enter.
Open Task Manager through File Explorer
You can access Task Manager from File Explorer with a quick two-step process. Here's how to do it:
Launch File Explorer on your computer or press "Win ​​+ E";

In the address bar, type taskmgr.exe and press Enter;

Now from File Explorer into Task Manager. 
This is not a common method, but it does.
📌📌Supercharge your online presence with our high-performance cheap Windows VPS, delivering unparalleled speed, scalability, and security for your website's success.📌📌
Access to the task manager in Windows through the control panel
The Control Panel hosts many options and also has the option to open the Windows Task Manager. Follow the steps below to do so:
Go to Control Panel pinned in Task Manager;

If you don't see it, use Windows Search to open Control Panel;

In the control panel, type taskmgr.exe and press Enter.
For task manager Customization
Press the shortcut key "Win ​​+ I" to open Windows. Then, Find Task Manager in the control bar and click "View system resource usage in Task Manager" to open Task Manager. All the above steps were very simple. Now let's move on to the complicated but simple methods to implement.
Use keyboard shortcuts to open Task Manager
Some programs may be unblocked and cause your Windows software to become unresponsive. In this scenario, Windows Search cannot be accessed to launch and run this program. To overcome this, we have Windows keyboard shortcuts. Different sets of keys can be used to open Task Manager. 
Let's see them.
Open Task Manager using Win + X shortcut
Simply press Win + X or right-click the Start (Windows) button on the taskbar. Now click on Task Manager from the menu to open it.
Open Task Manager using Win + X and T shortcut
This method is an extension of the above method. You can directly open the Windows Task Manager without a mouse using this method. First, press Win + X to open the Windows quick access menu. Now, press T. This will open the Windows Task Manager.
Open Task Manager using Ctrl+Shift+Del
Another way to open Task Manager is to use Windows keyboard shortcuts. Press Ctrl + Shift + Del together. It will immediately open the Windows Task Manager. However, some programs may prevent users from accessing Task Manager with the above method. In this, press Ctrl + Shift + Del together and select Task Manager on the Graphical Identification and Status (GINA) page. The added benefit is that this hotkey helps open Task Manager when using Remote Desktop or working on a virtual machine.
The reason why the task manager does not open
If the system has a problem opening the task manager, the system may be infected with viruses and spyware. There is malware that affects the opening of the relief manager so that they cannot be end tasked. It may close access to the task manager.
If you can't open Task Manager with the usual commands, I suggest you scan your computer for viruses and spyware. The task manager file may fail in Windows and not run. There are two ways to solve this problem:
Restore Windows to restore the previous point where the task manager was working;

Run Windows Repair.
Final Thought
Task Manager has become an important and practical tool for every Windows user. Every user must learn how to diagnose and fix system problems using this tool. Every user should know how to start a program, run a process, and monitor system performance using this tool. 
People also read: