Unlock Your Website's True Potential with NVMe VPS Hosting!
The speed of NVMe VPS is seven times faster than traditional SSDs! Using NVMe VPS lets you quickly deliver lightning-fast data NVME VPS, ensuring your website or application runs at peak performance, even during high-traffic periods. VPS NVME hosting gives you the best flexibility and control of a virtual private server combined with the unparalleled speed of NVME SSD storage. Also, you can Enjoy optimal resource allocation and responsive performance for your online projects.
You can get the true potential of your website or application with NVME SSD VPS. NVME SSD VPS supports cutting-edge NVME technology; SSD-based virtual private servers provide instantaneous data retrieval, ensuring your online presence like never before. Buy NVME VPS; as often as once, you can upgrade your hosting experience and leave slow-loading servers behind. Buy NVME VPS to elevate your website's performance and ensure visitors enjoy a seamless browsing experience every time.
Are you ready to change your hosting journey? Our NVME VPS plans are designed to solve all your hosting issues, from personal blogs to resource-intensive business websites. Enjoy our state-of-the-art infrastructure and expert support to achieve optimal performance. Don't wait any longer – Buy our NVME VPS and unlock the ultimate hosting experience. Join countless satisfied customers who have already made the switch to NVME VPS. Improve your hosting to new heights with our NVME-powered virtual private servers!
NVMe VPS PRICING & PLANS
If you need to buy NVME VPS, you can do it now with a Flexible RAM capacity of up to 32GB. All you have to do is choose the right plan and price from the section below:
What is NVMe VPS hosting?
Before discussing the different aspects of these servers, we must state what is nvme vps.. NVMe VPS, also known as Non-Volatile Memory Express Virtual Private Server. It is a game-changing hosting solution that is prepared to improve your online experience like never before! Are you tired of the speed of your websites and sluggish server performance? So you should Choose and use NVMe VPS hosting – the ultimate choice for speed, reliability, and control.
Advanced NVMe SSD technology makes these types of hosts stand out from the rest. Unlike traditional HDDs or standard SSDs, NVMe SSDs help you access data at a very high speed. Imagine your website or app running seven times faster than before, ensuring fast load times and seamless user interaction.
Your NVMe VPS server is powered by this blazing-fast NVMe SSD storage, making it the perfect match for resource-intensive projects, databases, and content-heavy websites. Whether you're a small business, an ambitious developer, or an established enterprise, NVMe VPS hosting ensures your online presence performs at its peak, attracting and retaining more visitors.
But it doesn't stop there! With NVMe VPS hosting, you get the best of both worlds – speed and control. Customize your server environment with full root access, allowing you to install software, configure settings, and optimize resource allocation to suit your unique needs. Take charge of your hosting destiny with NVMe VPS, and witness the difference it can make to your online success.
Now, you might be thinking that such cutting-edge technology comes at a hefty price. Fear not! We offer Cheap NVMe VPS plans that are tailored to fit your budget without compromising on performance. Embrace the future of hosting without breaking the bank, and let NVMe VPS elevate your website's performance to new heights.
🎉 Are you ready to revolutionize your online presence? Upgrade to NVMe VPS hosting today and experience the true power of speed and reliability. Join countless satisfied users who have already embraced the NVMe VPS advantage and see your website soar to new levels of success.Don't miss this opportunity to unlock the full potential of your online projects. Say hello to faster loading times, smoother user experiences, and unrivaled performance with NVMe VPS hosting. Take the leap into the future of hosting now!
Key Points to Consider When Choosing NVME VPS Hosting Provider
When evaluating options for NVMe VPS hosting providers, it's essential to focus on key points that can make a significant difference in the performance of your NVMe VPS web servers and game hosting experience.
Performance Prowess
The most important feature of vps nvme ssd is its unparalleled speed and I/O capabilities. When choosing, prioritize a provider that offers the latest NVMe storage technology to unlock the full potential of your web servers. Faster data access and reduced latency will increase your website's performance and create a smoother gaming environment for your NVMe VPS gaming hosting.
Resource Optimization
Opt for an NVMe VPS provider that allows optimal resource allocation. Generous CPU, RAM, and bandwidth resources will ensure your web servers and game hosting have the power they need to handle any traffic or intense workloads. With NVMe VPS's scalability, you can easily adjust resources as your requirements evolve.
Security Assurance
Protecting your data and online assets is paramount. Seek a hosting provider with robust security features, such as firewalls and DDoS protection, to safeguard your NVMe VPS web servers and vps game nvme environment from potential threats.
Management Made Easy
Managing your NVMe VPS should be a seamless experience. Choose a provider that offers a user-friendly control panel, empowering you to effortlessly oversee and fine-tune your web servers and game hosting settings without technical hassles.
Prioritizing Proximity and Reliability
Make sure the hosting provider's data centers are located in close proximity to your target audience and offer a guaranteed uptime supported by a service level agreement (SLA).
Considering these key points, you'll find the ideal NVMe VPS hosting provider that aligns perfectly with your web servers' needs and VPS game NVMe hosting requirements. Unlock the full potential of NVMe technology, elevate your performance, and stay ahead of the game with top-notch NVMe VPS hosting!
Get started
Why choose MonoVm VPS?
Are slow website load times and high latency driving you crazy? We get it—your website's success depends on top-notch performance and availability. That's why we offer NVMe hosting plans with a global network of cloud platform locations, specially designed to turbocharge your website.
With a Spread different cloud platform locations during worldwide, your website becomes lightning-fast and accessible to visitors from every corner of the globe. Our excellent placed servers in North America, Europe, Asia, and Australia bring your content closer to your target audience, decrease loading times.
Beacuse of our high-speed network connections and low-latency routing, your website will be blazing no matter where your visitors are or where your physical server resides. But that's not all. We've got your back even in a localized outage with automatic failover and load balancing. If one location experiences a hiccup, your website smoothly switches to a nearby cloud platform, ensuring uninterrupted access for your visitors.
Managing your website and server is a breeze with our user-friendly control panel, and our 24/7 customer support is here to lend a helping hand whenever you need it. Ready to supercharge your website's performance? Sign up now and experience the magic of lightning-fast load times and improved website performance!
Why buy VPS right now?
NVMe VPS offers lightning-fast performance, ensuring your website or application runs at the speed of light. With NVMe storage, data access times are dramatically reduced, leading to unparalleled responsiveness.
Don't miss out on this incredible opportunity! NVMe VPS provides the perfect balance between performance and cost-effectiveness, making it the ideal choice for businesses and individuals seeking a competitive edge.
Upgrade your hosting experience today with NVMe VPS and enjoy seamless scalability, enhanced security, and unparalleled speed. Don't wait any longer—get your NVMe VPS now and propel your online presence to new heights!
NVMe vps hosting FEATURES
Looking for a hosting solution that takes performance to the next level? Look no further than NVMe VPS hosting – the epitome of speed, reliability, and cutting-edge technology. Say goodbye to slow-loading websites and hello to a hosting experience like never before!
- Blazing-Fast NVMe SSD Technology
With NVMe VPS hosting, you can use the incredible speed of NVMe SSD technology. It ensures your websites and applications perform at lightning speeds. Data access with NVMe VPS becomes a breeze, seven times faster than traditional SSDs, giving your visitors a fascinating browsing experience they will love.
- Unrivaled Reliability
Trust in the stability and dependability of NVMe VPS. Our state-of-the-art infrastructure, powered by NVMe SSDs, ensures your data remains safe and secure even during the most demanding times. Rest easy knowing your website is in the hands of the Best NVMe VPS hosting provider.
- Affordable Excellence
Dont worry about cost? We bring you Cheap NVMe VPS hosting plans that fit any budget without compromising on performance. use the power of NVMe VPS without breaking the bank and enjoy the value of top-notch hosting.
- Full Control & Flexibility
Take the control of your website with NVMe VPS. With full root access, you have complete view over your server environment. Install applications, configure settings, and customize resource allocation to match your specific needs effortlessly.
- Competitive Pricing:
We believe in providing excellent value for money. Our SSD VPS plans offer competitive pricing without compromising on the quality of service.
- Easy scalability
NVMe VPS offers easy scalability in business terms by providing a highly flexible and efficient solution to handle increased demands and growth. With NVMe's superior storage performance, businesses can seamlessly scale their virtual servers to accommodate more users, data, and traffic without any significant disruptions or delays. This scalability ensures that businesses can easily adapt to fluctuating workloads, rapidly respond to market demands, and efficiently manage peak periods, all while maintaining optimal performance and user experience. As a result, NVMe VPS allows businesses to be agile, cost-effective, and well-prepared to meet evolving requirements, empowering them to stay competitive in a rapidly changing market landscape.
- Enhanced security measures
NVMe VPS provides enhanced security measures in a commercial manner, ensuring your valuable business data and sensitive information are safeguarded at all times. With NVMe's advanced encryption capabilities, your data remains protected both at rest and in transit, reducing the risk of unauthorized access or data breaches. Additionally, NVMe VPS offers robust isolation between virtual servers, preventing any cross-contamination of data, applications, or vulnerabilities. This isolation enhances the overall security posture, assuring you that your critical business assets are secure and isolated from potential threats. Furthermore, NVMe VPS providers typically implement stringent access controls, multi-factor authentication, and regular security updates to fortify their infrastructure against emerging threats. By leveraging NVMe VPS's enhanced security measures, businesses can establish trust with their customers, meet compliance requirements, and focus on core operations, knowing that their data and infrastructure are protected with top-tier security protocols.
- Efficient resource management
NVMe VPS (Virtual Private Server) offers efficient resource management in advertising by providing businesses with high-performance infrastructure that can easily handle demanding advertising workloads. The NVMe storage technology ensures swift data access and processing, allowing for quicker loading times and better ad delivery. With the ability to rapidly scale resources, businesses can easily allocate additional computing power and storage to handle spikes in traffic during peak advertising periods. This adaptability ensures that advertising campaigns run smoothly without any performance bottlenecks or downtime. Additionally, NVMe VPS allows for precise budget allocation by optimizing ad performance through real-time data analysis, enabling businesses to invest their advertising resources strategically and obtain the highest ROI. With NVMe VPS's efficient resource management, advertisers can deliver seamless, high-impact campaigns, reach their target audience effectively, and achieve greater success in their advertising endeavors.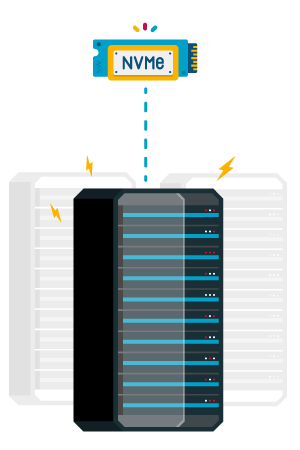 Improve your hosting game with NVMe VPS hosting today! Embrace the unparalleled speed and performance powered by NVMe SSD technology. Get started with our Cheap NVMe VPS hosting plans and enjoy the Best NVMe VPS experience out there. Don't settle for mediocrity – take your website to the next level with NVMe VPS hosting. Act now and witness the difference!
Why Buy NVME VPS?
When it comes to selecting a hosting solution for your website or application, considering an NVMe VPS can be a game-changer. NVMe VPS stands for Non-Volatile Memory Express Virtual Private Server, which utilizes NVMe storage technology, offering substantial advantages over traditional SSD (Solid State Drive) VPS.
First, the main reason to buy an NVMe VPS is its excellent performance. They are significantly faster than traditional SSDs, resulting in faster data access, reduced latency, and faster overall server performance. Your website or app will load much faster, leading to a better user experience and potentially higher search engine rankings.
Secondly, the superior I/O (Input/Output) capabilities of NVMe VPS result in better handling of heavy workloads and multitasking. Whether you run resource-intensive databases, run virtualization software, or perform data analytics, an NVMe VPS can handle these tasks with ease, ensuring smooth operation without slowdowns.
Moreover, NVMe VPS is particularly beneficial for applications that rely on low-latency storage access, such as databases, e-commerce platforms, and high-traffic websites. The faster data retrieval significantly improves the responsiveness of these applications, enhancing their performance and user satisfaction.
Lastly, comparing NVMe VPS to traditional SSD VPS, NVMe outperforms SSD in terms of speed, especially during intense read and write operations. While SSDs are already known for their performance, NVMe takes it to another level, providing lightning-fast data transfer speeds.
In conclusion, choosing an nvme cpanel vps over a traditional SSD VPS can have a remarkable impact on your website or application's performance. With its unparalleled speed and I/O capabilities, NVMe VPS ensures a seamless user experience and efficient handling of resource-intensive tasks. Upgrade to NVMe VPS today to unlock the full potential of your online presence.
What are the advantages of NVMe hosting?
NVMe hosting, particularly NVMe VPS (Virtual Private Server), offers several advantages over traditional hosting solutions. NVMe (Non-Volatile Memory Express) is a technology that enables faster data transfer and reduced latency compared to traditional storage options like HDDs (Hard Disk Drives) or even SSDs (Solid State Drives). Here are some key advantages of NVMe hosting:
Blazing Fast Performance
NVMe VPS utilizes NVMe SSDs, which are known for their exceptional read and write speeds. This results in faster loading times for websites, applications, and databases. Users experience smoother interactions and quicker access to their data, leading to a more efficient user experience.
Low Latency
NVMe technology reduces data access latency, meaning data retrieval times are almost instantaneous. This is important for applications that require real-time data processing or high-speed transactions, such as online gaming, financial platforms, or e-commerce websites.
Improved Scalability
VPS ssd nvme allows for the fascinating scaling of resources. As your website or application grows, you can easily upgrade your VPS plan to accommodate higher traffic and resource demands without experiencing significant downtime.
Enhanced Reliability
NVMe SSDs are more durable and reliable compared to traditional HDDs. They have no moving parts, reducing the risk of mechanical failure. This increased reliability ensures that your data remains safe and accessible at all times.
Flexibility
By choosing our virtual private servers, you are granted root access, providing you with complete control over your system. We provide tailored virtual private servers designed specifically for the operating systems you prefer, including our Linux VPS and Windows VPS platforms.
A dedicated solution
With our NVMe SSD VPS, you receive dedicated and fully allocated resources. You have the freedom to manage your service according to your preferences and business needs, allowing you to customize the space to handle your websites and web applications efficiently.
Availability
with VPS hosting allows you the flexibility to select a data center that is geographically closer to your customers. By doing so, you can ensure fast loading times and minimal delays, resulting in an excellent browsing experience for your users. When you choose an NVMe SSD VPS, you gain access to a dependable solution, and the availability of hardware is assured through a service level agreement (SLA).
Backup options
Using our offerings, you have the capability to safeguard the data stored on your virtual server. Additionally, you can activate the automatic backup feature for your VPS server, or alternatively, opt for the Snapshot option to manually generate an immediate image of your virtual machine. This can be easily done through the MONOVM Control Panel.
Frequently Asked Questions
Here are the most common questions we get from our customers, Hence we elaborated our FAQ to ensure you find answers as quick as possible.
NVMe, short for Non-Volatile Memory Express, is a revolutionary storage technology designed to supercharge data access speeds and transform the way data is handled. Unlike traditional storage options like HDDs and even standard SSDs, NVMe leverages the incredible speed of flash-based memory. This cutting-edge technology allows NVMe VPS hosting to deliver unparalleled performance, making it the ideal choice for businesses and individuals who demand lightning-fast data retrieval. With NVMe VPS, website loading times are dramatically reduced, ensuring seamless user experiences and enhanced overall website performance. Embrace the power of NVMe VPS and unlock the true potential of your online presence with its blazing-fast data processing capabilities.
Yes, NVMe is highly beneficial for servers. Its exceptional data access speeds and low latency significantly enhance server performance, making it perfect for data-intensive tasks, web hosting, virtualization, and more. NVMe enables servers to process large amounts of data quickly and efficiently, resulting in improved application responsiveness and overall server efficiency. With its ability to handle multiple requests simultaneously, NVMe ensures seamless user experiences and allows servers to manage higher workloads without performance bottlenecks. As a result, NVMe has become a crucial technology for modern server deployments, powering high-performance computing and data-driven applications.
Yes, vps nvme vs ssd is better. While both NVMe and SSD use flash memory to store data, NVMe's superior architecture and interface enable significantly faster data access speeds. NVMe drives connect directly to the PCI Express bus, bypassing the limitations of the SATA interface used by most SSDs. This allows NVMe to achieve incredibly low latency and high throughput, resulting in blazing-fast read and write performance. NVMe's unmatched speed makes it ideal for demanding applications, high-performance computing, and tasks where data access times are critical. In summary, NVMe's advanced technology surpasses traditional SSDs in terms of speed and performance, making it the preferred choice for users seeking the best storage solution for their needs.
In VMware, NVMe (Non-Volatile Memory Express) refers to the use of NVMe storage devices in virtualized environments. NVMe is a storage protocol specifically designed to harness the full potential of flash-based storage, offering significantly faster data access speeds and lower latency compared to traditional storage protocols like SATA and SAS. When integrated into VMware virtualization platforms, NVMe storage enables virtual machines to achieve remarkable performance improvements, delivering faster boot times, reduced application load times, and improved overall system responsiveness. By leveraging NVMe in VMware, organizations can optimize the performance of their virtualized workloads and ensure that their virtual machines operate at peak efficiency, meeting the demands of modern, data-intensive applications and workloads.
Yes, we providers offer the flexibility to upgrade or downgrade your hosting plan, including NVMe VPS, based on your changing needs. If you find that your website or application requires more resources due to increased traffic or data demands, you can typically upgrade to a higher-tier plan with more CPU, RAM, and storage resources. Conversely, if your resource requirements decrease, you may have the option to downgrade to a more suitable plan.